'Dancing With the Stars' Recap: Ready to Rumba
Jennifer and Derek get a perfect score for an 'instant' classic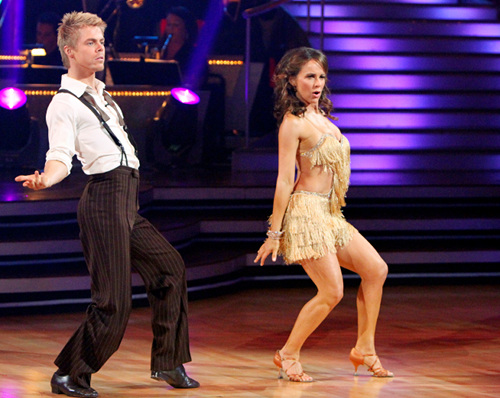 For the first time ever -- man, has Tom Bergeron said those words a lot this season -- our celebrities competed in an "instant dance round." How did that work? Well, each couple drew a song out of a super classy mirrored bowl less than an hour before dancing to it, though they knew well beforehand which style of dance they'd be doing.
Photos: See the 'Dancing' cast | Video: Watch clips and full episodes | Twitter: Follow MSN TV
And was it a success? Well, I spend a lot of time making fun of the show's latest innovations -- Rock Week? Movie Week? Dance with a blindfold on while Len yells at you? Sigh. This one, however, is a keeper. And it sure turned out well for Jennifer Grey, who got the first perfect 30 of the season, as well as for Kyle Massey, who scored a 29 for his jive. 
Brandy and Jennifer finished the night tied at the top, with Kyle right on their heels. Bristol and Kurt, well they better hope their supporters are busting out the phone trees.

Here's a rundown of tonight's routines:
Kyle Massey
Kyle and Lacey danced a fine-tuned, emotional waltz that really had the crowd cheering. Kyle's frame was very good, and Len commented on the improvement in his posture. Lacey was adamant with Kyle during rehearsals about his footwork, and her coaching really paid off out on the floor.
Forget the standard disclaimer about how hard the jive is, Kyle and Lacey's "instant" jive started out with a rockin' solo and just kept delivering. It was a fun routine, and impressively limber. Some of the kicks were downright incredible, as was Kyle's perfect dive and slide between Lacey's legs. Saucy, too! This was -- by far! -- the pair's best routine. Forget rehearsing from now on, eh?
Viennese waltz: 27/30
Jive: 29/30
Total: 56/60
Jennifer Grey
Once again, Jennifer was injured during rehearsals. She has a torn tendon in her left knee, but decided to keep on dancing. She and Derek turned in one of the best quicksteps I've ever seen on this show -- it had the perfect balance of classic technique and modern jauntiness. There were a few missteps, but Jennifer was just so perfectly on out on the floor that the judges didn't seem to care. Truly a memorable performance!
I've really been looking forward to seeing Jennifer and Derek do a rumba because it demands such a connection between the dancer and the dance. I wasn't disappointed. The routine was beautiful. Jennifer's leg extension was jaw-dropping, her rhythm was beyond perfect and she really sold the song. It's hard to imagine how this routine could have gone off better, and, sure enough, it garnered the first perfect score of the season.
Quickstep: 27/30
Rumba: 30/30
Total: 57/60
Kurt Warner
Kurt has really come a long way in this competition, and this week's stunning waltz is a testament to his hard work and Anna's wonderful coaching. It really is amazing to see a gigantic football player waltz so, well, prettily. There were a few technical problems: Kurt's lines weren't quite perfect, and neither was his footwork. Overall, however, it was a great performance.
Kurt and Anna's instant cha-cha was full of energy, verve and, unfortunately, lime green costumes. Kurt's footwork wasn't what it could have been. Still, he kept his hips nice and loose and his rhythm was quite good – maybe even better than usual.
Waltz: 24/30
Cha-cha: 24/30
Total: 48/60
Bristol Palin
An Argentine tango needs to be as fluid as it is intense, and I didn't find Bristol's fluid or intense. All of the pieces were there, they just didn't quite fit together into an organic whole. But there were definitely good points to the routine. Mark and Bristol pulled off two stunning lifts, and the judges had good things to say overall. She turned in great performance last week, and though this one didn't quite live up it was nothing to cry over.
Bristol's samba had what her tango was missing, namely, spirit. She seemed more relaxed than we've ever seen her on the floor and turned in some shoulder shimmies that must have made her mother blush. She did have a little trouble coming out of a spin and lost the thread of the steps at one point during the middle of the routine. Carrie Ann also took issue with Bristol's musicality. She felt that Bristol had trouble staying on beat and relied too much on Mark to keep her there.
Argentine tango: 24/30
Samba: 23/30
Total: 47/60
Brandy
This was an amazing waltz -- emotional, technically beautiful, and a showcase for Brandy's incredible strength, musicality and timing. Not to mention balance. Man, were there a lot of spins in this routine. Carrie Ann took off one point because apparently Brandy wasn't extending her neck enough. Whatever, dude. You've been sitting next to Len for too long.
Brandy and Maks's "instant" cha-cha had a lot to live up to after that waltz. And it came close. Brandy's musicality was right on, and she more than performed her half of the choreography, but the judges took issue with the little bit of stair-sitting at the beginning. Carrie Ann seemed to see it as a trick to buy time, and Len agreed. Maks .... didn't take it well. He tried to talk over Brooke Burke during the last minute of the show, actually. But hey, Brandy and Maks are still tied at the top with Jennifer and Derek.
Waltz: 29/30
Cha-cha: 28/30
Total: 57/60
Who won over the judges? Jennifer and Brandy
Who won over the crowd? Jennifer and Kyle
Who needs to step it up? Bristol and Kurt