'Dancing With the Stars' Recap: Hines-man Trophy
Super Bowl MVP Hines Ward and Kym Johnson win it all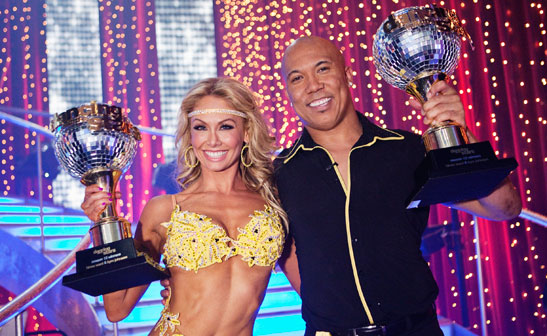 By Kate Mulcrone
Special to MSN TV
It was only fitting to see Hines crowned the champion after he and Kym reprised their sizzling samba. His performance was absolutely perfect – he could have been one of the pros. The crowd and judges both went crazy for it. What a champion.
Bing: More about 'Dancing With the Stars' | Photos: See performance pics and more
Hines was beside himself – and actually looked surprised to be named the winner. He said he owed it all to Kym and thanked the judges for helping him improve. He also thanked the fans, especially his base in Pittsburgh.
Video: Full episodes and clips of 'Dancing With the Stars'
Kirstie came in second, but she certainly won out in other ways. She looked absolutely stunning in her refitted costume from Week 1. And wouldn't you know it, Kirstie and Maks went with their debut cha-cha as their final dance of the season. Kirstie's hip work was amazing and her footwork was improved almost beyond recognition. Bruno stood up and shouted "Kirstie, my girl, you saved the best for last!" Len and Carrie Ann agreed that this cha-cha was Kirstie's best dance of the season. What a way to end the season! Kirstie called the show "the most extraordinary adventure I've been on in my life."
Chelsea and Mark reprised their Harry Potter-themed Viennese waltz to great acclaim from both the crowd and the judges. The first time around Len was none too pleased with Chelsea's execution, but he changed his tune: "Well done." Bruno and Carrie Ann praised Chelsea for her technique and performance. Both cited her hard work throughout the season. Chelsea thanked the audience for everything as she left the stage for the last time.
Are you happy with who won the Mirror Ball Trophy? Sound off
"Dancing With the Stars" airs Mondays at 8 p.m. ET/PT and Tuesdays at 9 p.m. ET/PT on ABC.