'Survivor: Philippines' exit interview: Malcolm Freberg
So close to the final three, Malcolm talks blindsides and the alliance that cost him the game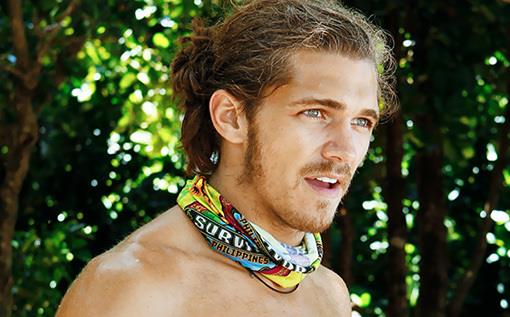 Malcolm Freberg , a 25-year-old bartender from L.A., seemed like the one to beat this season on "Survivor: Philippines." But he was ousted on day 38 by his own alliance, who knew taking him to the final three would mean win for the charmer. MSN TV caught up with the castaway to chat about whether he's still smarting, his relationship with winner Denise, and what was going through Lisa and Skupin's heads in aligning with him in the first place.

Bing: More on "Survivor: Philippines" | Malcolm Freberg

MSN TV: How's it going?

I'm a little poorer than I'd like, but otherwise I'm good.
Was it really hard keeping it a secret that you weren't in the final three?

I wanted my parents and the others that came with me to be surprised, but I did let them know I didn't win because I didn't want them to be waiting with false hope. But I didn't tell my friends, so since the finale, I've been getting a lot of condolence notes.
You seemed pretty shocked when Denise voted you off.
I knew Denise was going to turn on me because I couldn't guarantee her that I wasn't gunning for her. I really thought I had it. Even when I lost that last immunity, I still thought I had it. Until we got half way through that last tribal council, I still thought I had it. It was Lisa who said something, and I knew right them that it was me, you could see it right there on my face. I got emotional watching me get emotional on TV. It crushed me. I really thought when I made my final three deal with Lisa and Skupin, I just became a millionaire. When I realized I didn't have it, it hit me hard. It wasn't just about the money for me – I was really upset I didn't win "Survivor." There was a little bit of ego involved for me. I just felt anger, sadness, every negative emotional hit me at that moment.
How are things between you and Denise now?

We talk multiple times a week on the phone. I mean, she lives in the middle of nowhere, so I haven't visited her yet, but I'm still talking to most of the people – Lisa, Skupin, I'm cool with them. I'm not going to hold grudges because they played a smart game. They did what they needed to do. I mean I understand why they did what they did, and I respect the game. Getting rid of me was probably their best move.
Plus: Want more "Survivor"? Meet the castaways from Season 25. 

Why did Lisa and Skupin want to be an alliance with you and Denise? Multiple people said to them that there was no shot at beating either of you. They could have kept Abi the week before. What was going through their heads?
We were all of the opinion that there wasn't much going through their heads at the time. When we got the final four, me and Denise talked and we said to each other, 'One of us is about to win this game.' It was crazy. They just didn't realize they weren't being perceived in a positive light for the way they were playing. I had no idea they were really thinking that deeply about what they were doing – but if nobody else knows what you're doing, they can't think you're playing a good game. Lisa's just this crazy Christian lady who's been crying all day – nobody knew about her past, especially the younger guys. Skupin, everyone used to call him Stoopin. He didn't seem like he didn't have any idea what was going on. I think they played a better game than we thought they did, but nobody could really perceive what their strategy was. I think they didn't realize how we viewed them while we were out there.
If you had been in the final three with Skupin and Denise, what do you think the outcome would have been?
I actually know what it would have been, because the topic came up at Ponderosa. I get there, I win. Jeff Probst did that thing at the finale where he said, 'Raise your hand if you were going to vote for Malcolm.' Pete, Carter and Penner, if you go back and watch, they were just being ridiculous the whole time. They decided going into it, they didn't raise their hands on purpose, but we had talked about it. If I had been in the final three, I think it would have been tight, which is why I was gunning for Denise, but I would have taken it.
You turned on a lot of people, but they still liked you. It was almost expected.
I mean, in everyday life, I'm not stabbing people in the back, but on the game, I wasn't pretending to be anyone but who I am. If you come on to the game and say you're a good Christian person, you can't go around making major moves and backstabbing, because no one will trust you. You'll be branded a hypocrite. If you're playing the game, you have to know exactly who you are the moment you get there. You have to know who you are to win 'Survivor.' I know I come off as charming and likeable, but I went out there telling people right off the bat that I was playing the game, playing the game, playing the game. I was owning everything I was doing. If you know you have a snake in the room, you can't get mad at it for biting you. That was my approach. So all the bitterness was getting directed at Lisa and Skupin, and a big part of it was the Christian angle. That's what they did to me. If you own what you are, you can win, but you have to know what you are going in.

So what's next for you?

I'm still making drinks, living in L.A., you've got to pay the bills. But I'm involved with a couple of different youth foundations. That scene with the kids was actually sincere. So I'll likely start working with them after the new year.
Would you play "Survivor" again?

I'm a competitive guy, so in the end, I was like, don't vote me out on day 38 – vote me out on day three if you're going to do it. That said, it would be really hard for me to say no, because I came so close. I'd love another chance – I really think I could win it.
Missed the finale? Check out our play-by-play of this week's episode.