'Dancing With the Stars' Recap: Jive Walking
Tennis legend Martina Navratilova is the first to get bounced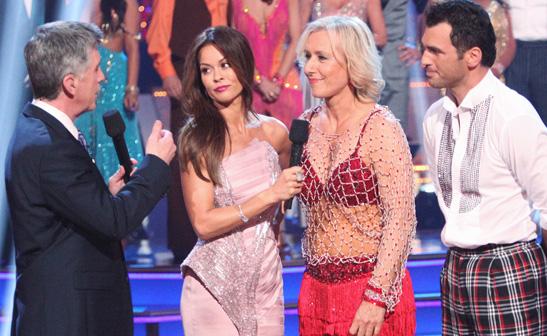 It was hard to say goodbye to tennis legend Martina Navratilova even after only two performances and a bit of a surprise to see her cut rather than singer-songwriter Gavin DeGraw. It's clear that she worked hard on her routines, though her second round jive went over like lead with the judges. Martina seemed genuinely sad to be leaving the competition. She wished everyone luck and held hands with Tony as they walked to center stage for their last dance.
Bing: More about 'Dancing With the Stars' | Photos: Meet the cast of Season 14
As always, the show must go on. Here's a rundown of the remaining stars' performances so far:
Last Night on TV: Watch recaps | Video: Watch clips and more
Melissa Gilbert
"Little House on the Prairie" star Melissa's cha-cha was just so-so and her energy flagged during her second-round quickstep. Melissa is a good dancer, but she has some very tough competition this season. Will she be able to take the heat?
Gladys Knight
Motown legend Gladys Knight turned in a sizzling cha-cha during the premiere, but had some trouble with the quickstep. She's got no shortage of stage presence and is elegant and fleet of foot, so she should be safe for the time being.
Jaleel White
"Family Matters" star Jaleel's debut foxtrot got the crowd on its feet and earned him the highest score in premiere history. (Tied with Katherine.) Unfortunately, his second-round jive was a bit lackluster. Jaleel's stage presence is amazing and he and Kym have great chemistry, so expect him to land back on top next week.
William Levy
Soap star William's quickstep cha-cha was absolutely smoldering – so much so that Bruno wasted no time in proclaiming William "the hottest package of the season." William's quickstep was excellent in terms of timing, hold and footwork, though he did lose the thread of the routine at one point. Since he's a good dancer and his smile alone seems to get the crowd on its feet, I'd say the sky is the limit for William.
Katherine Jenkins
Welsh opera star Katherine's endlessly elegant debut foxtrot earned her the highest score in premiere history. (Tied with Jaleel.) Her splashy, sexy jive worked just as well: she kicked her legs up like a pro and stayed on rhythm without any seeming effort. The judges have nothing but love for Katherine so far, and the crowd was right there with them. I can't wait to see what she does next week.
Sherri Shepherd
"The View" co-host Sherri's debut foxtrot was lively and elegant. She has a natural talent for dance and her passion out on the floor is almost contagious. Her round-two jive was energetic and Sherri's legwork was nothing short of gorgeous, though she did lose the thread of the routine at one point. Don't even think about counting her out – Sherri could very well be this season's Cinderella.
Maria Menounos
"Extra" host Maria's debut cha-cha was good, but not good enough to make her stand out. Luckily, her round-two, high-energy quickstep got everyone's attention! Maria's energy didn't quit, her timing was excellent, her feet were fast, and, most importantly, she kept up with Derek. Maria is a real contender.
Donald Driver
NFL legend Donald Driver's frenetic cha-cha was a bit too much for the judges in round one, but the longtime "DWTS" fan toned it down in round two when he danced the quickstep. His footwork was phenomenal, his timing was great and his energy and enthusiasm were through the roof. Donald is a great dancer, and with his background knowledge of the competition – and the styles of dance – it should give him a huge leg up moving forward.
Jack Wagner
Soap star Jack's opening foxtrot was absolutely dripping with elegance. In the first round his timing was impeccable and his frame looked great. Jack had a bit more trouble with his second-round jive, which lacked precision and control. In fact, Carrie Ann told Jack he outright "over danced" the number. Let's hope he can rein it in – just a bit – next week.
Roshon Fegan
Disney star Roshon started off the season with a hip-hoppy cha-cha that featured the best spins Carrie Ann has seen in fourteen seasons. In the second round he turned in a fresh, energetic quickstep that got the crowd on its feet and the judges in his corner. Roshon's one to watch!
Gavin DeGraw
Singer-songwriter Gavin's lackluster debut foxtrot was the biggest bump in a nearly flawless premiere and his round-two jive was not much better. Bruno complained about a lack of precision to his "kicks and flicks," and Carrie Ann criticized his posture but praised his bravery. If Gavin wants to stick around, he's going to have to get serious in rehearsals.
Who won the week: Katherine, William and Roshon
Who needs to step it up: Gavin and Melissa
"Dancing With the Stars" airs Mondays at 8 p.m. ET/PT and Tuesdays at 9 p.m. ET/PT on ABC.