'Survivor: One World' Exit Interview: Jay Byars
The male model admits he was foolish to follow the ladies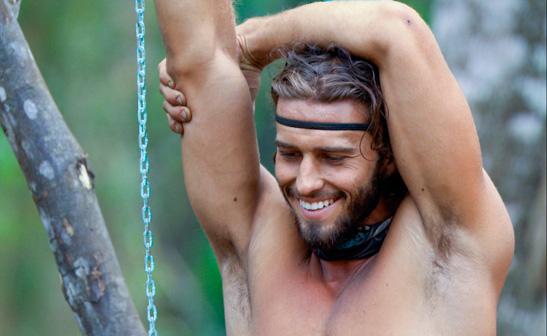 To hear the castaways voted out already tell it, "Survivor: One World" player Jay Byars could've been a contender for the title. But the South Carolina-born model made one fatal mistake this week -- and it was the one that got him sent packing. "Looking back, I obviously shouldn't have trusted my Salani people," he admits. "But I really thought I was in tight with Kim, Sabrina and Chelsea. Guess not."

We caught up with Jay to chat about strategy, Troyzan's idol angst, and what's next.
MSN: So you're from South Carolina. What was the first thing you ate when you got home?
Jay: My mom picked me up from the airport and we stopped at Cracker Barrel on the way home for a big Southern breakfast, waffles, sausage, the works. I missed it. 
But you were already eating well at Ponderosa. 
Oh yeah, Ponderosa is like a whole different world. You get to relax, enjoy the island and eat as much as you'd like. You're not starving and struggling. You get to know your fellow castaways in a very different manner, because there isn't the stress of the game hanging over you.
Speaking of stress, last week, when they first mentioned Mike, you distrusted the girls. This week, you were blindsided. What gives?
I let myself be lulled by my interactions with them -- I was definitely too trusting. It was just the conversations, how Kim and Chelsea would seriously just look me in the eyes and tell me I was safe. I couldn't believe it. But I should have seen it coming. Troy definitely saw it coming. But I thought it would be him. I didn't think I'd go this week. I thought there was a long list of people before me.
Mike said last week that he thought you had it in you to turn things around.
That's what I should have done. I keep thinking to myself, "I should have listened to Troy. I should have pulled in Tarzan and Christina and blindsided the girls." I mean, I even revealed that Troy had the idol! What was I doing? Once they knew that, it sort of set the stage for me. And then, in the challenge, I stepped down for a plate of food. I felt that safe! Hindsight is 20/20.
What made you trust the ladies over Troyzan and the other men?
Well, really, right from day one, the men just could not get it together -- Colton, Matt, Troyzan, Tarzan, it was all a mess. There were too many agendas, too many big egos. So I didn't want to throw my lot in with them. And I knew Troy was seriously worried this week, but I still couldn't bring myself to give up on my Salani tribe mates. I knew they'd come after me eventually, I just didn't think it would be this soon. I really should have listened to Troy. I think we could have gone to the end.
What's next for you?
Well, I'm down in New York a lot because I'm still modeling, but I'm also hoping "Survivor" will open doors for me in the acting world. Let's see how it goes.
"Survivor: One World" airs Wednesdays at 8 p.m. ET/PT on CBS.

I agree with you. This is turning out to be one of the WORST seasons ever. I cannot believe how stupid the men have been on this season. They started out playing "quien es mas macho", and then did not realize that the women on this show almost always stick togehter. Although the last time it was men v. women, Chris wound up taking out all of the women, I don't see that happening this time. And the women are no brainiacs or game-palyers here either. How far do Christina and Kat think they will get in the end? I have been a HUGE fan of this show since the first time it ever aired, but this time around they are close to losing me for good. There are so many coat-tail riders this time around it makes me sick.

Thats why all the guys are gone because they were thinking with their "THINGS"!
This has been the worst Survivor ever because its the weakest male cast ever ant not 1 has brought anything to build viewer interest.
The girls are mostly just that GIRLS that would all have been eaten up by now in previous casts through the years.
Alot of weak Bambis just trying to out fox the other.
In the end slick-sly but ohhhhh so hot Chelsea will win.
She will be worth millions with her fresh tasy tuna looks!
Are you sure you want to delete this comment?