'So You Think You Can Dance' Crowns Two
Ballet dancers become first dual winners in series history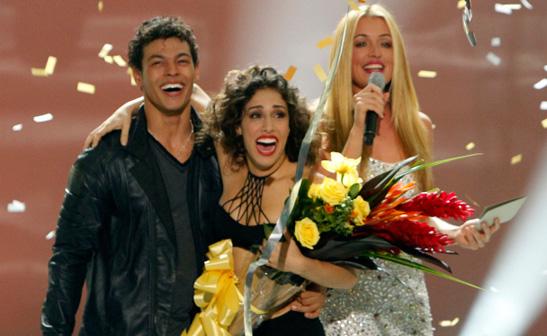 WENN
Ballet dancers Eliana Girard and Chehon Wespi-Tschopp were crowned America's favorite dancers on the "So You Think You Can Dance." After countless hours of rehearsals, weeks of breathtaking routines and beating out thousands of hopefuls, Eliana and Chehon were named the top male and female dancers on Tuesday's Season 9 finale.
Bing: More about 'So You Think You Can Dance' | Video: Watch clips and more
The two beat out contemporary dancer Tiffany Maher and Cyrus 'Glitch' Spencer for the grand prize of $100,000. And for the first time in the series' history, two winners were crowned instead of one. Eliana, a 21-year-old Joffrey School of Ballet student, was a judges' favorite from the beginning, with Nigel Lythgoe even naming her the best dancer to ever compete on "SYTYCD." Chehon, who only started dancing at the age of 13, is a graduate of the Royal Ballet School in London and proved to be a strong dancer in every genre thrown at him. The finale also featured some of the judges' and contestants' favorite routines, as well as three new numbers from choreographers Sonya Tayeh, Christopher Scott, and Tabitha and Napoleon D'Umo.
Photos: See the top 20 dancers of Season 9 | Favorite moments on 'So You Think'
"Call Me Maybe" hitmaker Carly Rae Jepsen took the stage to perform her new single, "This Kiss," in honor of her album release on Tuesday. The top 10 finalists will embark on a 30-city tour, kicking off in San Diego, Calif., on Oct 23.

It is "so you think you can dance," and not "so you think that people will like you as an underdog that is lacking training and support you."  I commend Cyrus' attempt, but likeability and effort is not to be confused with dance technique, he could come back and subsequently win in a few seasons.  But I have seen all of the style(s) that he presently displays that I care to or am interested in. 


I think the voting was fixed, if Cyrus got more votes  to win the competition, Nigel picked the winners.
There is no way Cyrus should have lost, he was America's favorite, he was never in the bottom three.
The show is boring and America showed Nigel they can relate to the dance Cyrus was doing and is a dance people would attempt to do, instead of  the same old tired boring routines. Since Cyrus did not win the show should be called So You Think You Are A Professional Dancer instead of So You Think You Can Dance.

I , too, thought Nigel's comments would hurt Chehon. Cyrus has been my favorite since the auditions, and I voted for him even more just because of Nigel's comments. I think Chehon won because when Cole got voted off, his voters probably wanted to support another "traditional" dancer like Chehon. Even though I wanted Cyrus to win, I applaud Chehon's efforts and wish him luck. He is a phenomenal talent. Congratulations to Eliana too.


Redhead: I actually thought Nigel's comments might hurt Chehon. He won because he is a phenomenal dancer in his own genre and who grew by leaps & bounds (pun intended) in others. IMO, Cole should have been in the top two instead of Cyrus, who I really like. And really? The results were fixed? 

Nigel had his nerve saying he wouldn't be voting for MY MALE CHOICE, and swaying the situation.  HE HAD NO RIGHT TO DO THAT!  Explain to me why in the hell a JUDGE should have made a comment like that  "I WON'T BE VOTING FOR HIM". -  One more gaffe like that, and spectacular as it is, I shall never watch THAT SHOW again, iT WAS A fix!!!  Nigel (the all-knowing and overly perspicacious and opinionated Judge is sitting in that chair and SHOULDN'T be allowed to tilt the voting the way he did!!!  He is entitled to JUDGE on the quality of the dancer's talent ONLY!  
Outrageous!! - An apology does no good - I think he planned to do it, and succeeded in pushing the vote in the direction that he wanted it to go.  Pissed???? Yes, you could say that!
Are you sure you want to delete this comment?