'RHoNJ' Reunion: Accusations and Plastic Surgery
Teresa Giudice the object of much yelling, Kathy Wakile opens up about procedures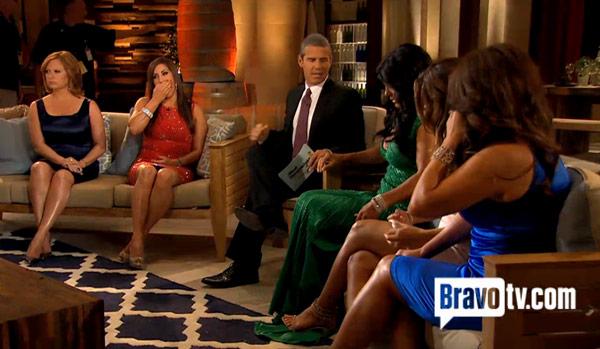 When it comes to confrontation fueled drama, "The Real Housewives of New Jersey" never disappoints.
Fans who tuned into Part 1 -- there are three in all -- of the "RHoNJ" reunion special Sunday night, got their fill because it was basically a yell at Teresa Giudice-fest. And let's face it, she deserved it.
Bing: More on 'RHoNJ' | Teresa Giudice
Dressed up in a bright green evening gown that Jacqueline Laurita described as a "green with envy" dress and Caroline Manzo called a "Christmas pageant" frock, a defensive Giudice came armed with explanations, excuses and insults.
Plus: TV's top secrets  | TV women who need to be saved
For instance, when Laurita said Giudice wanted her to expose Melissa Gorga as a stripper and tell viewers about Kathy Wakile's lack of designer bags until she was 40, Giudice denied it all.
"I never said she was a stripper," Giudice said of her sister-in-law, Gorga.
Hmm. So why did Giudice roll her eyes when Gorga reiterated that she never stripped? Check it out in this video clip:
But Giudice didn't just insult Gorga with her facial expressions or Laurita with her denials. She also called Manzo's body "blubber," divulged the fact that Manzo once had a tummy tuck, accused Manzo's children of being losers and told Manzo she should get Botox. Ouch!
But don't feel too badly for Manzo. She got in some well placed digs about Giudice's Botox and facial fillers. Speaking of Botox and plastic surgery, Giudice's cousin Wakile revealed that she had rhinoplasty and lip injections.
Ever the doting host and Bravo executive, Andy Cohen gave Wakile a "yellow light" and told her to slow down on the procedures already.
Ahhh. Don't you just love "RHoNJ"?
"The Real Housewives of New Jersey" Season 4 reunion Part 2 airs Sunday, Oct. 7, at 10 p.m. ET/PT on Bravo.