'Survivor: Nicaragua' Exit Interview: Sash and Chase
We chat with the runners-up about dark horse Fabio's surprise win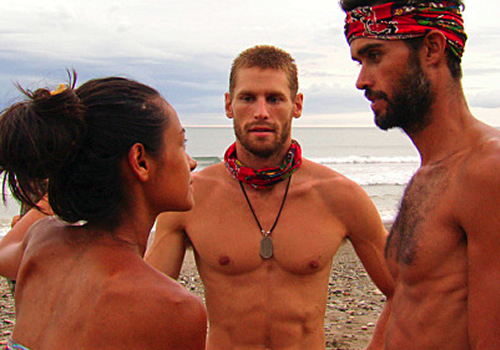 Rounding out the final three on
"Survivor: Nicaragua"
were alliance-mates
Matthew "Sash" Lenahan
and
Chase Rice
, who weren't shocked when dark horse Judson "Fabio" Birza took the title of sole "Survivor." After all, they were working their asses off to keep him from getting into the final three. But to no avail. We caught up with buddies Sash and Chase to chat about Fabio's smart strategy, the close call at the finale tribal and losing that cool million.
MSN TV: You guys were in a strong alliance with Holly, but in the end, she had to go. Regrets?
Sash: There's no way either Chase or I wanted Fabio to go to the end. But he slipped in there, so  I think we had to do what we had to do to make it to the end. When Fabio won that final immunity, it changed the game. And so, at that point I just wanted to get myself to the end and that was to go with whatever Fabio wanted, so it was an easy choice for me.
Chase: Honestly, it wasn't easy for me to do that. We had a strong alliance, and it was real. We all hoped to go to the end together. But Fabio was king of the jungle at that point and we were going to do whatever he said just to get ourselves to the finals. He wanted to take all guys. So that was okay with me.
MSN TV: Chase, did you see Holly as a threat to you had she made it to the final three?
Chase: I don't think she would have been. She might have been able to steal a couple votes from me, but I thought I could win if I brought a good game to the final tribal. Obviously, we all knew Fabio was the biggest threat, but at that point I was just trying to get myself to the finals.
MSN TV: Chase, it was really close in the end, but Fabio really thought he'd taken it -- and that you got "sympathy votes." Were you surprised how close it was?
Chase: Fabio's not somebody you wanted in the final three with you. But I didn't think he had a lock. Not at all. I went in their pretty much knowing I had about four votes -- I could tell by how people were reacting. I was hoping for a fifth, but I couldn't count on that.  I was just glad it was that close because going into the final tribal I thought I really changed some minds with my speech. I don't think they were sympathy votes at all. I had some solid allies going in. And I was really hoping Sash would pull one away so I could at least get a tie.
Sash: From a fan perspective, how cool would that have been? That would have been so cool. And how cool would it have been if it had been a three way vote?
Chase: I wasn't all that upset because I expected it so much, but it's pretty tough to know you're one vote away from winning a million dollars. But I went down swinging. I managed to make it close.

MSN TV: Sash, you didn't get any votes in the end. Were you expecting that?
Sash: No, I honestly wasn't. I was shocked. I think it was a bitter jury. I was 100 percent responsible for every person on the jury being voted off with the exception of the two quitters. I thought by owning up to that at least some of the jury members if people actually respected the game, that they'd see where I was coming from. I'd hoped to get a vote from Marty, from Brenda, from Purple Kelly. I thought NaOnka was questionable. It didn't work out that way. But it's a game. And I think I played the most textbook game of "Survivor." So even going into the finale, I still thought I had a shot. I underestimated a few people on the jury. I thought they would've respected the game enough to give the best strategist their votes. I played a great game, but "Survivor" is different now. We're in a new era of "Survivor," where the social game counts so much. Too much. People take things personally. Being a super fan of the show, I guess I'm a little more old school. I think any real fan of the game would have understood where I was coming from. I thought "Survivor" was about out-wit, out-play, out-last, but things are different now. It's more about personality. But in the end, it's a game, it's not life. And I have to give Fabio credit. He played a strong game, too, with a strategy I've never seen before. Not many people could pull that off. He surprised everyone. So I think he deserved to win the million dollars.
MSN TV: Had things turned out differently and you ended up on the jury, whom would you have voted for?
Sash: I would have voted for Fabio because I liked his strategy -- and in the end, he would have been the one who never back-stabbed me. He played a great game -- not the kind I'd play, but smart nonetheless -- and so he deserved to win. I'm really happy for the kid.
Chase: Probably Fabio, because if I was out, that would have meant that Sash and Holly had stabbed me in the back. I probably would've voted for Fabio like everyone else.

MSN TV: Were you surprised by all the vitriol -- especially from Dan?


Sash: Dan's sudden turn-around didn't surprise me. I made a strong case for why he needed to go, and of course he didn't like that. I was a big part of why he wasn't there in the end -- and he really wanted to be there. But he didn't deserve to be there, and so he held a grudge. It was silly.
MSN TV: Given the hostility from some of the jury, do you plan to stay in touch?
Sash: I think so, I hope so. We all went through so much together, I think it's hard not being able to share that with them. Especially my buddies Chase and Fabio. But I'm also close to Brenda and to Marty, so I hope I'll get to see them and stay in touch with them. I think all of us are going to be tight for a long time.
Chase: Yeah, I'm cool with everybody. I'll definitely be in touch with the two guys I went to the finals with, after all we went through together. But I'm still very close with Benry, Brenda, Holly and Jane. Everyone I'm cool with, but those are the ones I'll always stay in touch with. Jane, as much as she might talk a good game, she knows we're tight.
MSN TV: What's next for you? Given the way things went -- especially for you, Sash, would you play again?
Sash: I'm heading back to the real estate game in New York City. "Survivor" is a 39 day negotiation, and New York real estate is a mini-"Survivor" experience every day in the jungles of New York. So I'm really looking forward to going back to New York. But finally playing "Survivor" was amazing. But this was the adventure of a lifetime. For me, it was never about the cameras or the money, it was about the adventure. It's such a mind-body-spirit thing, that unless you have a true sense of the adventure, you won't make it out there for 39 days. I played this game with all my heart and I don't regret a single thing. I think I played a great game. It's such an amazing experience meeting all these great people from all different walks of life. It was just an amazing experience. So absolutely, yes, I'd play again in a heartbeat.
Chase: Nope, I don't think that I'd play again. It drove me a little crazy, the mind games were too much for me. I love the game, I respect it. But that game really messed with my head -- I was paranoid a lot of the time, and that's not me. It was too emotionally tolling. I regret kind of losing my head, I wasn't all there. I was paranoid, I was paranoid. I'm the first to admit that. That's not how I am in real life. Now, I'm going to
focus on my music
and do it the old-fashioned way in Nashville. I sing and write songs. I'm doing what I love. I wasn't in it for the fame, but it was really cool of Jeff to let me play yesterday. My first CD's doing really well on iTunes now. Every little bit helps. But I think I'm done playing "Survivor." It's time for me to hang up my boots.