'Survivor: Nicaragua' Exit Interview: Marty Piombo
From puppet-master to jury member, top contender Marty gets the boot this week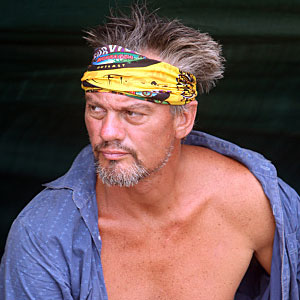 If anyone seemed like they had the smarts and the skills to make it to the final three on
"Survivor: Nicaragua,"
it was
Marty Piombo
, a 48-year-old Mill Valley, Calif., tech executive. But this week, the power player was sent packing while his apparent "Survivor" rival, Jane, held on once again. We caught up with Marty to talk about rivalries, playing against Coach Jimmy Johnson, and that perhaps stupid move -- handing the immunity idol over to Sash and Brenda.
Occasionally, they made you look like a bit of a puppet-master. True?
It is what it is. I tend to be a strong leader, that puts a target on your back really quickly. But I love the way I was edited in the game. I'm very pleased. People found it entertaining and fun and funny without being destructive or stealing or saying horrible things about other people. I brought a really fun brand. The only thing I wish could have been different was that I'd love to have played with Jimmy J. a bit longer, to been able to learn from him. They made it seem like I had it out for him, but if he had asked me to form an alliance, I would have done it in a heartbeat. But he wasn't about alliances, so if he wasn't with me, he could be against me.
You were gunning for Jane, but she seems to have a lot of people on her side. Do you really think she's a major threat?
Oh, yeah, because she comes off as this innocent southern lady. She knows what she's doing. And she's not playing nearly as clean as she seems. Within five minutes of the game starting, Jane came up to me and said, 'My husband just died, I really, really need the money, please don't vote me off.' And immediately, that turned me off towards Jane. I've had more close, personal human tragedy in my life than Jane and Chase combined, but I would never bring that into the game and leverage it on a reality TV show. That, combined with the way that she chose Wendy Jo right away and Jimmy T. right away to align with, told me this person's not thinking smart, she's erratic, she's not strategic. But all that stuff was pragmatic, I was never hateful or resentful towards her. Her comment last night about my children and my fatherhood was a little over the line, even by "Survivor" standards. I was really kind of taken aback by the level of hostility anger and hatred of Jane towards me and my family and all that. That was just shocking. Jill and I, there's nothing we said or did to her to deserve that. It was her own creating, a victim of her own poor alliance building and feeling like she was on the outs. It's a game. I never made it personal like she did. But still, I don't hate her or anyone.
NaOnka, what with the stealing and the crazy comments at tribal, comes off as a much bigger threat to me.
Yeah, if I had my way, NaOnka would be long gone. She was just such a conundrum for me. I don't get the reaction from the younger tribe -- the older tribe never would've let that behavior fly. Right from the start, I wanted to keep strong people, strong players who were thinkers around. I would rather get to the final five with strong players and let the chips fall where they may, rather than keep horror shows like NaOnka around. The exception is Danny, who wasn't physically that strong, but he was a good, solid, trustworthy guy. He's a guy you'd want on your side come the final five, but he's very likable, so there's a risk there, too.
Some people thought giving Sash the immunity idol was a dumb move. Reactions?
I think the result speaks for itself, right? If the worst had happened and they voted me off that very night, yeah, then it would have been a dumb move. But it was a risk I had to take. And I got everything I wanted out of giving him the idol. If I had used the idol and given it to Jeff that night, I would have been a goner at the next tribal for sure. And I lucked out, because you can't bet on when the tribes are going to merge. It's always probability and risk and gambling in this game. It was a calculated risk, because if there was even a five percent chance I could buy some goodwill by giving Sash the idol, as emasculating and as humbling as it was, it was worth it. It paid off for me in the end. It bought me some time.
Now that you're on the jury, is there someone you're rooting for?
Honestly, I'm rooting for the the people who were really smart in the game and people who were really genuine. I'd like to see Brenda, Sash and Fabio in the final there. Yeah, Brenda and Sash voted for me in my final tribal, and yeah, they were the swing vote, but Sash was true to his word when i handed over the idol. He kept me around. He and Brenda are true, strategic players of the game, and you can't hate them for that. I would have loved to have been in the final three with them. That would have made for a strong finish. And yeah, Fabio seems to be getting smarter as the game goes on. If that's strategy, then it's really brilliant. Good for him. He was a fun, genuine guy. I liked hanging out with him.