Kardashians Release Music Video
On vacation from filming, the reality clan keeps on filming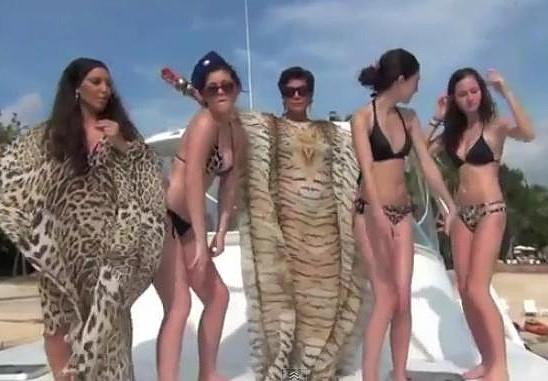 The Kardashians feel they don't spend enough time in front of cameras. That's why, on a recent trip to the Dominican Republic, they felt it necessary to film their own video for the Notorious B.I.G. song "Hypnotize."


The vid shows they like goofing around with each other, and that's great. Particularly fun is Bruce Jenner's choice in bongos: Kris Jenner's butt.

Bing: More about 'Keeping Up With the Kardashians'

"We always have the craziest time filming these," Celebuzz quotes Kourtney Kardashian. "It's become a tradition now." (This BuzzFeed post  links to the similar Kardashian lip-synch videos produced during similar vacations.)

Also: Summer reality TV fare | Summer TV guide for parents
However, the latest video shows nothing more compelling than familiar faces and friends pretending to rap and grind like Biggie while positioned on different areas of a yacht, then making it rain with fake money on a beach. Here, check it out for yourself:

In addition, it is fairly elaborately produced for its lack of content, revealing the precious vacay time spent setting up shots, then shooting multiple takes.
Doesn't this family already do this for a living?


What brings this tradition to a higher level of wrong is the family's choice to proudly release these clips to YouTube instead of keeping them in their private DVD collection.
Then again, Kardashians don't have a sterling reputation for keeping private videos very private, do they?

"Keeping Up With the Kardashians" airs Sundays at 9 p.m. ET/PT on E!