Jonas Brothers Plotting a Reality Series?
Rumors swirl that Nick, Joe and Kevin are headed to E!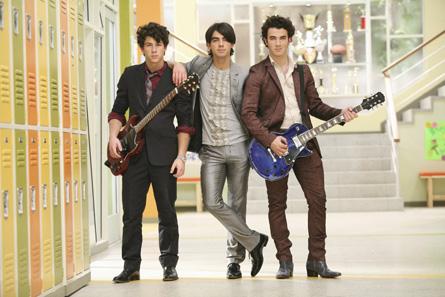 Just because
Nick Jonas
is currently pulling double duty as a guest star on
"Smash"
 and on Broadway in
"How to Succeed in Business"
 doesn't mean he wouldn't step out of that credible limelight and join older brothers
Joe
and
Kevin
 for a formulaic reality show about their lives. Or at least that's what
New York Post
is reporting via anonymous sources.
The paper alleges that E! is in talks with the sibling trio to develop a series that would document their professional exploits and personal travails. Which, generally, is what reality shows tend to do.
Video: View clips of Nick Jonas on "Smash"
Aforementioned sources claim that cameras would roll in New York while Nick manned the Great White Way, which coincides with Joe having recently secured a Manhattan apartment. Alas, the Jonas camp has neither confirmed nor denied the gossip, giving us all a bit more time to cross our our promise-ringed fingers, "Hold On" and send out an "S.O.S" for the hearsay to prove true.
Nick Jonas will appear on the season finale of "Smash," which airs Monday, May 14, at 10 p.m. ET/PT on NBC.