'Bethenny Ever After' Recap: Bethenny Hates Her Birthday
Bethenny has a nervous breakdown at her 40th birthday party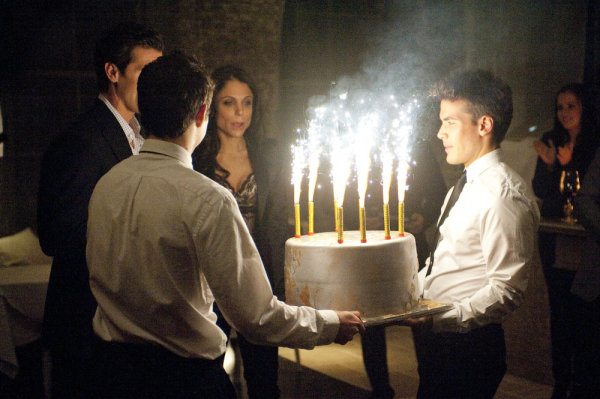 One of the most lovable things about reality star Bethenny Frankel is how irrational she can be. Take her 40th birthday. She'll let Bravo's reality television cameras record personal fights with her husband, have massive blow-outs with her friends for the public to see (Hi, Real Housewives) and now is letting cameras record her potential humiliation on ice ("Skating with the Stars"). But put her in the middle of a sleek, sophisticated birthday party with all her friends, including New York Housewives Alex and Ramona, and she practically has a coronary.

Bing: More about 'Bethenny Ever After'

Bethenny hates her birthday. Her therapist didn't make an appearance this week, but he surely will next week so she can talk about how she stood around muttering "I'm not comfortable," while Jason gifted her with a French mannequin and diamond earrings in front of her friends. She promptly drags Jason into the bathroom for a full-on meltdown, sobbing, "I'm sorry you love birthdays. I don't love birthdays. I'm sorry I've been so difficult. I'm sorry. It's just too much."

Stunned, poor Jason said he didn't realize how deep this went for her. Bethenny has told us her father never called her on her birthday and she shared her birthday with her mother, but like Jason, we thought it was fine. Bethenny tried to buck up for Jason, but it was not fine. "It's all good, Mama," he kept saying soothingly during the party. (Is anybody else weirded out that his pet name for her is "Mama"?)

At least we have her skating partner Ethan for the comical interlude. We didn't get as much Bethenny on Ice as I would have liked, but it was enough. In the dance studio, he tells her to make a "fun face" and to have the same look and the intensity in her eyes as "if you saw a super sexy guy" and swivels his hips for her. And once she puts on her little skating dress for the performance of the whole number? "Hot," Bethenny says. "Ridiculous," Ethan adds. Just like Bethenny.

Are you sure you want to delete this comment?