Spelling embarrassed for actors on 'Dancing'
Don't expect Tori to hit the dance floor herself anytime soon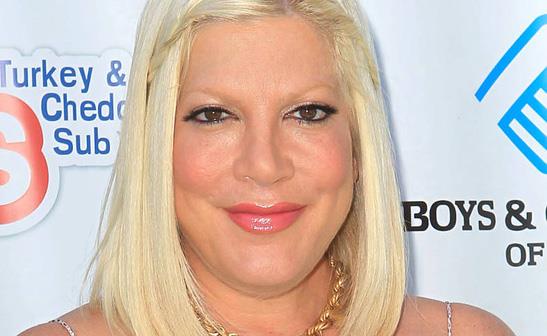 WENN
Reality TV regular Tori Spelling is embarrassed for actors who attempt to take on the challenge of "Dancing With the Stars" and apprehensive about the possibility of putting on dancing shoes herself. Despite allowing cameras into her home for the past five years for her own series, the actress is wary of ever signing on for another reality show -- especially if a dance floor is involved.
Bing: More on "Dancing With the Stars" | Tori Spelling
And when Zap2it.com asked the former "Beverly Hills, 90210" star if she would ever consider following in the footsteps of her former co-stars such as Ian Ziering, Jennie Garth and Shannen Doherty, Spelling isn't quite as eager to take to the floor.
Photos: See season highlights | Memorable moments from this season
She admits, "I used to say, 'Maybe', but it's gotten so crazy-competitive and so amazing. The people who are doing it aren't like celebrities trying it. They're like dancers. I mean, they have Olympians on there who excel in gymnastics. And look at 'All-Stars' winner Melissa Rycroft -- she was a Dallas Cowboys cheerleader, so obviously, she's going to be a good dancer. I think it would be embarrassing now to just have actors with no dancing experience. I find myself to be a good dancer, but I don't know that I'm of that caliber. I think I'd be a little nervous to compete."
Plus: Canceled or renewed? | Celebrities playing celebrities

Tori, unlike you,  who had a career handed to her by her dad, other actors have to work at it. Most take dance lessons, voice lessons - anything to make themselves more employable. Many athletes also take dance as just another form of exercise. It's not like they are routinely casting musical theatre vets. As far as Melissa Rycroft is concerned, she is good, but she is not a ballroom dancer. She took some ballet as a kid but the most important requirement to be a Dallas Cowboy Cheerleader is height. Saying she or Shawn Johnson had some huge advantage is like saying Ozzy Osbourne should audition at the Met - singing is singing is singing, right?
Are you sure you want to delete this comment?