'The Bachelorette' Recap: Hometowns
Come for the dates — stay for the show's best prank yet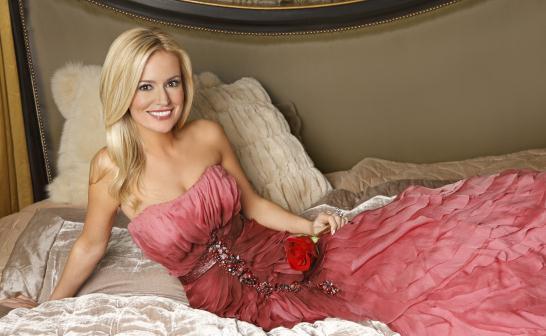 By Diane Vadino
Special to MSN TV
How did we get to hometowns already? Wasn't it just yesterday that we were gathered at the mansion with all those fresh-faced bachelors and Kalon was landing his helicopter on the lawn? But no: We're back from the Balkans and considering the remaining four bachelors: Fun Arie! Wacky Jeff! Studly Sean! And Chris, who seems to have wandered in from a different reality show (um, "Bachelor Pad 3," which he's just confirmed he'll be appearing in.) Side note: Why is Chris still even in this show? Because he's "very, very, very happy" when Emily comes to visit him and his family in Chicago's Hanover Park. I maintain that he is a bit of an odd duck, but he definitely gets his stuff slightly more together back home, showing us around his Polish-themed haunts: "On a scale of 1 to Polish, we're Polish," he says. It's kind of adorable the way this show reminds us of America's cultural diversity. (With more to come.) Happy Fourth of July! 
Bing: More about Emily Maynard | 'The Bachelorette'
Back at Chris' family's house, we have mom Rose, dad John and a bevy of protective siblings. It's the same slightly awkward family dinner as usual, with two exceptions: Chris's sister Renee is this year's overprotective (but usually accurate) sister who's like, dude, I can see you're not into him, so will you just cut him loose already so I don't have to pick up the pieces later? And dad John, meanwhile, commits the season's biggest sin: He tells Chris that Emily's in love with him, after John basically pries it out of her: "Do I sense some love?" John asks her, while Emily just kind of nods. It's a little painful, and it leads Chris — who's giddy with delight at his dad's misreading of the situation — in exactly the wrong direction. 
Photos: 'Bachelorette' stars: Where are they now? | This season's contestants
Next we're in St. George, Utah, with Jef, and his millions of siblings, since his parents are off in South Carolina doing "charity work." First up is some shooting: "Who knew Jef in his skinny jeans was such a good shot?" Emily says, before picking up the rifle herself. "I'm nervous 'cause I don't want to totally suck." She figures it out, and they carry on to the family gathering, attended by siblings aplenty (Steve, Mike, Melissa and Julie — and "there's a few missing here.") "Honestly, parents usually love me," Emily says. "[But] I'm going to have to work my charm on a lot of brothers and sisters." And there does seem to be some level of disconnect — at least between how Jef has always seen himself previously ("They know I'm free-spirited and do my own thing") and how he's positioning himself to Emily, as a guy who can't wait to be a dad as soon as possible. "She's like the coolest girl in the world," Jef says. "I've never seen you with those other girls," Steve says. The best for Emily, though, is yet to come. Jef takes her out into the wilderness and reads her an exceptionally sincere-sounding love letter, which includes the following: "From the first time I met you, there was a unique connection ... I  love the way you smile; I love the way you grab my hand and hold it. ... Most of all I'm completely and hopeless in love with you." Do you buy it? I totally buy it. I'm confused as to whether I'm rooting for Jef or Arie, but I buy it. 
Speaking of, our Indy car racer is next, and we're headed to Scottsdale to watch Arie zip around the track. ("Arie definitely looks stupid hot," Emily says.) Arie's dad is Indy 500 winner Arie Luyendyk, Sr., and that last name is our first clue that we're about to get "The Bachelorette's" first-ever Dutch-language interlude. (Moooooi!) Arie is open about his concerns bringing Emily into the fold of his European family: "I think tonight the person I have to win over is my mother," he tells Emily. "If they say bad things, I'll just translate them favorably." Which is funny but also slightly terrifying. 
And so it goes: Halfway through their remarks, Arie's mom Mieke starts speaking in Dutch, which means Emily gets to enjoy sitting there in silence until Arie realizes they're torturing her. Eventually, his mom drags Emily outside: "So, do you want to have a chat with me? I was just wondering like a few things." It's so terrifying and Dutch and includes perhaps the most thorough read of last year's "Bachelor" debacle yet. "Usually when you're being proposed to you're not the Bachelorette," Mieke says. Didn't see that coming, Emily? Nevertheless, Arie is resolute: "I could definitley propose to her right now." 
Finally, we're in Dallas with Sean's family. The day ends with the usual family pow-wows, and Sean does this funny thing where he runs down his street (Sean is forever running down streets yelling Emily's name) to smooch her. But none of that matters, because what precedes it is easily the funniest (er, intentionally funniest) moment on this show ever, when perfect Sean shows Emily where he actually lives — essentially, in his parents' attic. With his stuffed animals ("that's Moomoo, and that's Froggy"), and his saltines, and his cookie crumbs. "I'm trying my best to be a polite Southern girl," Emily says, "when in reality I'm going back on every conversation we had." Personally, I totally bought it when Sean says, "I wish my mom had picked up a little bit." (My notes read: "Did the producers not let him clean up his room?") Emily: "In that moment, it was like every amazing thing I had thought about Sean completely shattered." To Sean: "That's alright—I can clean," she says, dying on the inside. "He's a mess, and he's really into stuffed animals." At that point, Sean can't take it anymore: "The look on her face was pure horror and disgust." But it was all a joke! And most definitely the best joke ever played on this show. 
Without much ado, though, we're in Las Vegas for the night's cocktail party where four are about to become three. Jef and Arie snag the first roses, and it's clear who's going home — though even if it was a prank, I think Sean's prank is still freaking Emily out. Chris is gone. He's thinking, But my dad said! "I loved the girl, and I thought she loved me back," he says. It's sad, but he's so aggro about it that it's hard to feel bad for him. "I'm 10 times the man of all those dudes that are still in there right now," Chris says. We're betting he'll be back in fighting mode in a couple weeks — when "Bachelor Pad 3" premieres.
"The Bachelorette" airs Mondays at 8 p.m. ET/PT on ABC.