'Top Chef All-Stars' Recap: Dale Falters
Dale struggles when faced with Paula Deen, while Richard wins the Southern cook-off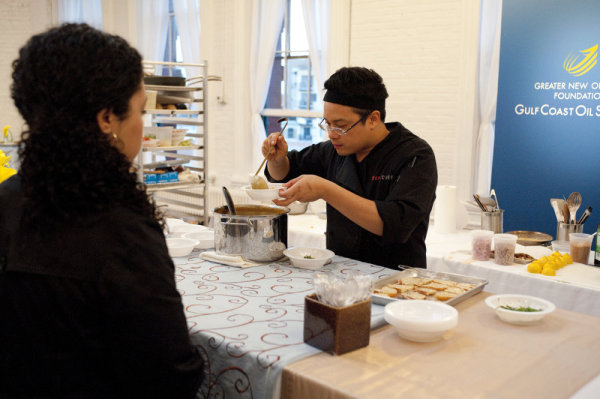 Padma, now you've crossed the line. Sending Fabio Viviani home was one thing; his fluffy gnocchi wasn't going to take the "Top Chef All-Stars" crown. Angelo Sosa was too good to get the boot last week, but he kind of drove everyone insane. But then you had to go and take Dale Talde away? My not-so-dark-horse favorite? Even Angelo thought could beat The Blais! I won't take it any more! We are over!

Except I want to know who wins. Curses.
Dale was on a huge high after his back-to-back wins last week when he charmed Cookie Monster and triumphed in the elimination challenge with tomato soup and grilled cheese made golden brown with an iron. But this week, Dale was no match for the Queen of Southern Cooking. Celebrity chef Paula Deen showed up and proceeded to blow our minds with her silvery mane and list of foods she's fried — macaroni and cheese, lasagna and butter. You read that right.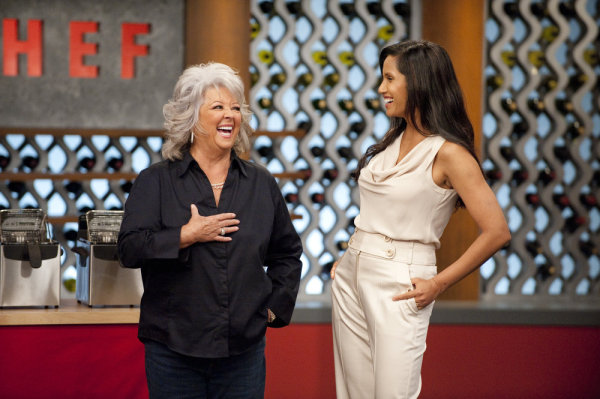 Dale also sensed trouble. He called Paula's flavor spectrum "night and day" from his own. "I work in a Chinese restaurant for Christ sakes." For the Quickfire, when asked to show Paula their best fry face, Dale's beef-rolled fried oyster did not impress her. Richard Blais sent mayonnaise through his ever-present liquid nitrogen and fried it along with bacon. Antonia's fried avocado and shrimp with grilled corn would have taken the prize, but she lost on a technicality after she forgot to plate one serving. That left Mike Isabella, who fried up chicken oyster pieces — where the thigh connects to the chicken — and served it on an oyster shell. Except he got the idea from a picture Blais had sketched out in a book and shown Mike that morning. Mike Isabella soon found himself on the wrong side of Chef Law, earning him a lot of dirty looks from Blais. As Carla explains, "You don't take another chef's idea. That's a no-no." Padma, couldn't you have spared Dale and sent Mike away instead? Consider it next time. Seriously. 

For the elimination challenge, the six remaining chefs were asked to make a meal from seafood harvested from the Gulf of Mexico. Fish, shrimp and crab were brought into the kitchen by former contestants including Angelo and Fabio (yay!), Marcel Vigneron, Spike Mendelsohn, Tre Wilcox and Tiffani Faison. Their return to work as sous chefs was surprisingly drama-free, but it gave us a chance to see Fabio pinch Blais' cheeks and to hear Dale compare the return of the chefs to an infestation in the crowded kitchen. "I've worked the last six challenges to get them out of here. All of a sudden they show up. They're like bed bugs."
And, we're assuming, distracting ones. Dale chose amberjack and Angelo to help him out, but struggled during service to execute his fish stew. He wound up handing the judges bowls that included undercooked potatoes and overly mustardy croutons. Southern gal Carla Hall also didn't fare well with her fried grouper, and was reprimanded by head judge Tom Colicchio for taking "beautiful grouper" and making "chicken wings" out of it. Tiffany Derry's shrimp also had too much honey and was overcooked, the judges said.
Despite the plagiarism, Mike fared well with the judges with his grit-crusted shrimp with sour cream chive potatoes. The judges also loved Antonia's delicate blue crab cake with crab broth. But Blais pulled out a win for his unusual combination of citrus polenta, fried fish and pulled pork, earning praise from New Orleans chef John Besh. "You showed a lot of restraint. Marrying snapper, which I would never think would go with pulled pork, was unbelievable."
If only Dale had come up with such magic. Still, he was classy — and weepy — during his departure, acknowledging he didn't like himself very much during Season 4 and he took it out on other people. He hoped people saw he had grown up. "After this experience, there's no way that I can't handle anything. Opening a restaurant? Fine. Let's do it. I feel like Superman." We'll eat there.