'Dancing' Recap: Last Tango in Hollywood
Maria Menounos and Derek Hough eliminated, miss out on the finals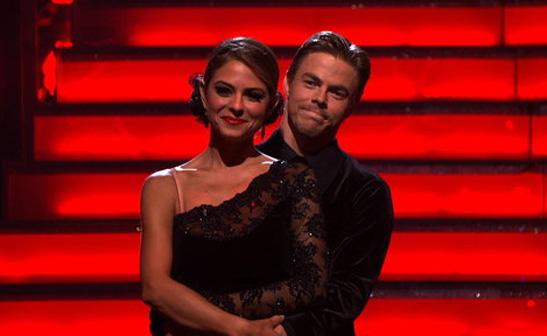 It was anyone's guess who would be eliminated this week -- all four semifinalists were amazing dancers who brought their all to their performances. As Tom Bergeron put it "whichever way this goes, it's gonna suck." It looks like viewer votes are what sent Maria packing, since she finished first on the judges' leaderboard. To her credit, she had nothing but positive things to say about her experience on the show. Maria said she learned a lot from her "DWTS" experience, and Derek complimented her on being a "champion of life."
Bing: More about 'Dancing With the Stars' | Photos: See the dancers in action
Here's a quick look at how our three finalists did this week
Last Night on TV: Watch recaps | Video: Watch clips and more
Katherine Jenkins
Katherine's quickstep was the dance of the season! It had 1920s glamor, lightning-fast choreography and that "magic" that makes a good routine great. The judges had nothing but love for this routine, though a slight hiccup near the beginning kept Katherine from earning a perfect 30. Katherine's sexy salsa was gorgeous, but she stumbled near the end of the routine and hurt her back. After that moment, she couldn't get her composure back, but Katherine actually seemed more upset about her slip-up than the judges.
William Levy
William and Cheryl tore up the floor with their smoking hot tango. His intensity was incredible and his lines were gorgeous, though he had some control issues with his spins near the beginning of the number. Len proclaimed the dance "overall terrific," though he did comment on occasional flat-footedness from William. William's samba was amazing and the judges' choice for this week's encore: He shook his booty and did it with a smile. William's technique was as solid as his attitude and the routine earned him a perfect score.
Donald Driver
Donald's sweet waltz was a real departure from his usual intense numbers. He and Peta maintained body contact throughout the routine and his lines were gorgeous. Carrie Ann loved the emotional content of the routine but found Donald's footwork a bit lacking in the end. Donald's samba was stunning -- as usual, he brought his personality to bear while turning in a nearly perfect performance technique-wise.
Who won the week: William
Who needs to step it up: Katherine
"Dancing With the Stars" airs Mondays at 8 p.m. ET/PT and Tuesdays at 9 p.m. ET/PT on ABC.