'American Idol' Recap: Hair Today, Gone Tomorrow
One day after revealing her style makeover, Erika Van Pelt gets the hook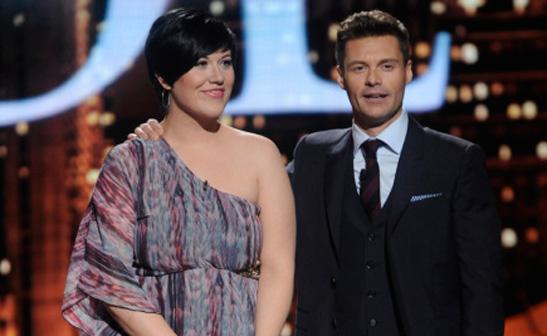 By Carla Patton
Billy Joel week was certainly the most underwhelming theme week thus far on "American Idol" Season 11! Granted, there were a few standout performances (and a few stood out for the wrong reasons), but most of the contestants seemed to fall right in the middle of the pack. And the middle isn't the best place to be, because it means you weren't memorable.
Bing: More about 'American Idol' | Photos: See the top 10 singers
A few things to look forward to: a performance from Season 10's Haley Reinhart and a performance from Lana Del Rey. Both are sure to be entertaining in their own right. Haley is showing the contestants what can happen for them, even if they don't win -- as long as they agree to play by the rules. Lana Del Rey will show the contestants what happens when singing meets laboratory science.
More: 'American Idol' on BuddyTV | Video: Watch 'American Idol' clips and more

My big questions are about Elise and Erika. Will Erika's haircut make her finally stand out?  Or did Tommy Hilfiger just make her look like (as one of you pointed out) a banker? Will Elise be in the bottom three again or is America warming to her? I thought she was fantastic in a week that clearly belonged to people who know who they want to be as artists. That's gotta count for something, right? But she and Phillip Phillips, I suspect, don't really need this competition. They don't seem like "American Idol" winning material, you know? They can make it without winning. I could easily see it coming down to Jessica Sanchez and Colton Dixon in the final two. But we still have a long way to go, and this night's hour of programming takes us one step closer.
Yes! The group number is back! They're singing "For the Longest Time," which I'm sure will be absolute crap. I live for it. Elise, bless her heart, is making an effort to smile and flirt a little more. She is playing Nigel's reindeer games. I enjoyed Skylar Laine singing to Casey Abrams in the audience but was distracted by the fellow directly in front of them. His stiff snapping was as awkward as the group number itself.
Keep snapping, Jeremy. Snap like nobody's watching.

The individual performances are good vocally, but the interaction between all of them is tired and disconnected. It ranks a solid C. I would love to hear Jimmy Iovine's thoughts.

Next in Thursday night's buffet of awkward: It's the Ford music video! The kids are playing hide-and-seek in the mansion we all know they're not staying in this season. Ah ha! They were hiding in a Ford Eclipse! Those jokesters. I think we found Erika's old hair, too.
Ryan tells us there's only room for nine in the "Idol" mansion. Will Hollie, Skylar and Elise secure beds in it? Canopy beds, probably. Jimmy says this was Hollie's worst night in the competition so far, but he thinks she'll stay. Jimmy says Skylar is consistent but this wasn't her best performance. She may be stalling out, and it's too soon for that. Jimmy was concerned about "Vienna" as a song choice, but he says Elise is transformed. He got "goosies -- whatever goosies are!" So crusty, that Jimmy Iovine.

Hollie is moving into the mansion, as is Skylar. Ryan brings Elise forward to reveal that, for the first time, she is not in the bottom 3! They are all safe. Yay!
Lana Del Rey performs next, singing "Video Games." I guess you could call it singing. It's more of a whispery moan? I wish she would fake us out like Heejun did this week and just break into a performance of "You Make My Dreams" by Hall and Oates. Instead, she made the last part sound like she was underwater somehow.

"I guess I'm performing on a stage now. It's whatever."
 
Evidently, it's Steven Tyler's birthday this weekend, so Ryan brought out the Top 10 to sing "Happy Birthday" to Joe Perry's electric guitar playing. Steven and Joe Perry hugged, and their scarf tails intertwined in an unspeakable bond.

Deandre, Joshua and Jessica get their results next, and Jimmy says Deandre was "jumping around too much." Joshua didn't score very well in Jimmy's book this week, and he, too, will have to grow to win this thing. Jimmy gives Jessica "A's across the board" but seemed a bit bored by the whole process. Ryan tells Jessica that Billy Joel himself said he enjoyed her rendition. And so did America. Jessica is safe. Joshua is safe, and Deandre is in the bottom 3. Good job, voters. I approve.

Next, Haley Reinhart performs "Free," her "hot, new" single. You can get it on iTunes, but not for free. She starts out in a giant cage. Whoever is caging all these young singers (Haley, Miley Cyrus, etc.) just needs to stop. It's sick and wrong, and the bars aren't close enough together to keep them in there.

Haley knows why the caged bird sings.
The cage lifts, and Haley escapes by walking forward. She did a good job. I liked parts of the song, and I really liked her dress and wind machine. That Angelina
Jolie-at-the-Oscars,​
high-leg slit is in this season, then?
Erika, Heejun, Phillip and Colton are next to the stage for results. It will undoubtedly be Erika and Heejun in the bottom, right? Phillip and Colton were great. Billy Joel emailed Jimmy Iovine to say that Colton did a great job, and Jimmy agrees. I'm pleased to hear that Jimmy still checks his Netscape Navigator every once in a while -- when he's not promoting data phones he has no idea how to use. Just joshing you, Jimmy. Jimmy Iovine thinks Phillip should take Tommy Hilfiger's styling advice but said nothing about the performance. Jimmy loved Erika's decision to cut her hair and thinks Erika will be at the top of the batch. Jimmy agreed with Steven that Heejun "disrespected the entire process" and called the performance a D. Ouch! We love you, Heejun. And we love that you are disrespecting this preposterous process. That one's for Jermaine Jones!

Colton is safe. Erika is in the bottom 3, and ran back to Elise to get some maracas ("I'm bringing the party with me!"). Phillip is safe, and Heejun is in the bottom 3. This is not a surprising bottom 3. "Anyone who goes home tonight is a loss," Jennifer says -- a telling sign that they won't use the save tonight.

Ryan reveals that Deandre is safe, so I was wrong. Heejun is safe, and Erika is probably going home. And not home to the mansion. Well, good. I want more of Heejun's antics to keep things interesting. The judges aren't even talking. Randy is just shaking his head, and Steven is enjoying one last Erika performance. Heejun and Deandre are shown crying as Erika performs the crap out of "I Believe in You and Me." Poor Erika. She's just way too good, consistent and professional for this competition. They couldn't have given her one of the pimp spots ever? She always got the raw end of the deal.

The judges reveal that, no, they will not be using the save. Erika is going home with a new haircut. Thanks a lot, Tommy Hilfiger.

What did you think of Thursday night's results? Did America get it right? 
"American Idol" airs Wednesdays and Thursdays at 8 p.m. ET/PT on FOX.