'American Idol' auditions: Charlotte shutdown
Nicki's walkout semi-justified, promising singers abound again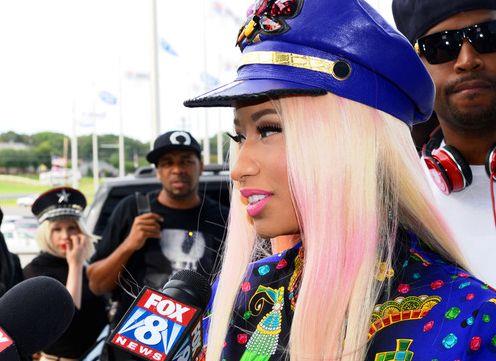 Damage control: A day after she stormed off the "Idol" set, after some provocation, Nicki Minaj returns to face the microphones. All was peaches and cream at the auditions thereafter, for the most part.
Yes, this was the episode in which the big walkout took place. But it wouldn't be a recap if the events weren't recounted in sequence, so we'll take things in order. (If you just can't wait, it comes up about halfway through the post.)
Bing: More about 'American Idol' | Video: Watch clips | Photos: See highlights
Actually, a teaser for the explosion kicked off the show: blurry TMZ footage discussing a huge conflict that shut down production. That segued into Ryan Seacrest on the Charlotte Motor Speedway "shutting down" some of NASCAR's finest drivers while grooving to Rupert Holmes' "Escape (The Pina Colada Song)." Could things get any more metro?
The auditions proper get under way with Naomi Morris, a fashionista who designs her own clothes, though apparently suffering from a material shortage in the clavicular region. Nicki Minaj teased her about "poppin' out" of her bra, which Nicki coveted, only to be told by Mariah Carey that it wouldn't fit her. Visual daggers were exchanged. (All of this banter occurred after Naomi sang wretched renditions of Aretha Franklin's version of "Respect" and the Temptations' "Ain't Too Proud to Beg" and was summarily dismissed.)
The second singer was a waste of time as well (a Charlotte ruse of sorts, as the talent level turned out to be quite lofty). Joel Nemoyer sang Nina Simone's "Feeling Good" from a supine position, which may indeed feel good but didn't enhance his tone, which resembled what Top 40 radio DJs used to call a "puker." Brian Rittenberry, whose wife had miraculously recovered from cancer, was the first ticket winner, though he sounded just passable to my ears (which were probably ticked off at his threadbare song choice, "Let It Be").
One of several country-oriented singers, Jimmy Smith, was also less than stellar, but his version of Rascal Flatts' "Bless the Broken Road" thrilled the judges so much that Mariah attempted a mock hillbilly accent, thankfully not repeated. A montage of winners briefly showcased Sarina-Joi Crowe, Haley Davis (who sang one of several offbeat and interesting song picks, Roy Orbison's "Crying") and Na'Chella Fullins-Lovell, who displayed a Mariah-esque ability to chirp stratospheric high notes better appreciated by dogs than humans. In response, Mariah sang a snatch of Billie Holiday's "Good Morning Heartache" after the vote.
Matthew Muse broke the winning streak by including an attempted octave leap within Brad Paisley's "When I Get Where I'm Going" that, unfortunately, spanned only six notes or so. But Isabel Gonzalez put things back on track with another surprising song choice – Sam Cooke songs are rare enough on "Idol," but "Nothing Can Change This Love" isn't even one of his better-known hits. Great to hear, though, and rather impressively sung by the high schooler.
Taisha Bethea also defied expectations, as African-American alternative-rock singers tend to do. But after declaring her intention to be a rocker, she sang Johnny Cash's "Folsom Prison Blues," prompting the judges to ask for another song. That turned out to be Alanis Morissette's "You Oughta Know," more in Taisha's stated wheelhouse, but the stylistic muddle so perplexed the panel (except for Nicki, who incisively cut through the confusion in a fashion befitting the show's most intelligent judge) that the vote was deadlocked at 2-2. That called for a tiebreaker, a role assigned to Keith Urban, who sent Taisha to Hollywood.
A montage of judicial disputes came next, featuring a few choice Mariah eye rolls, the better to set up the main event. The catalyst was Summer Cunningham, who sang Bill Withers' "Lean on Me" considerably better than Nicholas David on "The Voice" and professed to having "done the country thing," feeling she was better off adding some soul to her country tendencies. This harmless declaration, believe it or not, set off the fireworks. Randy Jackson and Mariah seemed to feel Summer was best suited to singing country, and proceeded to grill her for some time on just what she meant by having "done the country thing." Nicki seethed impatiently for a while, then accused the judges of "scaring her into line" by trying to force Summer into a country bag that she didn't necessarily want to be bound by. It was a perfectly accurate analysis, but probably didn't warrant Nicki storming off the set. Mariah reacted by saying (jokingly? Who knows?), "That was my move! I was gonna do that the next time she ragged on me."
Then, after more TMZ clips, footage of scandalized talk-show buzzing and forlorn shots of empty judges' chairs, the episode moved on to the second day of Charlotte auditions, and it was as if nothing had happened (except for a few exasperated headshakes from Mariah when Nicki wasn't looking). A sunny and whimsical mood prevailed, although first auditioner Brandy Hamilton, after wowing the panel with the superbly chosen and sung "All I Could Do Was Cry" (any Etta James song that isn't "At Last" is always welcome), couldn't resist admonishing the judges, rather inaudibly, "Please don't fight; it makes us sad." Maybe the producers fed her the line; Brandy should have been over the moon with excitement, especially after Mariah labeled her performance "pippetty pow."
Ashley Smith channeled Carrie Underwood's "Cowboy Casanova," which in itself was not unusual, but she was another stereotype breaker, a hyperactive, blond African American. (Such musical surprises promise an interesting and rewarding season.) Nicki, a serial nicknamer, dubbed her "Blondie," naturally, which led to a montage of nicknaming contestants from several cities – a far cry from the earlier battle.
Janelle Arthur, a two-time golden ticket winner, nabbed her third with a medley of Keith Urban songs, "Where the Blacktop Ends" and "Walk in the Country." Keith then left for another engagement, but the judges were united in their decisions, ticketing charitable street singer Rodney Barber for his performance of Edwin McCain's "I'll Be." A similar vote greeted returning aspirant Candice Glover, whose "Syrup and Honey" (Duffy) was labeled the best audition of the season by Mariah, who got it right. Nicki told Candice, "I want to skin you and wear you," which turned out to be a strangely appropriate lead-in to the next contestant, Ja-Bria Barber (no relation to Rodney), whose avocation is frog gigging.
That recreational sport basically entails fatally sticking frogs and removing their legs to cook up, in case you missed the program's detailed explanation. Ja-Bria, just 16, proceeded to sing Stevie Ray Vaughan's "Pride and Joy" quite well and sailed through, a turn of events not duplicated by literal headbanger Brad Harris, whose "Whole New World" (from "Aladdin") seemed to alarm the judges.
The "Idol" audition tradition of closing with a heart-rending back story continued with Seretha Guinn, whose boyfriend underwent eight surgeries in the past year. To top off the sentimental appeal, she brought her young daughter, London, with her into the audition room. None of these embellishments were actually necessary, as Seretha stunned the judges with a nimble performance of the theme from "Fresh Prince of Bel Air" and added a fragment of Trisha Yearwood/LeAnn Rimes' "How Do I Live" to seal the deal. She became the 15th singer (counting the montage of three) to get a golden ticket and camera time; 22 others also made it through. Next stop: Baton Rouge, La.
What did you think of Wednesday's episode? Connect and sound off on Facebook and Twitter
 "American Idol" airs Wednesdays and Thursdays at 8 p.m. ET/PT on FOX.