Kourtney doesn't want to raise reality TV kids
Famous mom conflicted over fame and privacy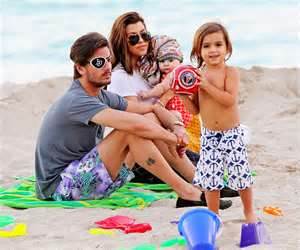 Much has been made about Kourtney and Kim Kardashian's appearance on "The Late Show with David Letterman" this week.
Most media outlets and fans focused on Letterman's ability Wednesday to get Kim to open up about her ongoing divorce, her relationship with rapper Kanye West and her pregnancy.
Bing: More on 'Kourtney & Kim Take Miami' | Kim Kardashian | Kourtney Kardashian
But one of the interview's overlooked and edifying moments came when Letterman got Kourtney to talk about the conflict she feels as a reality star and as a mother. Her son Mason is 3, and her daughter Penelope is about 6 months old. Kourtney's boyfriend, Scott Disick, is the father.
Plus: Biggest TV interview reveals | Canceled or renewed?
"I love having them with me and being a mom is my favorite role," Kourtney, 33, said. "I feel so blessed that I get to work with them. There (were) two seasons I didn't have them on and I'm even deciding for the next one what I want to do. I do think as long as they're with me, that we're the happiest."
When Letterman joked about Mason getting his own show, Kourtney was adamantly against the idea, even in jest.
"That's what I don't want," she said. "And I feel as my son's getting older and he talks more, he's on it a little bit more, and that kind of freaks me out."
Hmmm. That's not something Kris Jenner would say. There may be hope for Kourtney yet.
"Kourtney & Kim Take Miami" Season 3 kicks off Sunday, Jan. 20, at 9 p.m. ET/PT on E!