'Amazing Race' Exit Interview: Joey Fitness & Danny
Done in by a Fast Forward, recently ousted duo plans on a second shot in All-Stars
By 
MSN TV
 Mar 26, 2012 12:39PM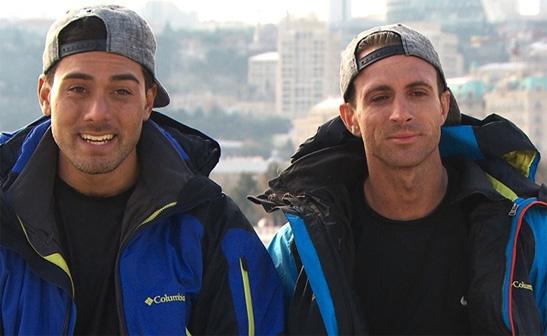 By Diane Vadino
Special to MSN TV
On Sunday night's "Amazing Race," a Fast Forward debacle led to the surprise ouster of Long Island "guidos" Joey "Fitness" Lasalle and Danny Horal.
Bing: More about 'The Amazing Race' | Photos: Meet the teams
Though derided early in the season as "Jersey Shore" wannabes, the trainer and nightclub promoter ended up charming fans with sold game play, generally good attitudes, and consistently improving finishes -- until they lost last night's Fast Forward task to combat pilot/wife duo Dave and Rachel. We spoke to them about "losing to a girl" and their plans for a second chance on All-Stars.
Last Night on TV: Watch recaps | Video: Watch clips and more
MSN TV: So what went wrong with the Fast Forward? 
Joey: When we saw Rachel and Dave were doing the Fast Forward, we said there's no way we're losing to a girl. And when we lost, I remember saying, "Shit, we got beat by a girl." And then I said I can't underestimate girls anymore. 
Danny: We were the first ones out of the temple, and we thought that no other team was following us. Our cab driver didn't know where he was going, and he definitely wasn't going like he was in a hurry. All of a sudden, Dave and Rachel flew by us. At least it was good because our cab could follow them. 
Joey: It seemed like they got there before us by a couple of minutes -- they were starting as I was climbing up the ladder to get to the hay. Dave was throwing the hay down exactly on top of the piles, while I was throwing the hay down on the [ground], and then Danny lifted it up. But we honestly thought we were ahead -- even Rachel was like, "They're beating us." 
How close were you to finishing? 
Danny: I only had one more bundle of hay [to go]. 
What did you say when you realized you lost? 
Danny: First I said, "Screw you, Joey, for picking the Fast Forward." But we should have been eliminated on the first leg of the race -- we were just hoping that somebody screwed up, somewhere. You never know what could happen. But we were in a hole because our cab was all by himself, and he didn't have anyone he could follow. All the other cabs were following each other. 
Joey: After we lost the Fast Forward, we set everything in super-fast mode -- we really did bang out the apple thing, quick. But you don't know if you're 20 minutes or two hours behind. 
How long did it take you to do the Fast Forward? 
Joey: Maybe like 40 minutes, maybe an hour. 
How much did you regret taking the Fast Forward? 
Danny: We really wanted to come in first place. And we thought that Detour might be nearby, like it was with the first Fast Forward. But it wasn't, and our cab driver really had no clue had to get there. 
Joey: We were doing totally fine -- we moved up from 10th to 8th to 3rd to 2nd. I guess maybe we got a little greedy. 
It's a tough way to go out. Did it hurt your friendship?
Joey: I don't even talk to Danny -- he's not even my friend. 
Danny: We're still good friends. People are calling about it every day, though, to ask about it. We kind of want to put it out of our minds. I will say if we get to come back for an All-Stars season, I guarantee a top finish. 
Joey: The one thing, though, is if we get back and there's a Fast Forward, I'm ripping it up. 
"The Amazing Race" airs Sundays at 8 p.m. ET/PT on CBS.
Are you sure you want to delete this comment?