'Dogs in the City' and Its Host Are a Girl's Best Friend
CBS reality show uses cute pooches and an attractive trainer to woo viewers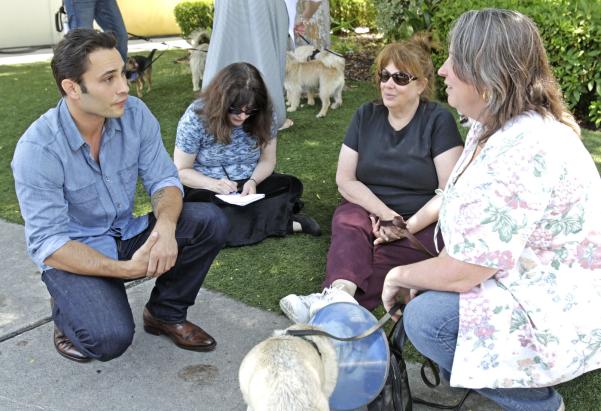 Justin Silver isn't matinee handsome, but there is something about him that appeals to women and pooches alike.
Silver, who works as a doggy guru and trainer in New York, is the star of the CBS summer series "Dogs in the City." It's a reality offering that follows Silver as he teaches pet owners how to be better to their Labradoodles and Poodles alike.
Bing: More on 'Dogs in the City' | More on Justin Silver
"I'm doing what I love to do," Silver told reporters earlier this week at a CBS press event promoting the show. The network encouraged journalists to bring their dogs so Silver could meet them and give tips.
"I'm not shy at all," said Silver, who has the hair of Keanu Reeves and the chin of Christian Slater. "Cameras don't bug me in any shape or form. Even if people are not in full agreement with my techniques and the way that I do stuff, it just sheds light on the importance of training dogs and all the things that are involved with having a pet."
But as Silver talked, it was clear that a lot of women reporters were charmed by him. Maybe it was the nurturing way in which he interacted with the dogs or his unshakable eye contact but whatever it was, no one could deny this guy's magnetism.
Also: Reality TV's most ferocious females | TV's boys of summer | Summer reality TV fare
Weeks before the doggy junket, an Entertainment Weekly reporter blogged and praised Silver, who has more than a decade's worth of experience, for his "cute Brooklyn accent."
Hmm. If CBS is smart and wants to bump up its ratings, perhaps execs should market Silver to women over 35. Oh wait, they already have. He was on "The Talk" earlier this week too.
"Dogs in the City" airs Wednesdays at 8 p.m. ET/PT on CBS.

I was so impressed with the way he dealt with the lady with the superstar photo model Yorkie.  He seems to understand people as well as he understands dogs----which is unusual in my experience.  Most of the dog trainers I have met can make a dog do anything, but they can't begin to teach the owner how to get their own dog to do anything.
I'm a big fan of Justin's show.  I hope it comes back in the fall.

He says dumb stuff sometimes, though.  Things like, "Only in NYC."  WHY ARE PEOPLE SO OBSESSED WITH NYC?!  There's nothing going on in NYC that isn't going on anywhere else. He was talking about women pushing tiny dogs in strollers, and says, "Only in NYC."  
NOT only in NYC...has he ever been to Beverly Hills?  Miami?  Scottsdale?  Dallas?  Charleston?  
There are dogs in strollers all over the place.  
Maybe if New Yorkers left NYC every so often, they'd realize there's more to the world.

I totally agree. I'm not swooning over him or anything like that (though, he's definitely cute,) but I love the way he treats the humans on this show. There's no way I could have that much patience and understanding with humans who have NO idea how to treat a dog. Yet he is ALWAYS patient, calm, cool, and collected. That's a wonderful break from these shows where the host is always demeaning and belittling to those he's trying to "help." I'm a Justin fan for sure.
Are you sure you want to delete this comment?