'Men Tell All' Recap: A Bad Day to Go Commando
Sean, Ryan and 'that guy Kalon' gather for one last time on 'The Bachelorette'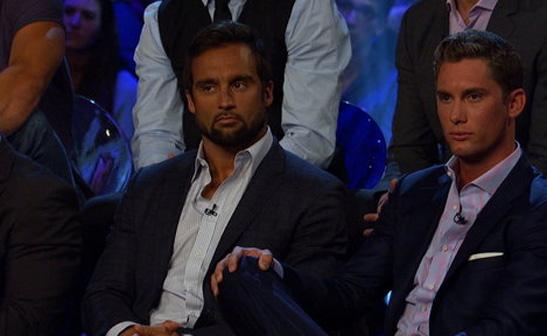 By Diane Vadino
Special to MSN TV
Is it already time for "Men Tell All"? It must be, since we're down to two guys -- and not on a tropical island, but rather in a studio in L.A. with a whole bunch of dudes, including recently heart-skewered Sean, a still-glowering Chris, goofier-than-ever Doug, and, says Chris Harrison, "that Kalon guy," who does the impossible of coming off like even more of a douchebag than he already had. 
Bing: More about Emily Maynard | 'The Bachelorette'
We begin with a quick review of the season. We have Ryan telling Emily she better not gain weight after she makes herself the luckiest woman on Earth. (By marrying Ryan, for the record.) "In the history of dumb comments by men," Chris says, that's...." "Top three," Emily answers. Next, we have Kalon: According to Emily, "I thought maybe the guys are being too hard on him -- maybe it's all because of the helicopter. If I kept him around long enough I'd finally see his true colors." Well, that happened. And then there's adorable Doug, quite possibly the geek with the most massive arm circumference this show has ever seen: "Clearly the chemistry was not there," Emily says. Clearly. 
Photos: 'Bachelorette' stars: Where are they now? | This season's contestants
We're still running through the guys and bringing up their assorted moments of public mortification. Had you forgotten that Travis carried around that ostrich egg? And did you know that he made Emily sing "Twinkle, Twinkle, Little Star" to it, as he tucked it into bed? No? Luckily, they have some footage of exactly that. Then there was Emily's date with Joe at the Greenbriar resort in West Virginia, which ended just as badly for Emily's gown as it did for Joe: "Y'all? I just spilled [wine] all over my dress! And I just said '&$!@' in front of my date." Arie is not immune to the humiliation that comes with being on this show, for apparently while he and Emily were making out (once more) outside his parents' home, his little brothers were spying on them ("She is a beauty," one of them says): "I told his brothers that if it didn't work out I'd be calling them," says Emily, so maybe there's a love connection there if things don't work out with Jef or Arie. We also get to see a bit of Chris's dancing, but Emily is quick to defend him: "Most guys would have stood there, like, 'Whatever, I don't dance,'" she says. "I want to give him credit for trying." This is one of the few moments during the show that Chris doesn't look like he wants to attack someone. Also, did you guys forget there was a grain merchant, a lumber trader, and a mushroom farmer on this show? 
Our first extended interview goes to Kalon, who seems to want to remind us as quickly as possible how annoying he is. But John says it better: "Coming in on a helicopter, you kind of put yourself behind the eight ball," he says. "I have a rule -- if you have Louis Vuitton luggage, and you're a dude, you're a *%#&." These are actually his best two lines on the show -- if he'd had nothing to do but make fun of Kalon, maybe Emily would have kept him around longer. Chris asks Kalon if he regretted the helicopter arrival: "If somebody else had arrived that way, I would have been genuinely interested to hear their story," he says, disingenuously. (Charlie: "There were some times when I really wanted to smack [Kalon] in the face.") Kalon says he made lots of friends in the house (Ryan twitches when he hears this) and adds that "all of my friends are extremely confident." Chris asks Kalon if he shouldn't have pulled out of the show once he knew that Emily was the bachelorette, to make way for a guy who didn't mind having a stepchild: "At that point, I was committed -- I think it would have said less about my character if I'd pulled out," Kalon says, inaccurately. No one is buying this: "I don't see him missing a facial to go pick up Ricky from soccer practice," Wolf says. "For some reason, everyone in America likes things to be sugar-coated," Kalon says, apropos of nothing. "See ya!" says bachelor Chris.
Ryan's up next with Chris Harrison, who promptly asks him if "is [it] possible that you might just be an arrogant ass?" Ryan doesn't think so, but he's wrong. We see all the footage of Ryan saying every obnoxious thing that popped into his head, from the weight-gain stuff to the trophy wives discussion to his own "worst-case scenario" of ending up in the final-two with Arie, losing, and then coming back as the bachelor. "I want to speak for ABC and put everybody's mind at ease: not gonna happen," Chris says. "I'm looking for a prize, man," Ryan contends. "Ladies, the line forms here," Chris adds. There are not going to be very many women on that line. 
Chris follows Ryan, and he still looks like he wants to punch something. "It came off like you were angry," Chris Harrison says. "I do love Emily -- in my mind, in my heart, in my gut. I loved that girl 110 percent. When there's something I really believe in, I'll do anything in the world to fight for it," says the rejected bachelor, who is taking the whole idea of "fighting for love" much too literally. " The opportunity I had with Emily comes around once in a lifetime," he says. Or, you know, next week on "Bachelor Pad." 
By contrast, Sean -- who's up last, in the spot reserved for the most heartbroken bachelor -- comes off as wounded but not bristling with rage, like Chris was. Apparently he called his mom from Curacao, and she, like, any good mom, told him that "this is going to be healthy for you in the long run." (You know Sean was sad to see his no-break-up record go down in the dust.) "When Emily walked out [that night], I thought in my head, 'That's my wife,'" he says. "I spent several weeks questioning myself. I do see the light at the end of the tunnel." Hopefully that tunnel is as the star of the next "Bachelor." 
At long last, Emily joins Chris, and unsurprisingly, much of the talk is directed at Sean. (He's the one bachelor she says hello to by name when she walks out on stage.) The night the episode ending with his ouster aired, she says, "I sat in my room and did the ugly cry." Sean repeats what he said to Chris Harrison about it making him a better man ... some day. Chris glowers like a bear as he hears this entire exchange, but he recovers enough to say something to Emily about thanking her for making him believe in love again. It's awkward and weird, but Chris Harrison quickly moves along to Doug. Emily's one regret, she says, was not giving Doug the group-date rose in London, a sign of her thanks for alerting her to the fact that Kalon had called Ricky "baggage" earlier that night. "I could be engaged to Kalon right now," she says. "So thank God for Doug!" It's a little sad right here, because clearly Doug thinks she might have been about to say, "I could be engaged to Doug right now!" "You really think [being engaged to Kalon] would have been an option?" Chris asks. "No … " she says. "I didn't know what was wrong with me -- that I let someone like that through the cracks." Kalon mumbles something ridiculous about it being a "growing experience," but Emily isn't done with him yet: "You, my dear, should be a politician, because that is the biggest load of bullshit I've ever heard." Emily says she just saw a post of his (on Twitter, presumably) that had a picture of a baggage claim and a message that read "Thought for sure I'd see Emily Maynard here." "And your next response was, 'Sorry I'm not sorry.'" "I don't take social media as seriously as everybody else," Kalon says, lamely. "I guess I'm flattered you follow me on Twitter." Emily is having the last thoughts on this subject, though: "I hope you find faith in something bigger than your Prada shoes and your rented helicopter." 
We conclude with bloopers, which involve Emily asking "Who's Andrew? Isn't there an Andrew?" (isn't there?), a lot of guys stripping off their shorts, and Doug facing off with Chris at the highland games and begging him to put on some underwear: "Can you put that thing away? Bad day to go commando." And finally, even better than Chris asking Emily how many guys she plans to sleep with is her admission that "I always liked the guys who are tattooed and maybe a  little homeless looking." Also, she makes her own cat videos, starring Safari and Holly. "I've been thnking of starting my own YouTube channel, but I'm thinking I gotta get a man first." Problem solved, it looks like, so hopefully we all have that to look forward to. 
"The Bachelorette" season finale airs Sunday, July 22, and 8 p.m. ET/PT on ABC.