Cheryl Hines Shows 'School Pride'
The 'Curb Your Enthusiasm' star dons her producer hat for a new reality series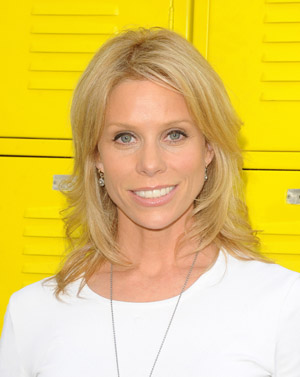 You know and love Emmy-nominated actress
Cheryl Hines
as comedian Larry David's long-suffering wife on the HBO hit
"Curb Your Enthusiasm."
And this working mama is one busy gal. When she's not doing stints on "Brothers & Sisters" or parts in movies like "RV" or "The Ugly Truth," the actress steps behind the lens as director on films such as last year's "Serious Moonlight," a drama starring Meg Ryan and Timothy Hutton. Now, she's donning her reality TV producer cap -- yes, really -- with the new NBC docudrama
"School Pride,"
a six-week series that focuses on revamping and revitalizing one school at a time.
You actually came up with this idea a few years ago when you renovated a school in Compton?

I had joined forces with a school principal in Compton. And we renovated her school and it had such a big impact not only the students and the teachers and the parents, but also the whole community. We were just so excited about what had been accomplished that the school board asked if they could move Jackie, the principal, to another school. So we did that school. Then one of my friends said, 'This should be a show, so America can see how you're doing this and people can be inspired by what you're accomplishing." So we joined forces with NBC and this summer went across the country and renovated seven schools. And we had a blast doing it and some really touching, exciting moments along the way that we captured on camera?
Okay, first things first: how did you end up volunteering at a school in Compton?

Well, I was volunteering with a reading program called Read Across America, where I would go in read books to kindergartners, first-graders, second-graders. Just go in and read and go home. But I was inspired to reach out to these schools. My first instinct was to reach out to schools in other countries, schools I thought really needed helped. But a friend of mine said, 'What about our country?' He said, 'Why don't you start with the school where you're volunteering.' And I thought, 'Do they really need help?' So I cold-called Jackie, the principal, and asked what I could do. I said, 'Is there anything I can do?' So she invited me down to see the school and what would really help. And they needed a lot of help. It wasn't just soccer balls and jump ropes. The school hadn't been painted in 28 years. Their playground had been taped off with police do-not-cross barriers, because the sand underneath it was infested with bugs. There were just a lot of problems. All of those problems were sending a message to the kids saying, 'We don't care about you.' Jackie and I wanted to send a message to the kids saying, 'We do care about you!'
Now you're taking this message national with the show?

That's right. We want students across the country to know we do care, we want parents and teachers and community members to see how they can show that they care -- and we want to have a good time doing it.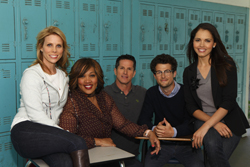 You're the producer on this, but you decided to stay behind-the-scenes. Why?

I'm an actress and I'm a mom. And actually, this is what I've been doing behind-the-scenes for years. Just in a quiet, under-the-radar way. I'm behind-the-scenes. So I felt like I was best used behind the scenes. I felt like, as a producer, it was best to find these great hosts that could represent the show. I don't really host, I wasn't the right fit for that. But I went to every school that we renovated, and I was very involved on every level. You know, this is my passion project. You'll see me on the website talking about school pride, what we're doing and how we're doing it. I'm behind-the-scenes, but I'd like to think that I'm a big force. This isn't about celebrity or showing your face or publicity. It's about showing real people that they can
make a difference
. The real teachers, the real parents, the real students coming together and renovating their own schools, making an impact on their own communities. This is about inspiring real communities to come together.

Given that you're a mom, you're doing "Curb," you're doing movies -- and now this, how are you balancing everything?

I do have a lot on my plate. I think the key for me is to do what makes you happy. I'm very good at knowing what makes me happy and what doesn't make me happy. And I kind of cut out the rest. So the projects I do take on are those I'm passionate about, and I can really commit to them and give them the attention they deserve. So yes, being a mom is number one on my list. That brings me a great deal of happiness, of course. And then from there, I have to pick and choose my projects wisely. Because you only have 24 hours in a day. There's nothing you can do to make it 25!


Do you think having your daughter Catherine changed your perspective?
Oh, it definitely did. Before I had my daughter, I never really thought about schools, to be honest with you. I never thought about kids sitting in classrooms or how they were learning or the environment they're learning in. That never crossed my mind, I'm embarrassed to say. But when my daughter started going to school, and I started getting involved in her schools, that really made me think about other kids, other parents, other people. And it made me realize that we all need to come together to change things. Because it's a tough job, being a parent. And I don't think you can do it alone.
Do you think -- with Michelle Obama's initiative, that Jamie Oliver and all that -- people are paying more attention now?


I think there is an awareness that's coming about. We hit such a low. I feel like we've really hit rock bottom. So people are starting to respond to that. We're looking for hope. We're looking for answers. And people are out feeling the need to do something. I think this is a step in the right in the direction. "School Pride" has been a way to put a magnifying glass on some of the problems that we've been having in these schools. And it's also a way to show much people do want to help. I mean, we've had over 15,000 volunteers this summer -- parents and kids scrubbing bathrooms, painting, scraping gum off of sidewalks.  The enthusiasm is amazing -- and I hope it's catching. It makes you feel like you don't have to just sit there and be helpless. You can really
do something
.

That's great! One more question -- we can't let you off the hook without asking what we can expect next on "Curb."
I can't even tell you anything -- I'll get in trouble! It's ridiculous but it's the truth. I'm sorry. But we're still having a fabulous time, it's the best time. I love Larry, we improvise everything. It's the most fun. It's really the most fun way to work.

Catch Cheryl Hines' "School Pride," premiering today at 8 p.m.