'Survivor: Philippines' exit interview: Michael Skupin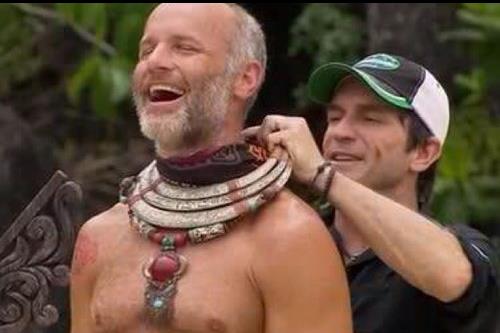 "Survivor: Philippines" castaway Michael Skupin – who'd previously had a short stint on "Survivor: Australian Outback" before being medevac-ed away – knew he had to make the most of his second shot at the title. And he managed to get all the way to the final three. He went in thinking he could really win it, even though players like Abi and Penner warned him against aligning with power players Malcolm and Abi? Regrets? Not many. MSN TV caught up with the father of seven to chat about his alliance with Lisa, whether Denise deserved the win, and what's up next for him.

Bing: More on "Survivor: Philippines" | Michael Skupin
MSN TV: So the second time around, and no medevac. Better?

Skupin: Amazing! I had a great, great, great run. No regrets about it.
You went into it with some high expectations. Did losing sting a bit?
I wouldn't use the word sting, because that implies leaving something on the table that you thought you could do differently, that could effect the outcome. I gave this everything I had every single day. I won challenges exactly when I needed to win them, and I made strategic moves that got me exactly where I needed to go. There's some things you can not control in this game – that's other people's actions, other people's votes. What people think behind your back. I can't control that. When you play an offensive game, you're going to leave some bridges smoldering on the way. The people who burn the bridges are the ones who sometimes get the voted. There's no worse thing in the game than getting your torch stuff – I can only imagine it, because I've never had my torch snuffed. In fact, I've never even seen my name written on the parchment paper. I know I've done a lot of things right – but will the jury vote with the principles of the game: outwit, outplay, outlast? Or will the vote with their emotions, for who offended the least people. I think you get a mix. But I'm on cloud nine because I accomplished everything I came out here to do – except win the million, of course. Sure, I wanted to win. And maybe I even felt like I should have one. But other than that, I did everything I wanted to do.
Do you think Denise was that emotional vote?

Absolutely. Even in some of the things that were cut out of the edits, Malcolm basically said to her, I'm voting for you because I promised I would. He sad I'm mad and I'm happy, but I'm going to keep my word. There were a lot of things that were said and deals that were made and things that were renegotiated that you don't see. But I know for sure that she offended people the least. She just found that middle ground. I didn't think Denise would get a single vote. I didn't think she would get Malcolm's vote, because she had backstabbed his alliance less than 24 hours before that vote. I didn't think Malcolm would have had time to recover from the sting of that.
Do you think the outcome would have been different had Malcolm been in that spot.
I think he was a stronger player than Denise, sure. Malcolm, of course, played a brilliant game, but he didn't get into the final three. So the world will never know if he wouldn't have gotten the vote or not. I think there's an overall psychological feeling that it's okay for a 25-year-old charmer to blindside me – they're supposed to do that. With a 50-year-old father of seven claiming to be a Christian – if he lies to you or he blindsides you, that's a whole different story. I'm supposed to be the good guy, the guy you can trust. So there's a whole different psychological process there when Skupin is part of the blindside than when good ole' boy Malcolm does it. There's almost a congratulatory thing when Malcolm does it – Penner said it, Abi said it.
Did you ever consider voting Lisa off?
Lisa and I, although we had a day one alliance and we had each other's back, we promised we never lie to each other. And that held true throughout the game. Though at times, we voted opposite ways, it was strategic. Production didn't know about our alliance till day 25, because we didn't always vote together. So everyone downloaded to me about Lisa, and Lisa to me, and we debriefed each other every single day. But there was a time where we both had thought about turning on each other because it was a part of our game. And we had said, at the very beginning, although we're in an alliance, we're also playing individual games. I watched the way she flip-flopped on a daily basis, sometimes an hourly basis, that she was driving people crazy. But everybody feels what Lisa feels on some level. She's so open – I thought for sure she would have gotten more votes. I thought Lisa and Denise were my best options.
Plus: Want more "Survivor"? Meet the castaways from Season 25. 


What's next for you now?

There are so many doors that have opened up – fitness vidoes, a book, a TV show, and motivational speaking opportunities all over the world. This has opened up an opportunity to make a difference all over the world.
Would you play again?

I don't know if I've ever met one person who wouldn't go back. I don't know if it gets in your blood, if it gets in your psyche. As torturous as this game is, emotionally, physically, psychologically, I think it would be more torturous to sit on a couch and watch this game and know that you could have been a part of it. So you could never turn it down, because you would be playing the what-if game for the rest of your life. And I wouldn't put myself into that position. I love the game to a degree that it would not be able to say no.
Missed this week's episode? Check out our play-by-play of the season 25 finale.