'American Idol' Recap: One Hour, Whole Lotta Mess
Judges make wild-card choice Jeremy Rosado the first finalist to get the boot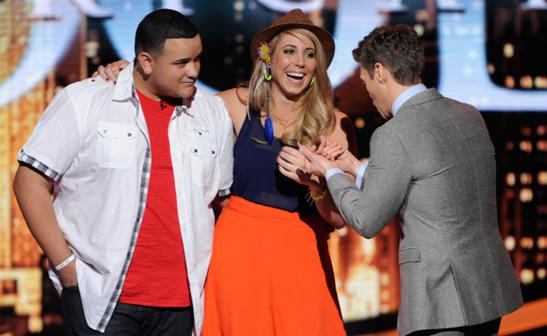 By Carla Patton
Well, "America," if that is your real name, the Top 13 have performed for your votes and one goes home Thursday night, but not for lack of trying. Everyone tried so hard Wednesday night. That is undeniable. But some were better than others, several tried too hard, and some were just beaten by a really tough song catalog. One might suspect that Elise Testone didn't try as hard as the rest of her competitors, and we're still trying to figure out whether she gives a whit about this whole competition. It's one of the best things about her.
Bing: More about 'American Idol' | Photos: See the top 13 singers

In a "one-time only twist" (Nigel trying to figure out what will work to mix up the show while keeping the ratings), the bottom girl and guy will each be revealed Thursday night, and the judges will choose who stays and who goes. We think it might be Jermaine, because he "thought it was pretty good," then basically shrugged and walked off stage. And he went third! I suspect that, despite a reaching performance from Shannon Magrane, the judges will make an effort to keep the girls around this season.
More: 'American Idol' on BuddyTV | Plus: Non-winner 'Idol' successes

Last week, they became stars. And on Thursday night, we shoot one of them down! Isn't it fun? Or are you kind of ready for some of these people to get out of the way, so we can get down to the real competition? Not to say that they aren't all immensely talented (which they are). And doesn't Jennifer look lovely? Lauren Alaina is performing on this night, so we can see what she's been up to. Wearing more jeans under dresses, perhaps?

How can the judges possibly be already working on who to send home? They don't know a single result, do they? Let's distract ourselves from that matter with a group performance! Who shone in this mediocre performance? Erika Van Pelt seemed comfortable as usual, in a very awkward context, and Elise Testone seemed like she would rather be smoking behind the building. I mean, just a little. It's not that she seems ungrateful; she is just clearly on to the fact that Thursday nights are the nights for nonsense.
Before we get any results, we have to watch the Ford Music Video. Or should I say get to? They are giants in the city, literally! It was not difficult for Jermaine to imagine. Look at him peer around that building. "Don't be scared, guys! It's just me, Jermaine!" Precious.

Next, Jimmy Iovine has a quick message. "Hey Ryan, just a minute now!" Jimmy pipes up from his little cubicle. He wants to talk about how great Whitney Houston is, to say how the world has too many people in it and to tell people to spay and neuter their pets. Thanks?

Elise, Hollie and Jessica are first to the stage. So Elise is in danger, right? But first we watch the night in review. Jimmy surmises that Elise got "hit with the Whitney Houston stick" and might be in trouble. Hollie and Jessica were at an advantage with Whitney songs, but they delivered. He said Jessica's performance was the best performance he has ever seen on "American Idol."

Jessica is safe, of course. She is also darling in that outfit. Elise is in the bottom three girls. Hollie is safe. What was Elise saying through gritted teeth? Was it "This sucks"? Yes. Yes, it does.

Heejun, Colton and Jermaine hit the stage next. Jimmy Iovine likes Heejun but thinks Stevie Wonder is the worst artist for him to sing. Colton doesn't know what type of artist he is yet (Let's nurture him, America!), and Jermaine was struggling internally and lost both battles. Jimmy also managed to get a joke about Jermaine's size in there then snickered at it.

Jermaine tells Ryan that he "kind of" disagrees with Jimmy, but it's "OK." Colton is safe and wearing a boatneck zipper tee! A bold choice. Heejun is safe. Jermaine is in the bottom three guys. This could go on forever.

Did anybody else note two J.Lo-featured commercials in a row during this break? She is overextending herself, I worry. Ryan congratulates Jennifer on the success of her new show, "Q'Viva!" And I bet the best part of it isn't hanging out with her ex-husband.

Speaking of "Didn't We Almost Have it All," here is Lauren Alaina! She's singing a song called "Georgia Peaches," and I could not be less excited to hear it. Girl's hair/weave is looking good, though! This song is terrible. Can I just say? This could be one of you next season, Top 13! She sat flirtatiously with the couch of guys and then stayed there a little too long. When it was over, everyone stood and clapped for her -- to be polite.
Erika, Shannon and Skylar are next to center stage. So it will be Erika and Shannon rounding out the bottom three, right? I think we all know where these contestants stand. Even Jimmy knows. Jimmy thought Erika was believable, but she needs to focus her presentation. Shannon seems to think that only one note was wrong in her performance, which is why I think she should go home. Jimmy thinks Shannon needs more experience, and he likes the nasal aspect of Skylar's voice. Kieran, dim the lights! Erika is in the bottom three, where she hugs her buddy Elise. Their mics were on, and I heard them say, "The old ladies"! I love them. Shannon is also in the bottom three, with the old ladies. Skylar is safe.

Joshua, Deandre, Jeremy and Phillip are next. Jimmy is worried that the viewers will get bored with Joshua's voice and found Deandre a pleasant surprise. Jimmy loves Phillip, as if we didn't know it. But he's nervous that the girls will outshine Phillip. It's clear that Jimmy wants Phillip to win. Jimmy thinks that Stevie Wonder ballads are written for Jeremy's voice, but he didn't live up to it. The girls outshone Jeremy last night, according to Mr. Iovine. And he is bold enough to say that Jeremy will be eliminated. So casual about it, too!

Phillip is safe. Jeremy is in the bottom three. Deandre is safe. And Joshua Ledet rounds out the bottom three guys. So, here's the pecking order for the rest of the show, America! Just before the break, rather delightfully, Ryan announces that Joshua and Erika are safe. I'll give you this one, Seacrest: That was pretty cute. He ruined it by saying, "Anything can happen on 'American Idol!'" Erika reminded me, in that moment, of a grownup Miley Cyrus, just a bit.
Before the judges learn who they must choose between, we are granted a performance from the warm and wonderful Mary J. Blige. Didn't you just fall in love with her Wednesday night? She is so legit.
Four remain in peril: Jermaine, Jeremy, Shannon and Elise. Ryan asks if any of the four of them deserve to leave, and Steven just pauses and says, "Jeremy." That was a surprise! I did not expect that honesty.

Jermaine is safe, leaving Jeremy in the danger zone (Oh, he is going home. Steven just said so!). Shannon is safe this time (What?!), so Elise is up for elimination. And I'm pretty sure she could care less. Cute hat, though. Randy hesitantly admits that, because of the performances, America kinda, sorta got it right.

I think it will be Jeremy. True, Jennifer is partial toward him: He makes her cry every single time he sings. But give a woman a line at Kohl's, and all bets are off.
They've come to the decision to save Elise. Jeremy will be going home. He's the nicest guy, but he blew it. Even in the final three performances, he couldn't garner the votes. It's too bad, but I am hoping Elise can shape up her attitude and redeem herself.

He looks disappointed, but content, like when the Blizzard machine is broken at Dairy Queen. "Oh, well. Can I just get a small cone covered in Oreos then?"

Did the voters get it right? Did the judges? Do you think this was a good way of doing the eliminations, since we can pretty much see who the bottom six contestants are?
What do you think of Thursday night's results?
"American Idol" airs Wednesdays and Thursdays at 8 p.m. ET/PT on FOX.