Behind the Scenes at 'Dancing With the Stars'
What you didn't see or hear during the Week 3 performance episode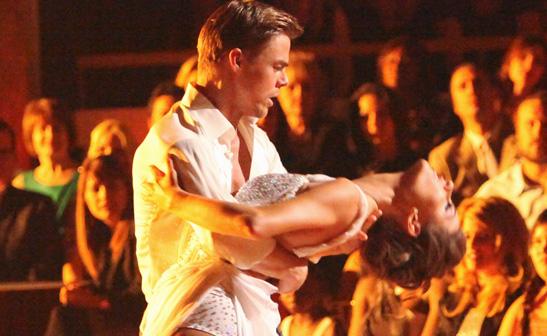 By Minh Nguyen
Special to MSN TV
MSN TV was in the audience last night as the stars performed dances that symbolized the most memorable year of their lives. There were a lot of tears on and off the dance floor as the stars shared their special stories with the judges and the audience. We're not sure who will be going home Tuesday night but Jack Wagner, Gladys Knight, Melissa Gilbert, Sherri Shepherd and Gavin DeGraw all received the same low score of 24, putting them in a five-way tie for last. By the way, we're still confused by Jaleel White's comment to Brooke Burke after his performance, "Stefan Urquelle and Steve Urkel, that's my Mickey Mouse." Can anyone explain this to us?
Bing: More about 'Dancing With the Stars' | Photos: Meet the cast of Season 14
Our early prediction is that it will either be Gladys Knight (without her Pips…and because unfortunately, she just hasn't been that memorable on the floor) or Jack Wagner (because all the female votes are going to hunk, William Levy). One thing for certain so far this season was best summed up by Judge Bruno Tonioli who said,"I think this (season) will turn out to be the battle of the hunks."
Last Night on TV: Watch recaps | Video: Watch clips and more
The stars (we're using this term loosely) we spotted in the audience last night included Ricki Lake (who is keeping her weight off), Chaz Bono (who never got the weight off), Robin Antin (the Pussycat Dolls troupe founder), "Happy Endings" actors Eliza Coupe and Damon Wayans Jr., "Community" actress Yvette Nicole Brown (who was rooting for friend, Sherri Shepherd) and veteran actress Florence Henderson.
Top Ten Things Seen and Heard at "Dancing With the Stars"
 
1. Carrie Ann Inaba lifted her dress up so the audience could see her beautiful silver rocker shoes as she walked out. Bruno Tonioli was gyrating down the stairs to "I'm Sexy and I Know It."
 
2. When Jack Wagner blew the kiss after he got off the judges' table during his performance, Carrie Ann Inaba caught it.
 
3. During one of the breaks, the Warm Up Guy (WUG) was advising the audience how to cheer: "If the judges give the dancers a 9, you can cheer, below 7 you can start booing, if it gets lower than 5 just throw stuff."
Judge Len Goodman pointed to himself, laughed and said, "Why are you looking at me?"
 
4. Karina Smirnoff standing on the dance floor and yelling to a random audience member right before her performance: "How are you?"
Audience Member: "Good! How are you?"
Karina Smirnoff (Smiling): "We'll see in about a minute."
 
 5. The WUG was talking to a six year old African American boy named Jeffrey from New York. When the WUG asked who he was there to support, Jeffrey said "Mommy."
WUG (jokingly): "Your mom's Melissa Gilbert? No, mom is…?"
Jeffrey: "Mom is great." (He was referring to Sherri Shepherd)
 
6. Marc Ballas was hugging and holding Katharine Jenkins on the dance floor while her package about her dad was playing on the screen. She was covering her hands over her ears to block out the sad story.
 
7. Sherri Shepherd had her fingers in her ears and was smiling before her performance and was dancing with Val Chmerkovskiy jokingly. After her performance, she was crying as she walked up the stairs with friend and fellow actress, Yvette Nicole Brown standing up and cheering her on.
 
8. Before William Levy's dance, the female members of the audience were standing up and cheering him on.
WUG: I don't know if you guys know this but William hasn't danced yet.
Carrie Ann Inaba was still fanning herself off with her hands after the dance.
WUG (After William Levy's performance): Bruno didn't watch the whole dance... The minute he (William Levy) took his shirt off; Bruno just gave him a 10.
 
9. WUG: Who wants a "Dancing With the Stars" shirt?
Yvette Nicole Brown (who is as cute as you can imagine) raised her hands and signaled to the WUG.
WUG: You know people! You don't need me to get you a t-shirt Yvette!
10.  WUG (to the audience): Fix your hair! Your lip gloss! You're about to be on camera.
Tom Bergeron turned around to the audience, licked his forefinger and pretended to fix his eyebrows and hair in a comical manner, then did a perfect golf swing.
Check out the bonus moment of the night on MSN TV on Facebook.
"Dancing With the Stars" airs Mondays at 8 p.m. ET/PT and Tuesdays at 9 p.m. ET/PT on ABC.