Bristol can Absolutely Win DWTS This Season
2-time DWTS Champ Cheryl Burke Blogs Weekly for MSN TV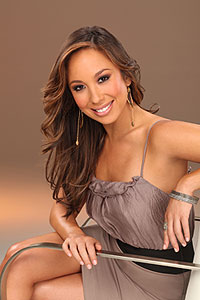 I know many of you thought it was another surprising results show this week with Kurt getting voted off. It shows you how it's really important for everyone to vote for who they think should stay in the competition.
That said, I think Bristol is really improving and I thought her Argentine Tango was really good, actually. I think she's really blossoming into a dancer. People really relate to her because she's someone who has never been in the entertainment industry before, and she's coming into something completely new and is really out of her comfort zone. She's showing people that any woman can come here--any girl--any human being who's never done anything like this before and actually become a dancer. I think that's why she's so relatable.
I think Bristol can absolutely win the title of DWTS this season. If she improves her dancing a little bit more, I think people are behind her 100-percent. A lot of girls really look up to her. They really like her and she comes across as a nice, genuine teenager.
I helped Bristol when I was on the show during rehearsals. We all rehearse in the same building so I've helped her with a few of her dances. We did that big team dance together, too. She feels comfortable enough to come up to me and ask me for some advice, and I always let her know what she needs to work on. I'm there for her or for anyone who wants help or advice because I see what they struggle with every day and it's not easy.
It was actually a relaxing week for me, not having to compete. I enjoyed having a couple days to myself. I went to Santa Barbara yesterday with my girlfriends. It was kind of surreal to be able to breathe fresh air and do something and not have to be somewhere at a certain time.
Rehearsal is going to be starting back up tomorrow for the finale number and another DWTS professional number. So, starting tomorrow until the finale, I'm working every day again--but it's as if I'm still part of the show, so that's nice. I just don't have the stress of having to compete. I do miss it, and hopefully I'll be back next season!