'Survivor: Nicaragua' Exit Interview: Dr. Jill Behm
The good doc doesn't think Marty made a stupid move by giving up the immunity idol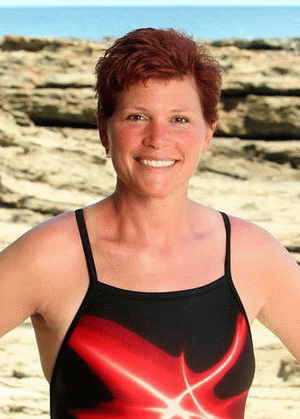 Dr. Jill Behm knew once the switch happened, the older folks on La Flor had their work cut for them. After all, it was a five-three split, with Brenda leading the pack. And that meant her days were numbered. So she wasn't surprised to the be the castaway kicked off on "Survivor: Nicaragua"
this week.
She took a break from working the emergency room in Erie, Pa., to chat with us about being a target, roughing it "Survivor"-style, and of course, Marty's stupid move with that immunity idol.
MSN TV: So on yesterday's episode, at one point during tribal council, there was a tie between you, Jane and Marty to go home. Shocker?
Jill Behm: Oh, I think it was very clear to us what was going to happen. Marty and I were trying to make any kind of inroads there. We really courted Sash, who gave us a little bit of song-and-dance, just enough to string us along and make us think we could work something out. But no, in fact, I found out it was a plot to systematically pick us off, with Tyrone and Yve and myself and Marty. Except for Jane, who apparently ingratiated herself somehow. I think the young kids bonded so well and once we were all thrown together, that's where they could really see the distinction between younger and older. If you have a tribe of all minorities or all women, and then you mix them with others, that's when you really see the difference and close the ranks. So we couldn't make any inroads or bond with those guys. It was very, very difficult. Jane made some inroads, but as they go along, she may not make the cut either. They're not getting rid of Fabio or Kelly over Jane. To be honest, we had the worst luck possible. We got stuck on the suckier tribe, and we got stuck with Jane. Had it been myself, Marty and Yve, we could have probably pulled together and done something. But Jane made it harder for Marty and I.
Marty occasionally seemed to be only out for himself. Do you think you truly had a strong alliance?
Oh yeah, 100 percent. They hadn't shown a lot of Marty and I for some reason, but we truly had an equal partnership. When we made decisions, we were completely 100% loyal to each other. We were looking out for each other. When we did things, we talked them over and came to a consensus on what was good for Marty and Jill. He even went over the whole immunity idol situation with me, and I don't think it was necessarily a stupid move. He did what he had to do. We knew we were in trouble and one of us was going home, so he came to me and said, "This is what they suggested, what do you think?" And so I told him, "Well, you might as well give Sash the idol because you might curry favor and you might get it back. And maybe they'll pick you over Jane next time. They haven't broken any promises to you yet and if you play it, then it's gone." Okay, so in retrospect, nothing really made sense there. They had him pinned against a wall either way. I still don't know that he made the wrong decision anywhere in that. But we discussed it, and he definitely told me what he planned to do. I knew I was going home at that point. Believe it or not, Sash actually came to me too and said this is what's going to happen, I knew what was going on.
Given the circumstances, do you think Marty's going home next week? I know you're rooting for him.
Oh yeah, I'm certainly rooting for him. But the previews show that next week is the merge, so that should help his situation a bit. Obviously, he's not in a great position, but the dynamics can totally change when they combine the two tribes into one. He might be able to get into a minority alliance or curry some kind of swing vote. I don't know. But if anyone can do it, Marty can. We'll see.
You're an ER doctor. Did that help you in plotting your game?
I love the show. I'm a huge fan, I've been applying since 2002. I'm a serious watcher, a real student of the game. I go way, way back with "Survivor." It was everything I thought it would be and then some. It was so much more difficult than I thought it would be, which is saying something because I'm an outdoors woman. I hunt, I race bikes, I do all of this stuff that's physical and hard. I am a student of the game. My academic background helped, and I'm fairly well-rounded as far as my life experiences. And I'd go to my dad's place, and we'd do things so I could prepare. We did "Survivor" Tuesdays -- one day would be weapons, so I'd shoot a bow and arrow or muskets. Then we'd have fire day, where I'd practice building fires. Then we had spear-fishing day, where I trained doing that. So that helped me a lot. But still, it was so much harder than I ever thought possible, unbelievably hard. The culmination of the sleep deprivation, the lack of food, the rain, and then the physical and mental games, just day in and day out. I could hack it for a 24-hour adventure, easy. But I did it for 18 days, and it brought me to my knees out there. Nicaragua was just so, so harsh. So unforgiving. But the experience of being out there, the fantastic people I met, it was just an amazing experience. I have nothing but positive things to say about it.
Would you play again?
Yes, I had the kind of game where I made colossal mistakes. Solving the puzzle and giving it to Marty, that was huge, you know? So any time things work like that, you want another shot. But I think "Survivor" is a once in a lifetime shot. So everyday for the rest of my life, I'm going to be like, "Oh, I blew it." I'd love to go back in there and really conquer the game. Because it definitely bested me.
Are you sure you want to delete this comment?