'American Idol' Recap: They Love the '80s
Colton Dixon, Joshua Ledet and Jessica Sanchez continue to lead the pack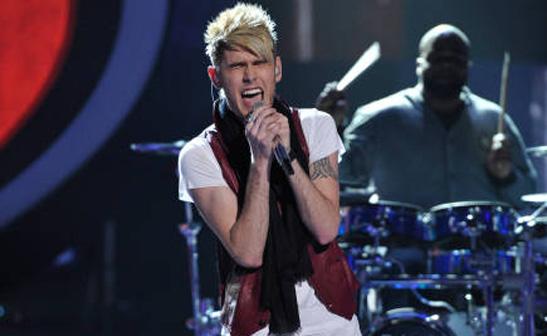 By Carla Patton
Put on your acid-wash jeans and your spandex because this week, the "American Idol" top 8 take on hits from the 1980s. It should be a great week for people like me, who love the '80s. So many great choices! I'll be so disappointed if no one sings a song by Hall and Oates. But there are only eight solo performances, so I should probably prepare myself for disappointment. I hope they won't try to throw duets or trios at us again. Save that mess for the results show!
Bing: More about 'American Idol' | Photos: See the top 8 singers
But, according to recent spoilers, they are singing duets, and I'll have to settle for the Pointer Sisters instead of Hall and Oates. And no one is singing any Tears for Fears? I'm flabbergasted. A wasted opportunity, top 8! At least someone is singing "Flashdance ... What a Feeling."
More: 'American Idol' on BuddyTV | Video: Watch 'American Idol' clips and more
Last week, the sunshine of our lives, Heejun, left. I don't want to remember the pain of losing my precious! Oh, well. If we can count on one thing it's that "American Idol" won't dwell on it. It will, however, dwell on all those '80s pictures of Randy Jackson. I typed that before Ryan even pulled up the picture. Oh, well. Hooray for the '80s! And Colton dyed more parts of his hair. Ugh.
Deandre Brackensick misses his car. He will be singing "I Like It" by DeBarge. Mentor Gwen Stefani notices that Deandre looks really nervous when he sings. He starts out in the audience, and the girls next to him try to look into it. He walks by the crowd and high-fives ol' Nigel Lythgoe, who is standing in the front.
This is the Deandre I like -- laid-back, casual and not too falsetto. His lower register is nice, too, so I like when he mixes it up. Good song for Deandre. He's still relying a little heavily on the falsetto, but this was an improvement from the last two weeks. Jennifer, whose hair looks marvelous tonight, thought it was a great start to the show. Steven forgot where he was, but that's probably normal. Randy thought DeBarge would have liked it, and appreciated that it wasn't too much falsetto.
Elise Testone originally chose "Hallelujah" by Leonard Cohen, and I am so glad she opted for "I Wanna Know What Love Is" by Foreigner instead of that tired, easy win song. Gwen Stefani likes Elise, but I'm not sure America has made up its collective mind on her yet. I don't know that I really care for this performance. It's a little sappy and not exciting enough to be memorable in that second slot. I still like her voice and Elise as a performer. She's completely natural. But it got even weirder when the choir came out to sing behind her and the key changed. It felt a little shouty and pushed, like she yelled almost the entire thing. Steven wasn't sure it was the right song, Jennifer said Elise looks beautiful and is a powerhouse but it "wasn't totally right every single moment." Randy said she never quite hit the pitch right. Wuh oh.

Ryan Seacrest is in quite the jovial mood tonight, isn't he? He is on fire!
And now, Skylar Laine and Colton Dixon sing "Islands in the Stream" by Kenny Rogers and Dolly Parton, which shows off Skylar a little better than Colton. They didn't have much chemistry, but the song sounded great. Skylar pretty much owned it. It was ... better than I anticipated? Randy thought it was "sweet and nice."
Coca-Cola has already received "thousands of lyrics" to help Jason Derulo finish his song "Undefeated," and I hope they were all about his neck brace. I am obsessed with it.

Phillip Phillips misses his brother. He's singing "That's All" by Genesis. It did not go well in rehearsal, but the mentors have complete confidence. I'm glad he's singing this song. I love it. Phillip gives this song the typical Dave Matthews Band treatment, but he's really coming into his own as an artist, I think. Some of the parts were too high for him, and he started sweating almost immediately. But overall it was another good Phil Phil performance. Steven thought it was great. Jennifer thought he found it, eventually. And Randy likes the "brotherly love thing." I, too, like the brotherly love thing. It's cute! Did I just fall in love with Phillip Phillips?

Singing my karaoke favorite, "I'm So Excited" by the Pointer Sisters, are Deandre Brackensick and Hollie Cavanagh. Lord, Hollie has looked better. Hollie sounds great on this song, and Deandre sounds weak. The harmonies are all right, though. I hope they're "so excited" to be going home in the next four weeks or so! Could anyone really be that excited by a guy who is singing the higher harmony on the song? It was a cheese fest, but Hollie and Deandre know that it doesn't really matter. Hollie won this battle, though, if anyone is keeping score.
Somewhere behind the cameras, the producers are making the "stretch" gesture to Ryan Seacrest. That is the only explanation for all this extra filler and chitchat with the judges.

Joshua Ledet is singing "If You Don't Know Me By Now" as performed by Simply Red. The choir is back, of course, to open up this song. It's obviously a great choice for Joshua, but I think now is right around the time that we know what to expect from him. And things could get too predictable. It had that churchy feel and lots of vocal pyrotechnics. So, yes, it was great. But it's starting to feel like the same thing every week from him. And, as they do every week, the judges got on their feet. The judges loved it, and Randy wanted to stand up from beginning to end. He did sing the you-know-what outta that song.
Yes! Jessica Sanchez is singing "How Will I Know" by Whitney Houston. We all know she can slay a Whitney song. Jessica has an alter ego, "Bebe Chez." Or is it B.B.? Whatever, B.B. is comin' out. And look at that little denim jacket. Work it, girl. I love that she's giving the dance-hit genre another shot this week. While I'm not sure she will win, I think Jessica absolutely deserves to. She is such a good singer, plain and simple. She killed it! Jennifer can't believe how good Jessica's voice is and how small her body is. Randy reminded us that he had the pleasure of working on that song. Jessica is mature and effortless. "She's gotta have it, too," Randy says like he's gotta have a nap.


Elise Testone and Phillip Phillips are the perfect pairing, especially to sing "Stop Draggin' My Heart Around" by Tom Petty and Stevie Nicks. It's like they went back in time and recorded this so that Elise and Phillip could have something to sing for this meaningless '80s duet night. The judges really loved it.

Hollie Cavanagh is singing "Flashdance ... What a Feeling" by Irene Cara. Jimmy still probably thinks it's cheesy, but it's up to Hollie to feel it emotionally. Ryan stalls while they set up the keyboard on stage. Don't throw her off before she performs! So weird. She looks a little unsure of herself, and it doesn't seem like the keyboard is fully functioning after all. The performance is lackluster, and a few notes are just flat. At the end, she looks like she knows it didn't go very well. Even Steven tells her the pitch was all over the place. The judges try to encourage her and tell her not to think about it so much. She looked better last week.


Joshua Ledet and Jessica Sanchez bring us "I Know You Were Waiting for Me" by Aretha Franklin and George Michael. They got the choir to back them up, too. This is a match made in heaven. I thought Phillip and Elise were good together, but Joshua and Jessica are unstoppable. The dream team! What fun we're having here! But I'm still mad about the duets. The judges stand for this duet, as though it meant anything anymore.
For whatever reason, Ryan Seacrest pulled a bunch of teen cheerleaders up on stage to introduce Colton Dixon's clip package. He's singing "Time After Time" by Cyndi Lauper, which is both ambitious and a great choice. Colton was actually super charming in his rehearsal, and maybe there's room in my confused heart for Colton and Phillip this week. I think Colton has the goods to take himself further than James Durbin did last season. Colton has a little more poise. My inner teen cheerleader squealed when he sang, "Go slow." All right, Colton, my heart is a hot tub from "The Bachelor" this week: There's room for everyone (and it's full of disease?). Come on in! Steven thinks Colton could cut a record right now. Jennifer thought it was amazing. And Randy likes that Colton made it his own. I like that Colton admitted he ripped off the Quietdrive cover of this song.
Last but not least, it's the adorable Skylar Laine. I'm pleased to see her in the pimp spot this week, which means her performance could knock our socks off. She's singing "Wind Beneath My Wings" by Bette Midler. She brought in "9 to 5"! Oh, be still my heart. But I suppose she could take on a ballad. She already sang some Dolly Parton earlier in the night. I got chills just from the beginning of the song. Skylar knows when to keep it simple and how to make it feel country without seeming hokey. I could have done without the literal flaming bird/feather backdrop behind Skylar, but that is a mild complaint. She sounded great when she took the song up. She has such a powerful voice. My other mild complaint is that the arrangement and accompaniment overpowered her a bit at the end. But she was awesome.

I'm really happy to see that some contestants can still surprise us. Some of them are getting a little one-note, and a few are falling behind the pack. What do you think? Should we all match our hair to our dresses? Randy mentioned everyone except Hollie in the category of "good performances." Ouch!

What did you think of Wednesday night's performances?
"American Idol" airs Wednesdays and Thursdays at 8 p.m. ET/PT on FOX.