'The Bachelorette' Recap: Czech Mates
The worst-timed kiss in franchise history leads to a surprise elimination in Prague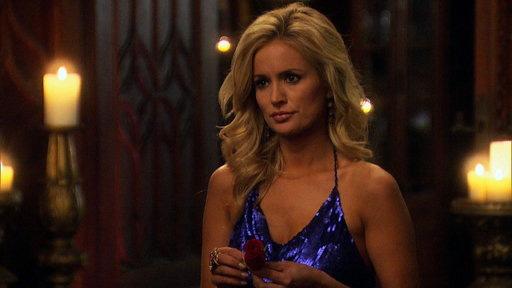 By Diane Vadino
Special to MSN TV
Welcome to what is quite possibly -- and entirely not ironically -- the best episode of "The Bachelorette" of all time. It has everything: actual romance (between puppets), gorgeous locations (in Prague), an all-time most-awkward kiss (oh, Doug), fireworks on demand, and a weeping man (hello, Chris). So here we go: one group date, and three one-on-ones. And next week, hometowns. What more could we ask for?
Bing: More about Emily Maynard | 'The Bachelorette'
Arie's up first, and we have the minimal drama of Arie having dated Cassie, a "Bachelorette" producer with whom Emily is friends. Chris even breaks in, presidential-news briefing style, to bring us up to date (so this is what "full disclosure" looks like): Cassie and Arie dated five million years ago, approximately twice, but no one mentioned any of this to Emily, who is put out by the entire thing. Emily and Cassie have a little discussion about Arie's supposed indiscretion. Then Emily and Arie talk. Sample:
Arie: "What is another important thing to you?"
Emily: "Not having any secrets ... that's huge."
And so on. Then Emily, Arie, and Cassie talk, but off camera. Who made that decision? At the same time, though, who in the world cares? Arie is like, Are you crazy, that was ten million years ago, can we please talk about something else. Like how he's realized he's in love with Emily. "If things keep going this way," Emily says, "nothing would make me happier." Cue fireworks!
Photos: 'Bachelorette' stars: Where are they now? | This season's contestants
Next up is John, in this week's placeholder date. This date basically consists of John saying things like "This is going awesome" and Emily just sort of nodding with a sad smile on her face. Also, John confuses saying private things aloud with actual intimacy, so every once in a while he'll offer something up about a past relationship (his ex-girlfriends must love being picked apart on TV). "I'm not a starter—I'm a closer," John says confidently, while Emily keeps nodding. "I'm falling for Emily. It's happening," John says. It's like watching someone narrate a landslide. "That ledge of mud and dirt is falling. It's happening." There's no roses on the one-on-ones this week, but if there were, it's exceptionally hard to imagine John getting one. Even if he thinks he aced it.
John comes home soon enough and provides the guys with an inaccurately rosy picture of their date. This, however false, has the pleasing result of making both Chris and Sean insane. Pretty much everything you need to know about them is seen in how they handle this news. Sean more or less immediately runs out into the street and shouts Emily's name ub the street, until he tracks her down and takes her out for a drink. Emily is tickled pink. By contrast -- and take note, guys -- Chris begins his slow spiral into rose-ceremony weeping. "I love that Sean had the confidence to just come out and find me," Emily says. "This is the best surprise -- my face hurts I'm smiling so much." Emily apologizes for the group date. "You don't have to say sorry," Sean says. Hopefully Chris is at home watching this, seeing how it's done.
Next up is the group date, and it is awesome. Let's begin with Doug. Poor Doug. I really like Doug, and I don't think Emily got to see the same, awesome Doug we saw at home -- he always seemed basically terrified of her. "Today's going to be an awesome day," he says, incorrectly. "Doug is so sweet, and so sweet for me, but I don't know if we have that chemistry that I want," Emily says, revealing that he was nearly eliminated last week. After a conversation that visually resembles two guidance counselors talking about a bad student in the cafeteria, Emily takes Doug out for a serious conversation. She's clearly about to give him the boot, but he's equally clearly not getting it.  "I have the hardest time getting a read on her," Doug says. "I'd love to give her a kiss." Emily is on the opposite wavelength. "I completely understand slow moving but then there's no moving at all," she's says. Doug is incorrectly interpreting this as...oh, it's just so terrible, because then, at the worst possible moment, he moves in to kiss her. "Thank you for that," she says. But she's sending him home. "I feel really stupid for just giving you a kiss," he says. What sucks is that he interprets this as having taken a risk and failing, rather than the truth, which is that he waited seven episodes too long to take a risk. Nothing else that happens on the group date is nearly as entertaining, except Chris laying into Emily for not giving him a one-on-one date. It's icky. Unsurprisingly, Sean gets the rose.
Finally, we have Jef's one-on-one is beyond adorable. If I were placing bets (totally unspoiled), I'd put them on Arie, but she does actually seem to have an even better time when she's with Jef, right? There seems to be more genuine laughter between these two than any other couple I remember being on this show, ever. Next, Jef tells Emily he loves her through puppets. It's so adorable. Like, if you saw it in a romantic comedy, no one would believe it, because it's so ridiculous and adorable. "It somehow makes it easier to express some big feelings," Jef says. Isn't this sort of the plot of that Mel Gibson movie where he has to took through the stuffed beaver? Also, they both want kids "yesterday." Also, Jef says, "I want to date you so hard and marry the **** out of you."
At long last comes the rose ceremony, which is unremarkable save for Chris's disintegration into unmanly tears. It's obviously going to come down to John and Chris, who had a master plan for apologizing for his group date behavior at the cocktail party. Except: we're totally skipping the cocktail party! Jef and Arie get their roses, and Chris, obviously, freaks out the moment the final rose is announced. At the moment of truth, he asks Emily to speak with him privately. He's basically crying at this point. "I really took this week for granted," Chris tells her uninterested ears. "I'm falling in love with you. If I wasn't able to say that, it would kill me. I do not want this to end between me and you."
It doesn't: Chris wheedles his way into the final rose. John is like, So that's what crying gets you? Next week: hometowns!
"The Bachelor" airs Mondays at 8 p.m. ET/PT on ABC.


I have to disagree, relationships can happen and this show gets alot of things out of the way, and get them to say things that could normally take months or a year to say to each other. All the show does in wean out the ones that she knows won't work out.
I will continue to watch the Bachelor & Bachelorette have not lost interest. I hope Emily finds the man that can make her happy.
people cannot find true love in 13 weeks...places they go is not day to day stuff...some sponsor has alot of monies to invest and write off to continue on with these shows...sadly enough I lost interest 3 seasons ago...need people on there with class not white trash...this show has lost what they started out to be...
Are you sure you want to delete this comment?