More Money Boo Boo
Alana Thompson reportedly demanding $10,000 per episode to renew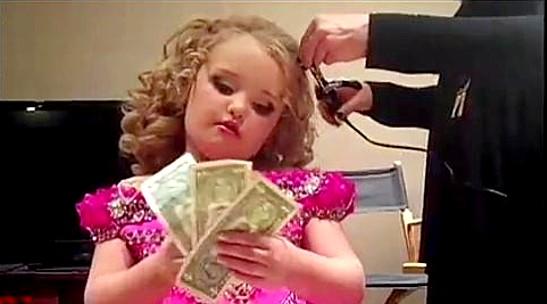 To keep its trailer hitched to TLC for a second season of "Here Comes Honey Boo Boo," the family of 7-year-old Alana Thompson reportedly wants $10,000 per episode. According to the Hollywood Reporter, negotiations are ongoing.

Bing: More about 'Here Comes Honey Boo Boo' | More: Who is this reality TV star?

The urge is strong to poke fun. After all, the greatest talents so far demonstrated by these people are pig-feet bobbing, flatulence and possible child exploitation. However, they also know how to draw viewers. Two million or more tune in each week to their reality show, spun off earlier this year from TLC's "Toddlers & Tiaras." And the Shannon-Thompson clan was reportedly paid a grand total of only $40,000 to shoot the reality
show's six-episode first season.
Also: TV shows that will be ending | Not-so-normal TV families

The Reporter quotes an unnamed source claiming that negotiations are likely to conclude with $8,000 per episode, plus a possible location fee.


The Season 1 finale of "Here Comes Honey Boo Boo" airs Wednesday, Sept. 26, at 10 p.m. ET/PT on TLC.