'American Idol' Recap: Diva in the House
Jessica Sanchez 'slays the biggest fish' while Joshua Ledet continues to impress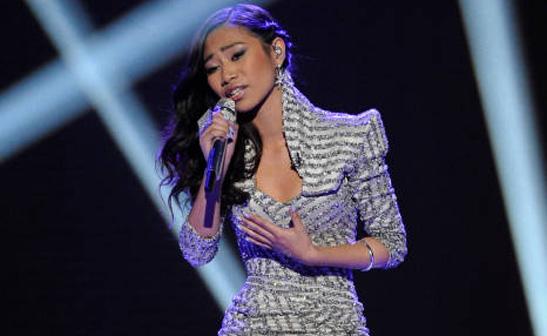 By Carla Patton
The top 7 are singing songs from this decade this week on "American Idol." And what a decade it's been! These last two and a half years have been legendary in the music business, no? But more importantly, this theme gives the top 7 an opportunity to show what type of artists they'd be if they were to get a record contract but no time machine. How can they handle the hits of today? Is there a place for soul artists like Joshua Ledet?
Bing: More about 'American Idol' | Photos: See the top 7 singers
Wow, why did they have to start out with a shot of Deandre's hometown finding out that he was eliminated? That was a stone cold bummer! And yet, each week the contestants must find a way to carry on! Seriously, this show needs to start out a little more positively. But the crowd doesn't seem too upset. They must not have watched that intro. Ryan can't shut them up!
Tommy Hilfiger is still hanging out, lurking around the grand piano at the "Idol" mansion, helping the contestants dress themselves. Go away, Tommy. You have the personality of a water cracker.
Wednesday night, we're revisiting the "American Idol" contestants' hometowns to learn that their small towns really love and support them, even as they sing songs from the last year or so.

To be fair, Skylar Laine had a very adorable hometown and "Grandpaw." Skylar has chosen Kellie Pickler's "Didn't You Know How Much I Loved You." Akon, allegedly, was like, "Yo," when she sang. Skylar offered to play the guitar while she sings this week, and Jimmy said not to do it if it would hold her back because it's not about how many tricks anyone can do. But she's out there with the guitar! I haven't heard this song, but I like it now. If another former contestant can do it, why not Skylar?
I think the set designer went a little overboard again this week, with four trash can fires surrounding her. Randy loved it. He said it was "so in [her] wheelhouse" and could see her returning to the "Idol" stage as a full-fledged country artist. He and Jennifer commented on her perfect pitch, and Steven said the "crows may crow, but the hens deliver the goods."
Um, can we discuss how
Colton Dixon
is from a town called Murfreesboro? I like him more already. Jimmy told Colton that he's behind Phillip, which he hated. Colton has chosen to sing
Skylar Grey's "Love the Way You Lie"
and declares it will be a game changer for him. I don't think you get to declare that, Colton. He sounds a little better than he did in rehearsal, sitting at that white piano. The high notes just weren't floating right, though. I think it will keep him safe this week, but it wasn't a game changer. Colton feels great about it, and the judges seemed to like it, too. This performance -- and his reaction to it -- cancelled out any favor he gained from me being from Murfreesboro. You don't get to say how well it went, Colton! We get to decide!
Oh, no. Dream Team Phillip and Elise are singing "Somebody That I Used to Know" by Gotye, and I'm nervous. This song is right on the cusp of being overplayed, and I still want to like it when all is said and done. Phillip isn't so into the song, but I like the dynamic this clip package is showing between them. It made me like Phillip a lot more. This performance does, too. It's hot! I don't like what they did with the chorus, though. It got too spooky. Is this a Tim Burton-inspired backdrop?

I think they took some of the power and emotion out of the chorus by falling off the end of all the notes and swinging into the next ones. And, naturally, I prefer any rendition with Matt Bomer in it. Randy and Jennifer crowned Elise the winner of this round, and so did Phillip.

Why are fans of Jessica Sanchez called Blue Jays? I must be missing something. Jessica chose the not so popular "Stuttering" by Jazmine Sullivan. Akon wants to steal Jessica Sanchez, but he'll have to wait with everyone else until she either wins or is eliminated. Things are opening up for Jessica! Diva, werk. Jessica manages to sit on the piano and not make it cheesy. I am not familiar with this song, either, but it sounds like it's a good choice for Jessica. And she's making me like it. Ooh, it gave me emotions. Randy thought she slayed the biggest fish of the night. It was so good he's mixing metaphors. Jennifer predicts that Jessica Sanchez will be taking us on a ride, and she wants something even more impactful. Jessica, the fish/whale-slayer. "Not that we want to take down a whale," Ryan noted, doing some quick "Idol" PR.

Joshua Ledet just had a birthday, and he's in another white suit jacket. For his 20th birthday, Fantasia Barrino wished "Mantasia" a happy birthday. He loved it! He is just too cute. He's singing "Runaway Baby" by Bruno Mars this week to give us a change of pace. Good! I approve of this. The arrangement is super fun, and I'm glad this isn't just a ballad night. Joshua is having fun with it, and I think he might have it in him to take it further than last season's Jacob Lusk. It's not too gospel-y, I don't think. I like his pink socks. The judges were ecstatic.



For whatever reason, Colton Dixon is being shoved into another country duet with Skylar Laine. I understand wanting to make the girls look good this season, but this just seems blatant. Country is not right for Colton, even though he's from Tennessee. They're singing "Don't You Wanna Stay" by Jason Aldean and Kelly Clarkson. So, people think they're dating? I never got that. I will say this for Colton: He can hold his own next to Skylar, and he can own the camera like no one else this season. The chemistry is getting weird between them as they duet and simultaneously work hard to convince us that they are not into each other. They wouldn't even look each other in the eye. Colton sounded good on this one, and Skylar sounded natural, since the song favored her anyway. Randy thought it was "just OK." No one was declared the winner by the judges, but I'll say it: Colton!

Uh, oh. Hollie Cavanagh is taking on "Perfect" by P!nk. She pronounces the word, "pehfect," because she has fans in Liverpool, too! Akon and Jimmy seem confident. Hollie is still insecure, though, as she tells us she wants Jimmy to call her a professional as he has done with pretty much every other contestant left. At least her skirt is made of Muppet. They slowed down the song and drained it of its rock 'n' roll. I don't care for this arrangement. This song is way more exciting, usually. Why do they keep doing this to her song choices? "You look beautiful tonight," Jennifer tells her, getting the comments off to a bad start. No standing ovation for you, Hollie. "It kinda laid there a little bit for me," Steven admitted. It got very quiet, probably because everyone's taking a quick nap before the next duet. Even Ryan gave his own little comment: "Well, it was definitely stronger than last week." Ouch!
Isn't Phillip Phillips's father, Phillip Phillips Sr., so cute? What's up, P2 Sr! Confusingly, Phillip is singing "Give a Little More" by Maroon 5. Phillip also doesn't care about being pitted against Colton because "Colton's a good guy." Do you know you're in a competition, Phillip? Or are you just kind of hanging out wondering why so many of your friends are going home each week? This is the Dave Matthews Band arrangement of a Maroon 5 song, but at least this marks the return of my favorite "American Idol" recurring character: Saxophone Lady!
It was great in the moment for Phillip, and I would love to hear it at an outdoor concert. But I feel like he's not changing enough. Steven noted that with each week we can hear more melody and words from Phillip. Yes, both good things! Melody! Words! Jennifer felt like she'd seen this performance before, and I'm proud of her for saying that. He's such a nice guy, though.

Hollie and Joshua are BFFs, and I guess Jessica is just a third wheel in this trio. They're singing "Stronger" by Kelly Clarkson, and the girls sounded absolutely terrible walking fast and singing in the beginning. Is this just a song that people don't sound good on? It was weak, and the contestants seemed tired and downtrodden. Hollie looked distracted. This was just a throwaway performance. Oh, and then to assert her dominance as the female diva this season, Jessica outdid Hollie in the runs over the top of the chorus.
To close out the night in the pimp spot, Elise Testone is singing Lady Gaga's "You and I." She should get a better response this season, now that the song is more popular. Look at that outfit. It is epic. She got a personal message from Jason Segel, which was odd. He's a personal friend of Ryan Seacrest, you see. Elise has the best friends, I think -- like that one who made the instructional video on how to vote for her. Elise wanted to start out playing the drums, which was a crazy Reed Grimm idea. You are not Reed, Elise. Thank God.

I will have to go back and re-watch Haley's performance last season, but I feel like I prefer it. Elise flips around on the note a bit too much for my liking. She's getting desperate, nervous. She lost some of the pitch in there, too. I've been an Elise fan in the past, but I think she's slowly losing the hold she once had on things.

"Elise is back!" Randy shouts, tiredly. He needs to end the show on a high note, I suppose. Jennifer liked it, too, calling Elise a "closer," and Steven said it was genius. Maybe I'm just ... hungry?
What did you think of Wednesday night's performances?
"American Idol" airs Wednesdays and Thursdays at 8 p.m. ET/PT on FOX.