Behind the Scenes at 'Dancing With the Stars'
What you didn't see or hear during Rock Week performance night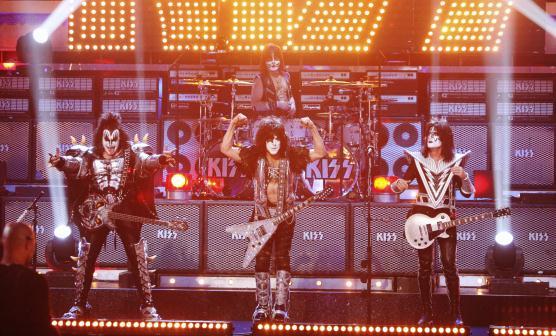 By Minh Nguyen
Special to MSN TV
MSN TV was lucky enough to get a seat inside the ballroom of "Dancing With the Stars" during last night for the start of Rock Week. The ballroom was turned into a KISS concert with everyone from hosts Tom Bergeron and Brooke Burke to the dancers, stars, and judges getting a rock star makeover. The only person who stayed true to himself was Len Goodman. No surprise there.
Bing: More about 'Dancing With the Stars' | Photos: See the cast in action
Stars in attendance included Rita Wilson (looking fabulous, as usual), John Stamos (Uncle Jesse was true to form, very handsome and very little), Zachary Levi (wearing a t-shirt, natch), Nia Vardalos (from "My Big Fat Greek Wedding"), Giada De Laurentiis (who was stunning in a pink dress), Sara Gilbert and David Hasselhoff with his daughter...err, we mean girlfriend. We're looking forward to who will be in attendance next week, Latin Week, with musical guests, Santana.
Last Night on TV: Watch recaps | Video: Watch clips and more
Top 10 Things Seen and Heard at "Dancing With the Stars":
1. When KISS was perorming, Bruno got into it and was really rocking out in his chair. All three judges gave the band an 11! KISS was throwing something (we couldn't tell what it was) but Len picked up whatever they were throwing and gave it to an audience member.
2. Sherri Shepherd was standing on the judges' table before her performance. Audience members were yelling, "Go Sherri girl!" The Warm Up Guy (WUG) said, "Look at Sherri up there, she is ready to do her thing!" Right before the break, Sherri lifted her breasts up with her hands, as if to give herself a quick breast-lift.
3. WUG: "If the dancers threw anything to the audience, you have to give it back (to the people collecting clothes)."
4. David Hasselhoff was seen holding his girlfriend's hands throughout the night. Her skirt was so short; we're not entirely sure it covered the back fo her derriere when she was sitting in her chair.
5. Did anyone notice there was more booing and cheering after Sherri Shepherd's dance? The WUG told the audience to boo or cheer if they liked or didn't like a score.
6. Before Maks and Melissa Gilbert's dance, Maks came out with a bandaged arm and of course, shirtless. Bruno was staring at Maks as if he was a winning lottery ticket. The audience was given red roses and told to do a practice throw to Melissa. No one threw the flowers so Maks started showing them how to throw the roses. Melissa had her hand on Maks' butt a long time before the dance.
7. Gavin DeGraw was carrying Melissa Gilbert down the stairs. When we talked to Gavin later about it he said that Melissa had fallen during their dance and wasn't feeling well enough to walk down to Medical.
8. The judges really seem to have a bond. Len Goodman offered his mints to Bruno and Carrie Ann. Carrie Ann took her ring off her finger and showed her ring to Bruno.
9. We heard shrieking in the ballroom and thought something bad happened. Nope! The women were screaming because William Levy came in.
10. We saw KISS slowly walking down the stairs to their heels. Yes, when they're not on stage, they're seniors and walk like it.
Bonus Moment of the Night: After the show, Donald Driver was very affectionate with his wife and kids. He posed with his friend and asked his other friends to take a picture of him and his family on the ballroom floor. Melted our hearts!
"Dancing With the Stars" airs Mondays at 8 p.m. ET/PT and Tuesdays at 9 p.m. ET/PT on ABC.