'The Voice' Recap: Team Adam vs. Team Cee Lo
Only some hopefuls prove worthy to make it into the next leg of the competition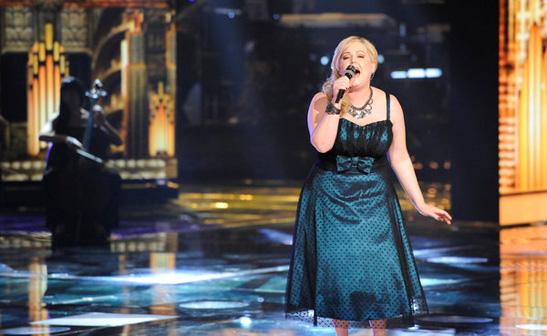 There was a lot of "ifs." "If you make it through," "If you stick around," etc. The judges got to the judging part, and between now and the next time we meet, America will have, too.
Bing: More about 'The Voice' | Photos: Meet the contestants
It was Team Adam versus Team Cee Lo, the former a fan more so of the current, and the latter someone who clearly believes every song he assigns needs to be at least a quarter of a century old. Sometimes it worked, sometimes it didn't -- for both guys.
Last Night on TV: Watch recaps | Video: Watch full episodes and clips
Team Adam:
Katrina Parker "Tonight, Tonight": The Smashing Pumpkins hit was Levine's first time going back far on this episode, song choice-wise. With accompanying strings, and still channeling Adele (like so many here on "The Voice"), Parker made it her own. But, I agree with Cee Lo's assessment: There needs to be a catharsis when tackling a Pumpkins tune.
Tony Lucca "In Your Eyes": As far back, I believe, as Levine has ever gone. I thought Lucca killed on the Peter Gabriel classic, but clearly Aguilera thought he could've benefitted from John Cusack's boom-box. Yeah, yeah, they were Mouseketeers together -- we all know that (although I didn't realize Timberlake was being vocal about his support of Lucca, which Xtina mentioned), but she got rough on her former co-star, calling him "one-dimensional." I think there was some kissing with the Mouse ears on, and Aguilera's still sporting some heartache.
Kim Yarbrough "Rolling in the Deep": Yarbrough's voice was strong on the ubiquitous Adele smash. But, like Cee Lo said, it being so "current" could cost her.
Mathai "Ordinary People": Understated, breathy, and confident. With that said, did it wow America?
Karla Davis "Airplanes": A song much of America will not know, Aguilera called it the "surprise of the night."
Pip "When You Were Young": Giving "Bowtie Boy" a song from The Killers was another Levine head-scratcher, but lo and behold, Pip rose to the occasion. At least I thought so -- the judges not so much. He'll need a stylist to intervene at some point if he makes it through.
Team Cee Lo:
Cheesa "Don't Leave Me This Way": It was a perfect fit. "Like watching 'Solid Gold'," Shelton accurately commented. Great way to start the show.
James Massone "Don't Know Why": Again, Cee Lo showed he knows how to pick songs for his team, and this time around the song was in stark contrast to most of his picks; a Nora Jones song and not - Cyndi Lauper or Howard Jones. Massone mugs too much for my liking, but the ladies seem to like him, and Shelton even said he debated "tossing my panties on the stage."
Juliet Simms "Roxanne": If you've been following this blog at all then you know that Simms is my pick. That's why when Cee Lo gave her what I consider to be the most overrated Police song ever, I was ticked off. Seriously ticked off. But, Simms astounded. Not only did she get a standing O from Xtina, but Levine deemed it the best performance so far this entire season. Smokin'.
Tony Vincent "Everybody Wants to Rule the World": Speaking of overrated, Cee Lo's love for the '80s hurt the admittedly powerhouse yet off-putting vocalist, here restrained and visibly pained.
Erin Martin "Walk Like an Egyptian": Another cheeky Cee Lo '80s assignment, but this time with the right intentions. Cee Lo told the former model she "needed to bring it because a lot of people" felt she actually lost the battle round. She toned down the vocal quirkiness but not the preening. She's in trouble.
Jamar Rogers "Are You Gonna Go My Way?": He told Christina Milian during an interview he didn't want people to idolize him, and then told Cee Lo he was his idol. His is indeed a story of survival, but this here's about "the voice," is it not? The guy's got one. Energetic and a nice show-capper.
My prediction? The results show is going to be unpredictable.
What did you think of this episode? Tell us on Facebook
"The Voice" airs Mondays at 8 p.m. and Tuesdays at 9 p.m. ET/PT on NBC.