Q&A with Cheryl Burke of 'Dancing With the Stars: All-Stars'
Pro dancer talks about reuniting with NFL great Emmitt Smith and their strategy to win
By 
MSN TV
 Oct 26, 2012 11:56AM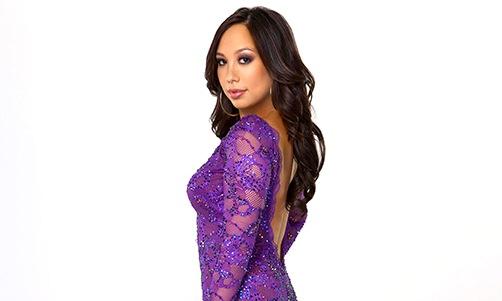 By Lie Shia Ong
MSN TV
Week 5 of "Dancing With the Stars: All-Stars" was quite the interesting one. There was this season's first injury (Melissa Rycroft was taken to the hospital for a neck injury), the pros and dancers had to compete as two teams in a freestyle dance (there was Team "Call Me Maybe" and Team "Gangnam Style") and one of the judges, Carrie Ann, literally fell out her chair Monday night when commenting on one couple's performance (we know you've probably seen this clip more than a few times this week, "Dancing" fans!).
Bing: More about Cheryl Burke | More about 'Dancing With the Stars: All-Stars'

MSN TV spoke with pro dancer Cheryl Burke about what to expect as they've reached the midway point in the all-star season and what her strategy is to win another mirror-ball trophy with partner Emmitt Smith.
MSN TV: Congratulations on your highest score total of the season this week. With there not being an elimination, did it take some pressure off of you and Emmitt?
Cheryl Burke: Not really, because all these scores are going to be combined next week, so it's important that we score really high this week, just in case if something goes wrong, we wanna make sure we're safe for next week.
Photos: See season highlights
You both were on Gilles and Peta's team dancing to "Gangnam Style." What was it like putting that all together?
It was crazy. It was a hot mess, but a good hot mess. It was the most fun I've ever had dancing on this show for 14 seasons. … It was pretty crazy and pretty wild, but we definitely got the crowd up on their feet and they were smiling and laughing with us, and it was one of the best moments, and I would love to be able to do it again one day.
How difficult was it having to learn two dances this week?
Two dances was tough. I mean, I have to say we were all exhausted. I think everyone's at that point in the competition where our bodies feel like jelly, like we can barely stand up on our own two feet. I think after this halfway point, it's going to start going by fast. It was exhausting. Learning two dances and having to get together as a team when we all have to start on our solo numbers, this show is really no joke when it comes to putting your stuff together. We get no days off. We're seven days a week, full-on eight-10 hours of dancing alone.
Emmitt has said your strategy in practice when things get too tense is to laugh. How does he get you to laugh, and do you have any funny stories from behind the scenes you can share with the fans?
Emmitt is such a lighthearted guy and I think sometimes I take myself too seriously and that's how I always have been, I think. Emmitt just makes fun of himself or he'll make fun of me. He'll just make fun of how serious I am, or I'll teach him a step and he'll put in his two cents, and he know that irritates me. So he's like a big brother. He likes to irritate me. Annoy me. And then we finally just laugh it off. He knows the way it works. He can almost complete my sentences, basically. We've known each other for six, seven years now.
This season the competition has been so elevated with the all-stars dancing. What would you say is the most challenging part of competing this season?
I think for me, as a professional dancer, it's hard to come out with stuff that you've never seen before. I've been on this show for 14 seasons and I've choreographed -- I have no idea how many dances I've done. It's really difficult to come out there and make showstoppers every week, but I have to. For me, I have to make sure we're memorable no matter what. Whether it's scoring high or, you know, at least letting people at home make sure they know we're here in the competition. We want to do well.
Have you liked the rule changes the show has put into effect this season with the scoring and you picking dances for one another?
I think it keeps it interesting. It keeps it fun. The .5 makes the scores really close, and I think it really is up to the audience to vote, because it's like maybe two or three points, if that, behind each other. You've never seen scores so close before. So I think what we're trying to do is trying to get the audience more involved and make them have the final decision in a way.
Do you expect they're going to throw more surprises your way?
I'm sure they are. I think they're really trying to spice it up this season. I mean, it is all-stars, so I think surprises are good even though they give us headaches, but I think it's interesting for the people at home watching.
We saw Carrie Ann literally fall out of her chair after Gilles and Peta's dance. What was the reaction backstage when that happened?
We thought she fainted. We thought she did like a Marie Osmond on the show except as a judge. I mean, it was really scary. I thought — she just laid flat down — and I was like, 'Oh my God.' But she got up and she was laughing at herself. I can't believe that happened. It was such a brilliant moment, and I'm just happy she's OK and that nothing bad happened to her, but we literally thought she fainted!
If you had to pick the couple to beat right now, who would you say is your toughest competition?
Other than ourselves, obviously, I would probably pick Shawn Johnson and Derek [Hough]. They're pretty amazing. They come out every week and get people up on their feet and shock the judges. It's amazing to see how she's grown on this show.
What's your strategy to win another mirror-ball trophy?
We're really taking it one step at a time. I think what makes Emmitt so different than anybody else on this show is he's a big guy with such amazing charisma, and I think people love seeing his eyes glow, his smile and see him have fun, and at the end of the day, that's what this show is all about. We have to make sure we don't take ourselves too seriously, that we go out there and have fun and that we entertain everyone at home.
Do you have a message for your fans going into next week?
It's country week next week, and Emmitt loves our song. He's been singing it and he can't wait to do it. It's a fox-trot. I just hope they see another side of Emmitt and they don't forget Emmitt is really pushing himself. He's really working hard, and we hope everyone at home enjoys watching us dance together. It's been six long years, so it's nice to be reunited.
"Dancing With the Stars" airs Mondays at 8 p.m. ET/PT and Tuesdays at 9 p.m. ET/PT on ABC.
Are you sure you want to delete this comment?