'American Idol' Judge Steven Tyler: 'I'm always ready to take it up a notch'
The singer-turned-TV star spills on Jennifer Lopez, Aerosmith demise rumors -- and why he's no Simon Cowell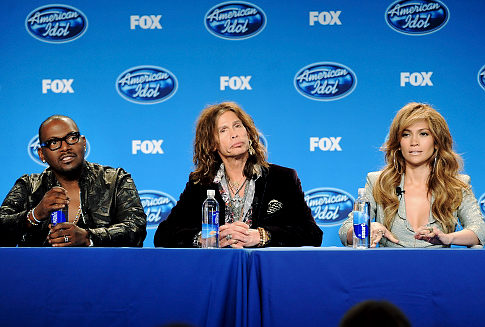 One of the biggest changes you'll see on "American Idol" tonight? Aerosmith frontman Steven Tyler will be rocking the judges panel. And while he admits that he's no Simon Cowell, Tyler promises he'll be bringing his own signature style to the show – and that he's not going soft for the sake of TV. We caught up with the singer and burgeoning TV star to chat about his judging style, his feisty co-panelists and the rumored death of Aerosmith.
On His Panel Style: "Will I bring a rock element? Yeah. But I've also got a good ear for all music, and that's why I thought I would take this. It's not a one-thing type judging. I'm good for all different [types of] music and listening to voicing and the spirit of it and the imperfections of someone's voice -- because not all singer make great rock stars. Some of the voices that aren't the best, they make the best rock stars. So, it's been fun."
On Why He's No Simon Cowell: "The part that is a little difficult is judging the young kids. I take what I've grown up with, which is being a very harsh judge of myself, my own vocals, my own band, and lay that across the talent I come across. I made some harsh comments first week, and they snap back and say, 'What do you mean?' I only did two of those. There were only two of those because I didn't want that to happen again. I couldn't say that you were 'no good' without substantiating why, and the couple times that I said, 'You know, you just don't have it,' they did ask me why. And I couldn't tell them why. It's just that I'm looking for that certain something, and I heard that certain something in a negative way. I didn't see a star. I didn't see this, and I didn't have the goods to tell him that. I hadn't ever really watched the show and I wasn't really versed in that type of judging. I got three daughters, so it was hard for me. Those few times after that, I was ready to go and I jumped right back in both feet."
On His 'Idol' Commitment: "I have more than a one-year contract, but things are what they are. Can I elaborate? No, I can't. I'm always ready to take it up a notch. It used to be my frivolity. I'm addicted to adrenaline, and I still like a good challenge. Someday I'll have my own show, a different type of 'Survivor.' They'll put me in a barrel and throw me into the ocean, so it'll be called 'Message in a Bottle.' They'll put me in a giant bottle and see what shore I land. Then I'll marry the person and we'll see what our kids look like."
On Fellow Judge Randy Jackson: "I think it's funny. I think there's love up there that you've never seen. Certainly, there's camaraderie that you haven't seen in 10 years. About that, I'm really happy that I get along with Randy so well. I met Randy first and Randy was the s**t. I love Randy. We got on in the first five minutes we met. It was like we were separated at birth. And we had so many similarities. Whatever he's been through, I've been through. And we mentioned names and we knew everybody and how we hadn't met before was beyond me."
On Fellow Judge Jennifer Lopez: "J.Lo is a fox -- she's also got a good big heart. On the way from England to America I saw J.Lo's movie 'The Back-Up Plan,' and I fell in love with her. I was watching going, 'Oh my God, it's Jennifer Lopez!' The way she played her part, I could so relate to her. And I thought, 'Anybody that could be this open and honest -- even acting, she had to go for it -- all I can tell you is that when I met her, she was exactly all that and I'm grateful that she got the part."
On Aerosmith's Rumored Demise: "I'm ready for anything, and nothing has been more convincing that I'm ready for anything than this last year with Aerosmith. Yes, we're getting ready to launch a tour in November or December. It's already booked. The songwriting starts next week. So, everything you hear is a lot of hearsay and a lot of muck that's been thrown around and there's no validity to it. I'm here to tell you that."
Catch Steven Tyler's "American Idol" judging panel debut on the tenth season premiere tonight at 8 p.m. on FOX.