'The Bachelor' Recap: It's Hometown Dates, People
Four girls are in love with Ben -- but one's going home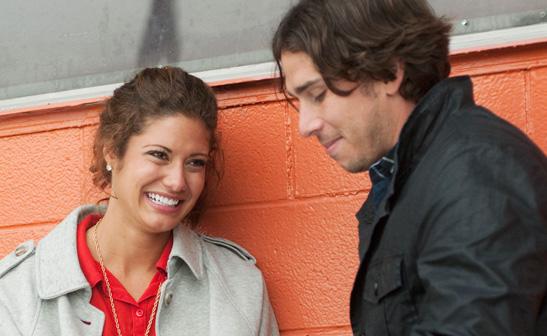 By Diane Vadino
Special to MSN TV
Can you believe we're at hometowns already? It's the Rubicon of "The Bachelor" franchise -- once you cross it, there's no going back. On this side of hometowns, you're just one girl in the crowd on vacation. On the other, you're headed straight for the fantasy suite -- even if, like Ashley on Brad's season, you just sort of grumble and roll your eyes and sigh your way through it. Sure, the runner-up on this show has it hard, because she's the one who's not getting the engagement -- but this week's loser is even worse off. She stuck in there just long enough to involve her family, and she still lost, which has to make going home that much mortifying. 
Bing: More about 'The Bachelor' | Photos: See the contestants
We start hometowns in Florida. Lindzi is, and there's no surprise here, on a horse. This prevents her from jumping into his arms and wrapping her legs around him, which is the standard method of greeting someone on this show, but it works for Lindzi. "I get to bring my boyfriend Ben home," she says, which sounded even slightly sadder when she said it. "There are moments when I say I could see [getting married to Lindzi]," Ben says. But there aren't really enough of them, and you can hear the terror in his voice when he says: "I'm only the second guy Lindsay's ever brought home to meet her parents?" And the last guy -- that was the guy who dumped her by text. Lindzi thinks she's still in a position to make demands: "If Ben wants to end up with me, horses are always going to be a part of our life together," she says. He might not want to end up with her that badly. Her parents seem entirely gobsmacked by the entire affair: "Our family is pretty much Lindzi and our dogs and our horses..." her dad says. 
Before we can sit with that thought for too long, we're in Tennessee, with Kacie and what appears to be her entire high school's marching band. She's twirling a baton. On an athletic field named for her grandfather. It's very much like a movie about moving back home, starring Reese Witherspoon. "I want [my parents] to see that this is a real relationship," she says. Why do we always want impossible things? "That's my future husband," Kacie says, even though we can see that this date is not going particularly well. Her dad, by the way, is a parole officer, and when Ben says, "I do have strong feelings for your daughter...and some of the other women," you can basically sense his intense, intense desire to pepper spray Ben. "If Kacie is not the one, I would hope that would be communicated to her very soon to keep her from getting hurt even more," her dad says. Ben seems to take this to heart, even while being lectured by her mom on the sins of living together before marriage. "This is the Bible belt!" Kacie says. "I thought it was the Bourbon belt," he replies, not a little sadly. 
Our next stop is Fort Worth, where in seconds flat Nicki appears in a sequined top, cowboy boots, and cowboy hat. "The last time I brought  a man home under these circumstances, I married him," she says, ignoring the fact that "these circumstances" are completely ridiculous and unique to this show. "This is the best man I ever met," she tells her mom, who suggests: "The connection I'm seeing with Ben is something I haven't even seen with her first husband." Honestly, what this show does to parents is unforgivable. The date in itself is pretty low-key -- it looks like they're just hanging around with Nicki's brother and her divorced, but enthusiastic, parents. For Ben's part, "Today there were moments when I looked over at Nicki and [I thought], I love this girl." Notice he did not say anything like this about poor Kacie B., whose probably still arguing with her mom back in Tennessee about where she and Ben are going to live after the show.
Finally, we have Courtney. An unbiased audience might actually sort of like Courtney in this episode, since she doesn't have any women to be horrible to beyond blood relatives. But then she does something extremely crazy: She sets up a fake marriage ceremony with Ben. That's not the crazy part. The crazy part is that her vows to Ben are poached! From the final episode of "Sex and the City!" It's staggering, really. Courtney's version goes: "I'm looking for love -- real love, passionate, consuming, can't live-without-each-ot​her love." Here's Carrie's version: "I'm someone who is looking for love. Real love. Ridiculous, inconvenient, consuming, can't-live-without-e​ach-other love. And I don't think that love is here in this expensive suite in this lovely hotel in Paris." What else is there to say about Courtney? 
At long last, we're back at the mansion. Ben breaks everything down for Chris. Here's Lindzi: "I left thinking I could love this woman." Kacie: "What I didn't realize is Kacie's grandfather is a large part of his life." Nicki: Everything seemed so normal." And we're leaving out Courtney because she's plagiarizing. 
At the rose ceremony, Courtney gets the first rose, followed by Lindzi. It's down to Nicki and Kacie -- and who's going home? Could it be the cute baton twirler with the conservative parents who told Ben to break up with her? Yes, indeed, it is. Lindzi and Nicki hug her while Courtney looks back at Ben -- it's gross. Kacie keeps it together until she gets in the limo, and then the tears flow fast and furious: "What the **** just happened there?" Oh, if only we knew, Kacie. 
Next week: "Luxurious" Switzerland! 
"The Bachelor" airs Mondays at 8 p.m. ET/PT on ABC.