Courtney Robertson: No future contact with Ben
Former 'Bachelor' winner has no plans to talk to ex-fiancé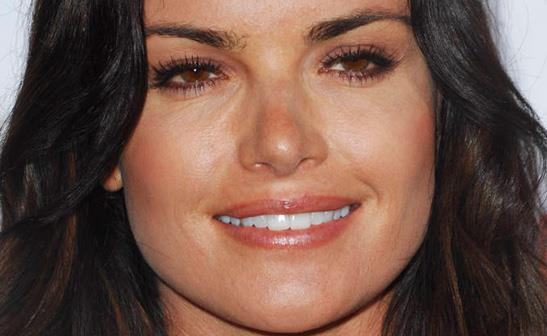 WENN
Former "Bachelor" winner Courtney Robertson has revealed she has no plans to talk to ex-fiancé Ben Flajnik in the future. The controversial contestant first split from the winemaker shortly after the season finale in February, but the couple later reconciled. After trying to make it work, with Robertson even moving to San Francisco to live with Flajnik, they finally called off their engagement in October.
Bing: More about Courtney Robertson | Plus: Meet the ladies of 'The Bachelor'
Robertson tells Wetpaint Entertainment that, while she is appreciative of the time they spent together, they aren't on amicable terms, and she has no desire to speak to him in the future. She admits, "I haven't spoken to Ben. We don't talk. I don't plan on talking to him. But he knows I wish him well. I've reached out a few times. We went through a lot, even when we broke up, it was like, we're going to need time. It just was a bad breakup. That thing is true: Things don't end unless they end badly."
Plus: TV's 'It' girls | A guide to TV prequels
She continued, "I hope he's happy. When you care for somebody deeply like that, you only want the best for them, and whether it's him being with somebody else or whatever, I just want him to be happy. And me, too! We both are now! It wasn't working." Since her split, Robertson briefly dated "Bachelorette" Emily Maynard's runner-up, Arie Luyendyk Jr., but the romance fizzled out after a few months.
"The Bachelor" airs Mondays at 8 p.m. ET/PT on ABC.

@ctheslayer...
psycho!?!?!?  she is PSYCHO!  NUKIN FUTZ.   she is any "port in the storm", a "mattress back", etc.  she has hooked up with more men than you can count...all ending badly. 
but ben's LITTLE BRAIN clouded his BIG BRAIN.  all the girls in the house told him WATCH OUT.  he shudda know when she stripped down completely at the beach.   i have no pity for either or the show.   how many seasons?  how many relationships have been successful?  jeez!  people who watch this are MISOGYNIST MEN (yeah, look at them babes.. gonna see how many bases i can get to) and woefully pitiful women (oh, he is SOOO _____ (fill in the blank)). 

I thought the basis of this show was to find true love and marry them. Seems like all but a few, are no longer together. They are just acting trying to get their face on camera. Once the show is over the true side is revealed. Its more of a brothel where each contestant has 19 ho's or playa's to choose from. Show must be sponsored by Trojan and Plan B and Planned Parenthood.
Are you sure you want to delete this comment?