Breaking down the 'Amazing Race' finale
We predict the chances of the four teams who have a shot at $1 million prize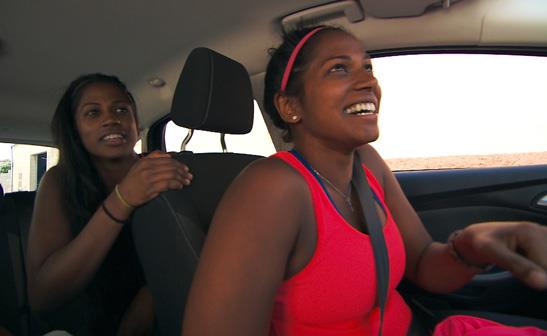 Fact: The very first episode of "The Amazing Race" aired on Sept. 5, 2001 -- 11 years and eons ago. The show wraps up its 21st season this Sunday. Ratings are stable, and the accolades are coming as thick and fast as usual, with the show claiming its ninth Emmy for best reality-competition program in September -- a nearly decade-long streak that was interrupted only once, in 2010, by "Top Chef." "The Amazing Race" is as amazing as ever. 
Sunday wraps up another successful outing -- one that might have lacked the incredible, punishing pace of "Unfinished Business" (which saw Mel and Mike treated for hypothermia after standing in a freezing pool of Dutch mud); the inspired casting of Season 19, which introduced married A
ll-Stars-in-our-hear​ts
 Bill and Cathi and Amani and Marcus; or the take-no-prisoners dominance of last season, epitomized by winners Rachel and Dave Brown. 
By contrast, this season saw the final four teams bust out the hugs nearly every time they greeted each other, once the season's very nominal villains -- Abbie and Ryan, disliked by a trio of leading teams not so much for their success (since they were hours behind the leaders at that point) but for the mere idea of their competitive spirit -- were dispatched with. This was the season in which, midway through the penultimate leg, teams spent a literal day at the beach, high-fiving each other on the waves. This season, "Amazing Race" found a way to showcase "nice competition," which is apparently not a mythical entity. For anyone who's complained about the rancor of reality shows, the sniping and table-flipping: This season proved that bickering, bitching and backstabbing are not inevitable, and the show was stronger for it. 
Four teams will show up at the mat for the season finale: goat farmers/reality TV stars Josh and Brent, twins Nadiya and Natalie, dating couple Trey and Lexie, and Chippendales performers James and Jaymes. When the latter three teams banded together to strike Abbie and Ryan from their ranks with a strategically (if much-kvetched-over) U-Turn, the season's most competitive team was ousted, leaving room for any of the remaining couples to take the prize. 
Well, three of them. Rarely has a team raced forward with so many doubts about the wisdom of doing so as Josh and Brent. The couple, previously seen on Planet Green and Cooking Channel's "The Fabulous Beekman Boys" were no strangers to the reality TV format but proved less able at actually racing -- and, as they discussed themselves, struggled occasionally with communication, having come into the show after a lengthy period of forced distance. They had maintained two separate residences: one at their farm in upstate New York and another in Manhattan. With no fewer than five next-to-last-place finishes this season, they've proven more successful at being good people than being great racers. Rarely on the show have we seen personal dedication between teams like we did between the Beekman guys and Abbie and Ryan, with the latter team burning time to wait as Brent learned to swim in Moscow -- and Josh nearly throwing the entire race to help Abbie and Ryan deal with their U-Turned second task in Amsterdam. Monster trucker Rob even said that becoming friends with Josh and Brent helped him overcome a lifetime of homophobia. Josh and Brent: Winners at life, but we'll be shocked if they beat a fourth-place finish on Sunday.
Nadiya and Natalie, the screeching, polarizing Sri Lankan twins, moved from first to worst in last week's episode -- a result brought on by their own bad preparation and panicked decision-making. (If success in the finale, which appears to take place at least partially across the border in France, depends on driving a stick, forget what we said about the Beekmans: The twins are out.) This team seemed to divide public opinion more ably than any others, with many appreciating their cheerful, supportive vibe and others criticizing their occasional crabbiness (generally directed at Abbie and Ryan) and constant, shrill calls of "Twinny!" The cost of their fourth-place finish in last week's leg will be a Speed Bump task that we're guessing will take place before the plane to the U.S., which could allow them to catch up and earn a clean start back home. We're betting, though, that their lack of manual-transmission driving skills and the extra task will be more than they can handle in the finale, which typically unfolds at an incredibly quick place. They were tough and likable, but we're slotting them in for third place. 
We're left with two strong, if slightly erratic, teams. Chippendales dancers James and Jaymes could have been cardboard, high-concept casting. Instead, they proved themselves to be affable, supportive, considerate and quick to aid their competition. They offered the biggest hugs, the kindest smiles and the most sincere words of support. Jaymes in particular looked truly pained to U-Turn Abbie and Ryan -- a decision he acknowledged (accurately, it turned out) would cost him a relationship with a team he believed to be friends. (Jaymes said he made the decision in order to better position himself to support his father, who's battling cancer. Ryan later suggested on Twitter that Jaymes was exploiting his family in a way Ryan wouldn't have. Ryan did this after mentioning his mother's own fight with cancer.) 
Trey and Lexie, the last male-female dating couple this season, have managed a string of first-place victories without the antagonism that plagued last year's winners, Dave and Rachel (if you don't count the one oddball episode in which Lexie harangued Trey for not having proposed). The Texans, in fact, in some way seemed even more complementary than last season's victors: Trey easily managed the physical tasks, while Lexie sailed through challenges, like the sherbet-selling job in Turkey that required big smiles and good attitudes. 
It's close to a toss-up for us. If it comes down to a super physical task, the Chippendales should have the advantage. That said, the guys' worst showing involved a nearly entirely physical challenge: bundling up and transporting bamboo in Bangladesh. Leaving behind part of their load almost lost them the game. For that reason, we're putting our money on Trey and Lexie -- and looking forward to what we hope is a higher octane, and even more amazing, Season 22. 
"The Amazing Race" finale airs Sunday, Dec. 9, at 8 p.m. ET/PT on CBS.

I have wondered why the twins were allowed to take, and spend $50 of the $100 cash that was accidentally left by 2 genuinely nice guys, who I believe wouldn't have hesitated to return the money.  I was equally shocked that they gave $50 of it to Trey and Lexie.  They apparently wanted partners in crime and it was a crime.  A misdemeanor granted, but a crime. I love Amazing Race, but they missed the boat on this one.  It wouldn't be too late to chastise them on the last show.  I know that that is prerecorded.  Can't do much now, but how sad that after that thievery they came in first and won an amazing vacation.
Are you sure you want to delete this comment?