Spears Talks 'X Factor' Contestants' 'Dreams and Stuff'
Britney and Demi discuss passing judgment, deflecting Simon and more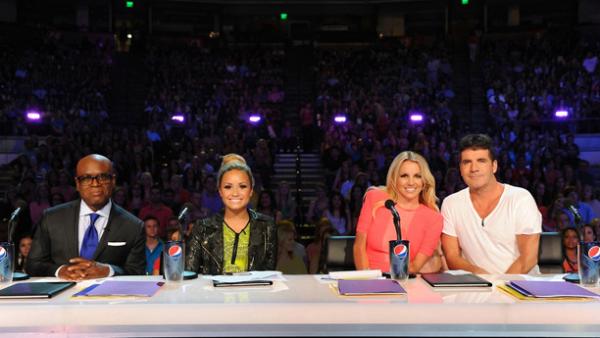 Five years ago, it would have been impossible to imagine Britney Spears and Demi Lovato joining Simon Cowell and
L.A. Reid
as co-judges on a nationally broadcast singing competition. For one, Demi would have only been 14, and more likely to appear on-stage auditioning than evaluating other young vocalists' potential. And at this time in 2007, Brit-Brit was just regaining her composure after publicly melting down, shaving her head and inflicting vandalism on nearby vehicles with an enormous umbrella.
But fast forward a half-decade, and here we are, with Spears and Lovato readying for their "X Factor" closeup when its second season bows on September 12. They've already spent several weeks observing early rounds of hopefuls, and
Access Hollywood
reports that after a recent stop in San Francisco, Britney confided, "Sometimes it's kind of hard because I know what they've been through, being so young and achieving their dreams and stuff," adding, "I don't think I'm the toughest judge at all. I definitely think Simon would have to be the toughest judge."
Lovato, befitting her adolescence, offered that Simon "nags on me," before admitting, "I'm a brat. I'm annoying. But I give it back to him." And despite her youth, or perhaps due to overcompensating on account of it, Demi says, "I worry that I'm too harsh…. I really just say it like it is ... It's really hard for me to smile if they're performing and they're horrible."
However, when a contestant overachieves, Lovato totally texts Britney with a string of OMGs and smiley faces, and the pair spontaneously collaborate on
the Dougie.
 That is what happens, right?
"The X Factor" Season 2 premieres Wednesday, Sept. 12, at 8 p.m. ET/PT on FOX.

I was at the "S.F" show filmed at the Oakland Coliseum. Brittany seemed as though she was being fed word by word of what to say, not a whole lot going on up there. Demi was harsh when it wasn't warranted, like a smart **** teenager might be. Both of these young ladies are lacking in actual talent. They are popular, because music execs wanted to make a buck off teenage girls, so it was truly amazing when they were dishing if a contestant was slightly off key for one or two notes of a song. Simon should have handed out scripts with simple words.
Are you sure you want to delete this comment?