'Pauly D' Trailer Promises Hair Gel and Hijinks
New MTV promo introduces world to 'Jersey Shore' housemate's extended clan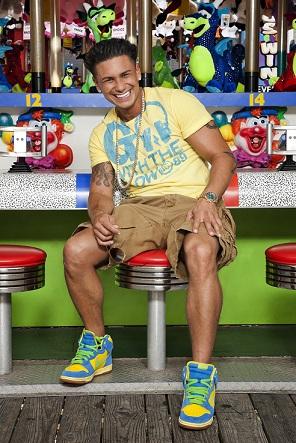 Who among us hasn't mulled, "I wonder what it would be like if someone aired a reality show that cross-pollinated '

Entourage

'-like bromance with the juicehead debauchery of '

Jersey Shore

'?" Whether that's a rhetorical question, MTV has given the world its answer: It will be exactly what you expect. And it will be called "The Pauly D Project." And as you can tell from the two-plus-minute trailer below, it will be either ferociously watchable or too much of a mediocre thing.




Bing: More on Pauly D

 |

"The Pauly D Project"




The man formerly known as Mr. Delvecchio will be taking us and his lifelong friends Biggie, Jerry and Ryan from his hometown in Rhode Island (where he lives in "literally the same house" as his father) to the Palms in Las Vegas, where a high-profile DJ gig, carnal temptation and manly hugs with 50 Cent await. And, of course, that

lap dance from Britney Spears.