'Dancing' cutting back to one season a year?
Report: Ratings for 'All-Stars' season has producers considering changes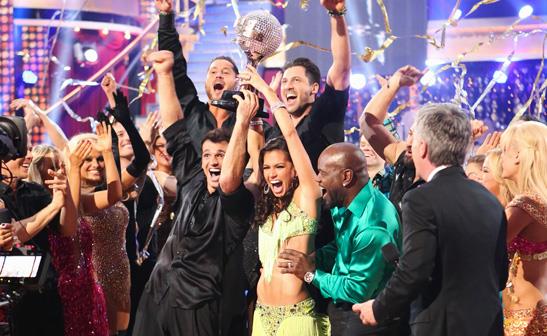 ABC's "Dancing with the Stars" is doing the half step. According to the New York Post, producers are considering cutting it from two seasons a year to just the spring season.

Bing: More about 'Dancing With the Stars' | Photos: See 'Dancing With the Stars: All-Stars' highlights

"They have to figure something out," the Post quotes an unnamed production source. "Maybe change the judges. The show needs a total makeover."


Whatever that "something" is, it's not an all-star version. For Season 15, which wrapped last month, the show brought back past champs for the first time (including Drew Lachey, Shawn Johnson and Emmit Smith). Viewership was off 20 percent, while the finale was watched by a million fewer viewers than last season's.
Also: Canceled and renewed TV shows | Memorable TV moments of 2012

"Turns out people didn't want to see people who could dance," said executive Jay Rasulo of Disney (which owns ABC), according to the Post. "They wanted people who couldn't dance."
 
Season 16 of "Dancing with the Stars" will premiere Monday, March 18, on ABC.