'Survivor: One World' Exit Interview: Matt Quinlan
'Rooster' Matt is the first of the male castaways to get the boot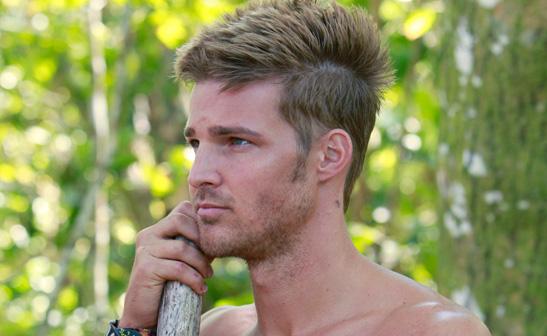 As a lawyer, San Francisco "Survivor: One World" contestant Matt Quinlan was all about talking a big game when he got to the island. But this season's surprise -- men versus women -- threw all his swagger and strategy right out the window. We caught up with the self-proclaimed "rooster" to talk about strategy, men versus women and that confounding Colton. 

MSN TV: You were very confident in the first episode that you'd sort of be a leader in this game. What happened?
Matt: Well, the whole men versus women thing really threw me for a loop. I thought I'd really be able to work my strategy, build alliances, show my leadership skills, really play the game in a new way. But that announcement just changed everything immediately. It made me expendable from day one, because we knew then that it wouldn't be fair to have physical challenges in the traditional sense -- and because I was one of the stronger males, it put a target on my back immediately. I felt vulnerable from day one, and that really changed the way I played the game. I couldn't relax and enjoy myself and let things unfold. It put me on the defensive.   
Do you think Colton's having the immunity idol pretty much did you in?
Oh yeah, that was the beginning of the end. In the beginning, before he got the idol, Colton was working with me -- he needed me. It was all, "You have to save me." But when he got the idol, things turned around real fast. He was all, "What can you do for me?" And then he was calling the shots. But I really don't get how he's rounded everyone up, why they're following along like puppets. Colton is definitely the biggest threat. He's got the idol, one, but he's also developing these tight relationships with the women -- and when it comes to the merge, he's gone. And it's not like we did anything to alienate him on the men's tribe. He did that all himself. This whole Misfits scenario is just too easy. C'mon, guys, you've got to see that.
That's why you approached Troy with the idea of "the roosters." But that seemed to really rub him the wrong way.
Yeah, he was into it to my face, but as soon as he walked away.... I'm just saying, I was trying to get Jonah and Troy to see what we could do there -- because Colton really was as big a threat as I was. So I figured, at Tribal, we we could flush that idol out, sort of scare him into using it, or otherwise get rid of Bill at least. I think it made sense, logically. But I guess they weren't budging. In any case, they've sort of shot themselves in the foot now, because Colton's pretty much in charge. 
Is there someone you're rooting for now?
Well, I'd definitely like to see someone from my tribe, from Manono, take the title, but there's not anyone in particular I'm hoping for. I think as long they strategize and really play the game, there are a lot of worthy contenders this season.
"Survivor: One World" airs Wednesdays at 8 p.m. ET/PT on CBS. 
Are you sure you want to delete this comment?