'The Bachelor' Recap: This Time, They Want Blood
Michelle and both Ashleys weep their way through the show -- but Brad's happy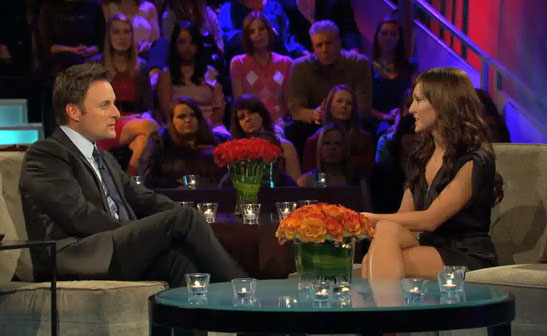 Well, that was something. What do you say after 120 minutes of cat fights, random hook-ups, pajama parties and video footage showing a woman drinking wine out of a glass held aloft by her toes, besides "Ew"? Honestly. It can only be "The Bachelor Women Tell All."  
Bing: More about 'The Bachelor' | Photos: View the ladies
"WTA" is always most notable, enjoyable and/or painful for the plight of the second runner-up. This season, it's Ashley H. So close, yet so exceptionally far. You have to believe, given Brad's "I've been in love a long time," that poor Ashley really never had a chance, carnival "[best] date [of my life]" or no carnival date. But she's sitting there with her new, glossy brown hair and her new, exceptionally white teeth (professional discount?), thinking, "I almost had that guy. If only I hadn't freaked out and spent most of our last date asking him about the mosquito nets." It's painful. "There's a chance my defense made me lose out on a great guy," Ashley says. "I kind of have regrets about that." Ugh. Don't! It's just Brad Womack! He's all pectoral muscles and emotional regurgitation, this guy! 
Of course, Chris Harrison is sticking to the script: Brad Womack is the best guy, ever -- like ever ever. Was Ashley H. in love with him? Is she still? Does she go home from the dentist's office and stick little pins in Emily and Chantal dolls and watch the carnival date on her DVR, over and over again? Eh, he stops at the first question, but the rest is implied. Ashley, wisely, demurs, which is fine, because Chris is ready to answer for her: "I hate to break it to you, but you were in love with Brad." Well, then! I always have the sense that given the option, Chris would lock the bachelor's also-rans in a small cellar beneath a swamp, accessible only through a knot in an overgrown oak tree -- because what's the point in living anymore? To soar! So close to the sun! Only to be rejected after the fantasy suite date! The question isn't how they could go on living; the question is only why they would want to.
Of course, "WTA" is filled with women who didn't get nearly as far as the fantasy suite, and they are, by and large, not pleased. Chris Harrison runs through our players expediently, beginning with Brad, "our recycled bachelor." We have Chantal offering "the slap heard 'round the world," or at least certain quarters of the United States -- among women who weren't watching "Bones" reruns on TNT, Ashley H. of the aforementioned "best date I ever had" and fanged model Madison. ("She's an extraordinary woman and she'll make some vampire happy someday," Brad posits.) 
Madison, in fact, is only one extraordinary woman in a string of "incredible" and "amazing" women. No synonym for "you know, like, OK, but not quite right" will be left unspoken -- except, perhaps, in regards to Melissa and Raichel, who are somehow still squabbling over something no one remembers or cares about except Melissa and Raichel. Especially the latter, as she's convinced Melissa -- and not her lack of chemistry with Brad -- got her kicked off the show. Luckily, Jackie speaks up: "Brad didn't want to be with you because you acted a fool." She directs her comment at Raichel, but the same goes for Melissa. Ashley S. wisely concludes, "I think the moral of the story is: Don't act like that in front of a guy." 
Of course, this bickering is small change compared to the vulture-like onslaught that is about to set itself upon Michelle. The women mime various expressions of horror, outrage, etc., as footage plays of Michelle talking smack. I loved her commentary on the show -- a single puncture through the scrim of sanctimony -- but it's easy to see why the "ladies"  didn't appreciate her attitude, or her late-in-the-game innocence. "I didn't go on the show to be the clown," Michelle says. "I went on the show to find love for me and my daughter."  And in the evening's most awesome non sequitur: "Do I really want monkeys to attack Chantal?"  
Sarah P. interjects, "I'm not buying it." And with that, Stacey unleashes hell, to the extent that Chris Harrison snaps: "Like, really? Just relax for a second."  If anyone's going to make Michelle cry, it's Chris Harrison, thank you very much. As Michelle continues to weep and defend her mothering abilities (which, as Jackie notes, were not really under attack as much as her mudslinging was). About her mothering skills: Emily, at least, has been communicated to us, the viewers, as the superior mother -- but she's been talking about "little Ricki" since episode one. Maybe Michelle's silence on the issue was actually a dignified stance -- an effort to keep the daughter off screen and out of harm's way? The silver lining in this segment is how, as this is all going on, you can hear two small, unidentified voices among the women say, "Can I hug her?" and "This is stupid."  
Following this debacle, Ashley S. makes a strong play for the "most tragic" crown. Ashley S., you'll remember, was the Ashley who did not go to South Africa -- and who, in fact, exited her date in Las Vegas heaving with sobs. Brad had told her she wouldn't make the perfect wife for him, and she now wants "closure."  (Fact: There is no such thing.) "Do you think you deserve to be happy?"  Chris asks her. "Do you have any single friends?"  she asks Chris. Maybe she's angling for the next "Bachelorette" spot?
Finally, Brad emerges. He's happy. He's in love. He has a "significant other."  He thinks Ashley H. looks great. I think she might sort of want to die, and my heart goes out to her. It's terrible leaving a relationship -- er, even, one presumes, a relationship fabricated chiefly for our viewing pleasure -- with regrets.
As Chris Harrison announced tonight, there's always "Bachelor Pad 2."  Coming this summer!