'American Idol' Recap: The Guys Set the Pace
Could Phillip Phillips and Joshua Ledet be headed for a finale showdown?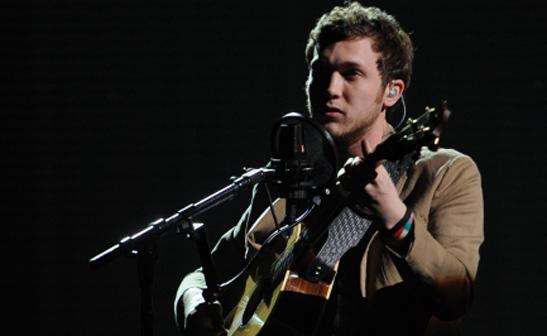 By Carla Patton
I'm still upset about Skylar Laine. My colleague, John Kubicek, covered "American Idol" last week so that I could cry privately and curl up next to a bottle of wine after the results show. Eventually the wine and tears tasted the same. This is my shocking result/devastation for the season. I understand that only one can win, but I thought it would be more of an interesting race to the finish. Phillip Phillips is practically lapping three equally deserving contestants in the votes now, and these last three weeks are just a courtesy. I guess I'm rooting for the Joshua upset now? Or have I just been brainwashed by the standing ovations? Skylaaaaaarrrrrr.
This week, the top 4 sing, at least for one category, "songs from the Golden State." I don't know what that means. I'm so tired of wanting Jessica Sanchez to choose the right song then watching her choose something terrible. And, in case John and Jimmy didn't drive it home enough last week, Phillip should have been in the bottom. This week has three non-themes -- the California one, duets and "songs you wish you wrote." 

More: 'American Idol' on BuddyTV | Video: Watch 'American Idol' clips and more
"Who do you love?" Ryan Seacrest asks the audience. They scream uncontrollably, creating sounds that pervade this life and channel the dead. California songs are up first! Let's learn more about the top 4's journeys.

Phillip Phillips is but a lowly pawn shop worker! Apparently, his brother told him that "Time of the Season" was "pretty rough." I'm glad someone is being real with him. And gosh darn it, it makes me really like Phillip Phillips the person again. He's singing "Have You Ever Seen the Rain" by Creedence Clearwater Revival, sans guitar, plus Saxophone Lady. He seems more relaxed, less constipated/sickly/o​ut of breath this week. And hey, there's the melody! It's sort of the same old thing from Phillip -- not particularly thrilling. But he's just such a dude hanging out. Too much gravelly sliding for my taste, but not for America's!
The crowd goes absolutely ape. Jennifer Lopez cut Steven off at the pass and said he added a nice, new "Joe Cocker" quality to the song. Randy said Phillip's smile made the song work. The coveted "YO" pin is back, affixed to the lapel of Randy's red plaid jacket.

Hollie's in the dreaded second spot, which has sent its contestant home three weeks in a row now. Her journey to this almost forced elimination has been a rocky one. She made it much farther this time than last year. And look where she is now! She chose "Faithfully" by Journey, which was a great choice, I think. It starts out rocky, maybe a little low for her. A little pitchy, dawg! But they gave her the benefit of the wind machine, and she pulled it together with her signature clarity for the big moment at the end. I don't know, though. Not my favorite performance from Hollie. It seemed kind of crusty.


Randy takes this as yet another opportunity to mention that he worked with Journey. Hollie is "peaking at just the right time," in Randy's estimation. Jennifer called it "all of it." And Steven is wearing his hair back but still letting the layers fall forward for facial framing. Hollie confessed to Ryan that she didn't really know what the song meant. Just listen to the words next time!

Oh, Jason Derulo and his bejeweled neck brace! I cannot take him seriously. I seriously hope that 75% or more of the submitted lyrics for this bogus song are about being "undefeated" by a neck brace.

Joshua Ledet sings next, and he's taking on Josh Groban's "You Raise Me Up." Big song! Joshua also came back after rejection last season. He didn't even make it past the audition. I like Joshua -- as a singer and a person. This song works for him because it is already very churchy. It will surely raise the judges up for his 16th standing ovation. It started out well, and it ended spectacularly. I mean: Joshua, a churchy song, the choir -- it's a recipe for success! The judges loved it, of course. They love everyone and everything. Randy thought it was a surprising combination, but that is silly.

As a side note, to those of you who complain about Joshua Ledet sounding too similar every week, I think we would have the same complaint about any successful popular artist today if we had to listen to them for 12 weeks in a row. I mean, can you imagine having to hear Katy Perry sing someone else's music every week for eight to 10 consecutive weeks? So yeah, I like Joshua, and I'd love to see him win for the sake of something different.

Jessica Sanchez is singing an Etta James song. I mean, what is that about? We cannot reconcile her voice with her age, and the wardrobe department is struggling to bridge the gap for us -- struggling and failing. Instead of dressing a performing artist or a 16-year-old, they are dressing an alien from space, who went to Space Kohl's with 100 U.S. dollars in hand/flipper.


The song is short, torchy, jazzy and really just OK. I think this California theme was sort of a throwaway, with the real competition coming at us from "Songs You Wish You'd Written." That being said, Jessica is amazing and could absolutely perform at Divas Live! The judges loved it, and Randy loves the mashup of a 16-year-old girl singing this song about heartache and pain and all sorts of incomprehensible pains for a 16-year-old. Haha, it's funny!
Oh, gosh, no. Another Phillip and Joshua duet! Last week's was so awkward. They're taking on a dueling-piano bar version of Maroon 5's "This Love." May I just say, in the words of Kevin regarding Buzz's girlfriend, "Woof." Ever since Elise left, there hasn't been an appropriate vocal pairing for Phillip Phillips. As expected, Joshua was comfortable slaying the song to bits, and Phillip sounded out of breath and just under each note. Was it worse than last week's comedic rendition of "You've Lost That Lovin' Feeling"? Survey says, "Yes." Oh, but the judges just loved it. You know what I don't understand? The pairing of a man's cowl-neck shirt with a jacket. It's all kinds of Space Kohl's.



Jessica Sanchez and Hollie Cavanagh sing "Eternal Flame" by the Bangles next. They're in strange rope/silk swings that must be difficult to sing in, let alone to synchronize. They didn't seem like they cared about it very much, just sort of swinging then sauntering around with the microphones wherever they felt like holding them. The harmony worked most of the time. So, good for them. I hope this duet doesn't make a comeback for finale night. Hilariously, Joshua and Phillip steal the show by swinging on the swings behind Hollie and Jessica during the crit -- right when Randy was saying he didn't like it and thought it was weird! This competition is about a whole lot more than singing, and Phillip Phillips is nailing the personality angle.


Thank God Adam Shankman stopped by to promote "Rock of Ages"! It was so important that it couldn't even wait for the results show. Julianne Hough has kind of a plastic-surgery face on this night, no? Or is that just the face that all those older women ask for when they go in? Adam Shankman made Phillip kiss a framed poster of Jennifer Lopez, then showed them a preview of "Rock of Ages." Lucky them. I'm not sure why Adam Shankman keeps putting Phillip in all of these uncomfortable situations, pimping him out to female celebrities. Then, cruelly, Ryan Seacrest pretended to propose to Julianne (she wasn't buying it) and ended with a lame joke. Hilarious, Ryan. Women love that! What is going on in this episode?


In this "Rock of Ages" promotional medley from the top 4, which also should have been reserved for results night, one thing is clear: The ladies love Phillip Phillips. They just scream their lungs inside out whenever he sings a note. It's just as well:  It will cover up how he can't hit the same notes as his competitors. I'm only being mean to him on this night because I know he will win, and I don't want it to be so easy.
It's finally time for "songs whey wish they'd written." But first, how is Phillip Phillips feeling? We will never actually know. But thankfully, Jimmy Iovine is back in play for these clip packages. Phillip is singing "Volcano" by Damien Rice. Mmm, nice. Good artist choice for him. Jimmy says we'll finally hear the real Phillip on this night. Oh, yes, and it is working. The audience just exploded with female desire, I'm sure, because this song is all kinds of sexy. I really liked it, even right after I had resolved to be harder on Phillip. This musical performance is his best so far, and I say that without wanting to kiss him on the mouth. The staging really helped it, too -- not a lot of extras, just ambience and a sexy co-star. Great job, very sincere. The judges loved it, naturally, and in a very cool way.

Hollie Cavanagh chose "I Can't Make You Love Me" by Bonnie Raitt. Really? Is this one you like but don't actually relate to, too? Maybe it's how she feels about the voters, though. Jimmy tells her not to give into temptation to oversing it. She's still the dark horse, though! She pronounced "patronize" differently than Bonnie Raitt does in the song, which bothered me for some reason. I also think she oversang it a bit, despite Jimmy's warning. It seemed like she was acting the emotion of the song but not really feeling it, because she was leading up to the build they'd added into the song for her. This song, like her last one, seemed a bit too low for her. The judges agreed that the song didn't really fit her and that it was too heavy and emotional. I don't like Jennifer's hair on this night. Randy said there were no moments in it. I think she's dead in the water now.

I kind of like that Joshua Ledet still seems nervous, after all this, just waving at the camera before a commercial break. It's endearing how shy he is. He's playing a different personality game than Phillip, a more nuanced one. I really hate Jennifer Lopez's hair on this night. Anyway, Joshua Ledet is going to slay "It's a Man's Man's Man's World" by James Brown, and it will be absolutely spectacular. We all know that. Jimmy Iovine told Joshua to give him a call, and Joshua laughed and said, "I ain't got your phone number!" Oh, my goodness. It was so cute.

Oh my goodness. It is so perfect. It gave me goose bumps. You can tell he is really feeling the song to the core and thinking about what it means to sing everything. I love that about him. He is so nuanced. He had just the right amount of manic depression in him to make this song work to its fullest. This is the closest I have ever come to buying an "American Idol" contestant recording. But the performance was such a huge part of what made it great. Standing ovation from the judges, of course. But well deserved this time. Joshua is so full of passion and musical artistry, and he's so unassuming!

I just don't know how Jessica Sanchez can top that, even with "And I Am Telling You I'm Not Going" from "Dreamgirls." She's singing it about the Save, but at least she's singing it about something. Jimmy said he has seen a lot of great things in his life but he will remember this moment (the rehearsal). Jessica isn't winning the personality contest, but Jimmy doesn't give two whits about that. This dress, really quickly, isn't helping. It looks like a crazy mish-mash of fabrics and like the wardrobe department just threw their hands up and said, "Well, if we can't please anyone, we might as well just make her look clinically insane." The billowy-ness of those sleeves! But on to the performance.


It's good. It's freaky good. This song is so delightful, so powerful, and Jessica is really feeling it and letting her emotion give her power. She would not make a very good Effie. Not at all. But that does not matter. It was amazing and kind of satisfyingly angry. She really got it. So yeah, she smashed it, and the judges rose to their feet. But I feel like this song is an easy win for a great vocalist like Jessica. And lots of children sing it. I like that she didn't move all over during the performance. The judges were rendered nearly speechless. Randy dropped his jaw in addition to a few names.

That California theme was just stupid, wasn't it? I always feel like they're holding out on us until we get to the second set of solos. Who won the night? Who is going home? Does personality play a bigger part than vocal ability at this point?

What do you think of Wednesday night's performances? Who's in trouble?
"American Idol" airs Wednesdays and Thursdays at 8 p.m. ET/PT on FOX.