'Buckwild' stars defend show
Cast of MTV's latest reality series respond to Senator Manchin's comments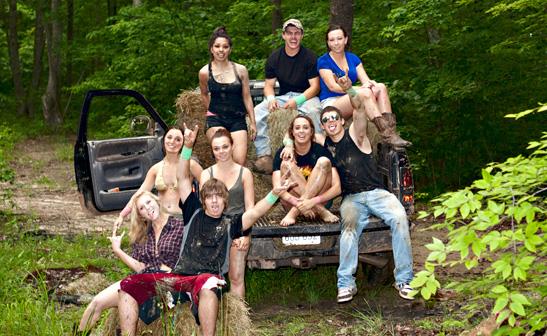 WENN
Stars of MTV's new reality series, "Buckwild," have defended their show after U.S. Senator Joe Manchin's (W.V.) call to cancel the program because of the cast members' "shameful behavior." In December, Senator Manchin wrote a letter to MTV President Stephen Friedman, claiming the show was "repulsive" and displayed "ugly, inaccurate stereotypes" about West Virginia, where the program is set. However, his petition to halt the show from premiering failed, and the show aired as scheduled on Thursday.
Bing: More about 'Buckwild' | Plus: Best and worst shows of 2012 | The year in reality TV
Now two "Buckwild" cast members are addressing Senator Manchin's comments, insisting the politician was out of line when he wrote the letter. Shain Gandy tells MTV News, "All them old people in West Virginia cannot go back and say that they did not do all that stupid stuff, because if they did, they're lying. I mean, they all had trucks, and they's all being goofy, making our own stunt s... just ours was caught on film."
Plus: The Golden Globes game | Most memorable 'Bachelor' and 'Bachelorette' moments
Filmed in Sissonville, W.V., the series follows nine young adults just out of high school, as they live their day-to-day lives and keep themselves entertained in a small rural town. And Shae Bradley adds that she also disagrees with the Senator's statements, adding, "I'm not representing anyone but myself. Like even my best friends on the show, if they do something to embarrass themselves, I don't feel like they represent me ... I definitely can't represent the entire state of West Virginia. That's just stereotypical and just ... it doesn't make sense."
"Buckwild" airs Thursdays at 10 p.m. ET/PT on MTV.