'Dancing With the Stars' Recap: Born to Jive
Welsh opera diva Katherine Jenkins once again steals the show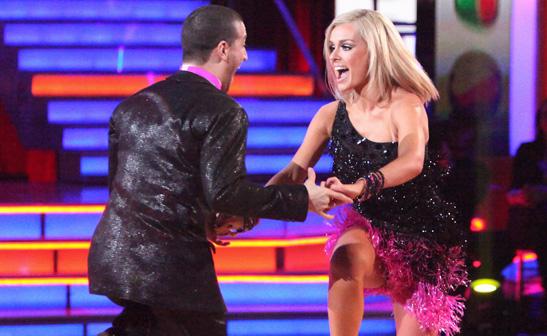 This week our stars took on the jive and the quickstep, two of the toughest styles of ballroom dance, and in most cases they triumphed. Welsh opera diva Katherine Jenkins once again stole the show, this time with a crazy sexy jive. Hot on her heels are Cuban soap star William Levy and Disney star Roshon Fegan, but the mirror ball trophy is still (almost) anyone's to win.
Bing: More about 'Dancing With the Stars' | Photos: Meet the cast of Season 14

Our first star will be sent home this week, and there are certainly some contenders for the infamous Losers' Club. Melissa Gilbert flubbed her quickstep a bit and Martina Navratilova turned in a jive that was downright painful to watch. Gavin DeGraw is also hovering dangerously near the bottom of the judges' leaderboard at the close of the first round of performances.
Last Night on TV: Watch recaps | Video: Watch clips and more
Here's a quick look at how the stars did this week:
Roshon Fegan
Disney star Roshon turned in a fresh, energetic quickstep after landing in the middle of the pack with last week's cha-cha. His timing was very good and his kicks were great. He seemed even more comfortable out on the floor than during the premiere and the judges took note. Carrie Ann said he turned his "swagger into sophistication." Overall, an impressively polished routine especially, this early in the competition.
Cha-cha: 23/30
Quickstep: 26/30
Total: 49/60
Sherri Shepherd
Sherri's jive was every bit as electric as her foxtrot last week. Her energy level was incredible, and her legwork was nothing short of gorgeous, even though she did lose the thread of the routine at one point. (The important thing is that she recovered well.) Sherri has a natural flair for dance and, more importantly, she is so totally focused and into her performance that the result is breathtaking. The judges practically fell over themselves to praise the routine. Carrie Ann actually said, "I'm in love with you." Team CherVal could go all the way!
Foxtrot: 23/30
Jive: 23/30
Total: 46/60
Melissa Gilbert
"Little House on the Prairie" star Melissa – who apparently dated Billy Idol back in the 80s – danced a fierce but flawed quickstep to his anthem "Dancing With Myself." It's kind of weird that the producers gave her that song, right? Her footwork was excellent and Maks choreographed some very tough moves, including some stair work. Melissa kept up but did look a bit breathless at times. Her spins were excellent too, but she almost dropped out of a hold right at the end of the routine. Carrie Ann commented on her shoulder work and Len noted that her energy level and thus her posture flagged as the routine went on. Melissa is a good dancer, but she has some very tough competition this season.
Cha-cha: 20/30
Quickstep: 20/30
Total: 40/60
Jack Wagner
Soap star Jack turned in a jive that did not quit! His energy level was amazing and he certainly had the rather difficult choreography down. Len pointed out that his control was slightly lacking but praised the routine overall. Bruno agreed about the lack of precision and Carrie Ann took it one further and told Jack he "over danced" the number. Let's hope he can rein it in – just a bit – next week.
Foxtrot: 23/30
Jive: 21/30
Total: 44/60
Gladys Knight
Motown legend Gladys Knight turned in a commanding quickstep. As with last week's cha-cha, she just owned the stage. She was perfectly on rhythm but her posture was a bit lacking. The choreography was also not as tough as it might have been. Both Bruno and Carrie Ann commented that Gladys needs to improve her frame, and Len felt that her technique was lacking. This dance was a bit of a comedown from Gladys' fabulous debut cha-cha, but I'm not giving up on her yet. Apparently Len is – he gave her a 5 and was soundly booed by the audience.
Cha-cha: 23/30
Quickstep: 19/30
Total: 42/60
Katherine Jenkins
After an amazing debut foxtrot last week, opera star Katherine kicked things into high gear. You wouldn't think a slot-machine-themed jive would work, but it did! Mark's choreography was incredibly difficult, but she didn't show any strain. She looked sexy, kicked her legs up like a pro and stayed on rhythm without any seeming effort. The judges had nothing but love for this routine and the crowd was right there with them. The competition would seem to be Katherine's to lose.
Foxtrot: 26/30
Jive: 26/30
Total: 52/60
Jaleel White
Jaleel's debut foxtrot got the crowd on its feet, but his jive was a bit lackluster. Jaleel's stage presence was just as amazing as it was during the premiere and he and Kym have great chemistry, but the routine was a bit dull and verged on cutesy. Jaleel's movements lacked precision and his posture could have been a lot better. The judges praised the routine but couldn't help comparing it to Jaleel's much superior foxtrot. Carrie Ann might have summed things up best when she pointed out that the routine lacked sparkle. Jaleel is a long way from the bottom of the judges' leaderboard, so don't get too worried.
Foxtrot: 26/30
Jive: 22/30
Total: 48/60
Maria Menounos
Maria's high-energy quickstep was a revelation! She turned in a good cha-cha last week, but this routine was close to perfect – though I could have done without the creepy eye masks, which gave the performance a weird Cirque du Soleil feel. Maria's energy didn't quit, her timing was excellent, her feet were fast but she was on the beat, and, most importantly, she kept up with Derek. The judges loved this one. Len praised her speed and control, pointing out how difficult it can be to maintain both during the fast-moving quickstep. A great showing for Maria!
Cha-cha: 21/30
Quickstep: 25/30
Total: 46/60
Martina Navratilova
Martina's jive was a bit hard to watch. She lost the thread of the choreography, was off rhythm and was just plain nervous. Tony did his best to encourage her, but Martina just couldn't seem to recover from a rocky start. The fringed, sequiny harem pants she was forced to wear probably didn't help matters either. Carrie Ann didn't know what to say she was so uncomfortable, and Len – somewhat oddly – called the routine "too neat and too precise." Let's hope this jive won't be Martina's swan song.
Foxtrot: 20/30
Jive: 17/30
Total: 37/60
Donald Driver
Last week, Donald's fast cha-cha looked more like a quickstep than a cha-cha and the judges told him to tone down the energy. This week he got it just right – his quickstep was fluid, on rhythm and – best of all – he looked like he was enjoying every second of it. Donald is a longtime fan of the show and it shows in his enthusiasm. Bruno praised his lines, his refinement and the elegance of the routine. Carrie Ann agreed, and Len, in a totally unprecedented move, apologized to Donald for "underscoring" him during the premiere. Wowza!
Cha-cha: 21/30
Quickstep: 24/30
Total: 45/60
Gavin DeGraw
Singer-songwriter Gavin's debut foxtrot was the biggest bump in a nearly flawless premiere, and his round two jive was not much better. It was an improvement, however. Although he got off to a rocky start, Gavin found his way into the routine in the middle ... and then lost it again. Bruno complained about a lack of precision to his "kicks and flicks," and Carrie Ann criticized his posture but praised his bravery. Len liked Gavin's attitude and energy and called the routine an improvement over his last performance.
Foxtrot: 20/30
Jive: 21/30
Total: 41/60
William Levy
William's quickstep was charming, but that didn't obscure just how difficult it was! This was one of those routines that just plain works. William's posture was excellent, as was his timing, and his footwork was more than adequate. He did lose the thread of the routine at one point, but a dazzling smile helped matters somewhat. Carrie Ann praised William's technique, Len told him to clean up his footwork, and Bruno said a lot of stuff that no one understood but mentioned "The Artist." William is off to an amazing start in this competition.
Cha-cha: 24/30
Jive or Quickstep: 25/30
Total: 49/60
Who won over the judges: Katherine, William and Roshon
Who won over the crowd: Katherine, Sherri and Donald
Who needs to step it up: Gavin, Martina and Melissa
"Dancing With the Stars" airs Mondays at 8 p.m. ET/PT and and Tuesdays at 9 p.m. ET/PT on ABC.