Alana Thompson's TV Paycheck 'Honey' Poo Poo?
Report: Reality TV family not getting rich off TLC series just yet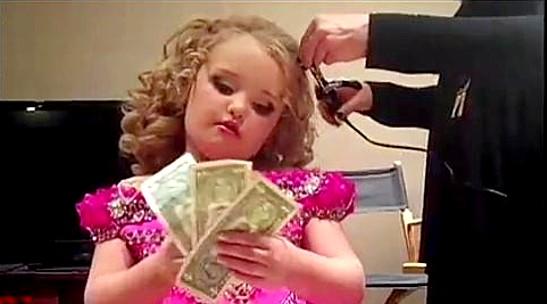 Happy child labor day, folks!


To explode the myth that fame and wealth always walk hand in hand, you need only look as far as Honey Boo Boo Child. According to the Hollywood Reporter,  the family of seven-year-old Alana Thompson -- the hottest reality star of the moment -- earned only $40,000 from the first season of TLC's "Here Comes Honey Boo Boo."

Bing: More about Honey Boo Boo Child | Also: Who is this reality TV star?

That's $10,000 less per year than the average annual teaching salary in the family's home state of Georgia.

Plus: Must-see, new fall shows | New fall shows to avoid
Yet "Honey Boo Boo" earned three million viewers for its Aug. 29 episode alone, eclipsing not only "Toddlers & Tiaras" -- the show from which it spun off -- but every single network's coverage of the Republican National Convention.


Of course, there are always the negotiations for next season.


"Here Comes Honey Boo Boo" airs Wednesdays at 10 p.m. ET/PT on TLC.