'The Voice' Recap: Emotions Prevail
America sends Cheesa and Mathai home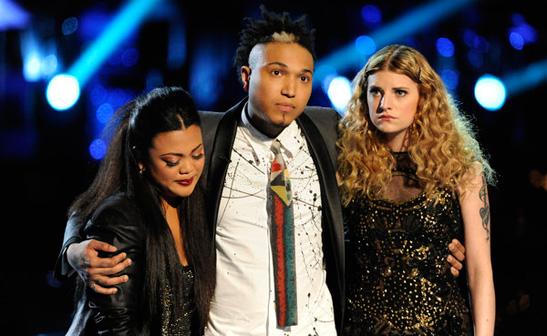 If you've followed my blog here at all you might be surprised to read that I'm not surprised at who America called in to save. I know, I know -- I'm a huge Simms fan. Hey, I believe Juliet Simms will be there performing on the season finale, but I suspected Jamar Rogers would be America's pick this time around. Do I think "back story" had a lot to do with it? I sure do. But, that said, his "It's My Life" on Monday night handily bested Juliet's "Cryin'." (YouTube Christina Milian, of "The Voice" herself, doing the tune in the John Travolta flick "Be Cool," BTW -- awesome.)
Bing: More about 'The Voice' | Photos: Meet the contestants
And Tony Lucca making it through to rock another day was totally expected. What followed wasn't. 
Last Night on TV: Watch recaps | Video: Watch full episodes and clips
Mathai's "last chance performance," as they call it, was the right song and sung well. She "embraced her hillbilly side," as Blake put it, with Carrie Underwood's "Cowboy Casanova." Ditto Katrina Parker's "Perfect," the Pink hit. Right song, done well. What truly worked in Parker's favor was just that, though -- the song. The "Voice" house band shined on it, and it was a case of song-over-singer. For me anyway.
Oh, and for Adam, too. Parker got saved.
Next up it was Cheesa versus Simms. The former did a morose version of the already morose "Already Gone." The latter -- curiously -- picked Natalie Imbruglia's "Torn," a decidedly non-rocking mid-tempo gem from the late 90's. I agree with Xtina's assessment: "Not my favorite place for (her) voice." The best I can say is what I said aloud to my TV as I watched her perform it: "It's good enough to beat Cheesa tonight."
And it was.
What did you think of this episode? Tell us on Facebook
"The Voice" airs Mondays at 8 p.m. ET/PT and Tuesdays at 9 p.m. ET/PT on NBC.