'The Amazing Race' exit interview: Trey and Lexi
The Texans tumbled from first to third, but took home their favorite going-away prize: each other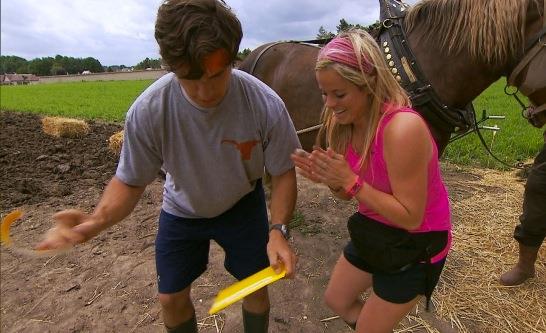 Texas sweethearts Trey Wier and Lexi Beerman seemed to spend the race on one long honeymoon, even if Trey has yet to propose (a fact that Phil Keoghan didn't let go by unnoticed). Despite a string of strong performances, they faltered on the final challenge and ultimately placed third. We spoke to them about the race—and why despite the loss it still ranks as an amazing experience. 
MSN: Trey, all you talked about before the Houdini challenge at the Brooklyn Navy Yard was how scared you are of heights, but you were in and out of that straightjacket in seconds. How'd you do it? 
Trey: I don't think I knew how to do it—I just wanted to get back on the ground so bad. I freaking hate heights. I just wanted to pop out of that thing as quick as possible.
Lexi: It was so funny because he was looking up the whole time—his head was just tucked up into his body. I have never ever been so proud of a human being. Every birthday I ask him to take me skydiving, and every year he says no. It was quite ironic that was the very last challenge, knowing his fear of heights.
Photos: Meet the teams
Lexi, what made the hello/goodbye task so tough? 
Lexi: It was hard not letting my emotions take over. We had a 15-minute lead going into it. When I walked into that challenge, I only knew Spanish—I don't know languages. Even pulling the flags up was hard. It was physically exhausting, mentally exhausting, and exhausting not letting my emotions take over. It was a tough, tough challenge, and hats off to the Beekmans. 
It was cool to see how supportive of Lexi you were while she was dealing with it, Trey. 
Trey: I love her more than anything in the world. I feel her pain. I was wanting to do anything to help her—I just wanted to give her all my energy and give her all my emotions. It was the toughest challenge we saw the whole race, and I'm so proud of the way she did everything, even though we didn't win.
You guys talked a lot about not having trouble much in the past. Did the race change your view of the world and your place in it? 
Lexi: Absolutely. Even though I was scared the whole time, Bangladesh really opened up our eyes. It makes you count every blessing. I think one of our camera guys said we looked like wide-eyed puppies the whole race.
Weren't you mortified when Phil asked you to judge your love for each other on a scale of one to 10 at a Pitstop mat? 
Lexi: Oh, no. Phil gave us crap throughout the whole race—he said I couldn't take my eyes off Trey. He knew what the answer was going to be. 
The race doesn't always make relationships better, but that's what seemed to happen with you guys. 
Lexi: When you go abroad and you're away from your family, with no communication, you really cling to each other. [At the time] I was working 60 hours a week, and Trey was still in college, and we only got to see each other on Saturday nights for football. Spending 30 days of good-quality Trey and Lexi time was amazing. 
Trey: Our true emotions came out. Lexi's always been so supportive of me. Even on the bus challenge [in Bangladesh], when I felt like I was losing it for both of us, I'd look over at her, and she'd just give me the biggest smile. It just kept me going.
What's next for you guys, travel-wise? 
Lexi: Backpacking through Europe. We definitely know how to live with a backpack now. 
And when's the wedding? 
Trey: I love Lexi more than anything. It's coming sooner than later.